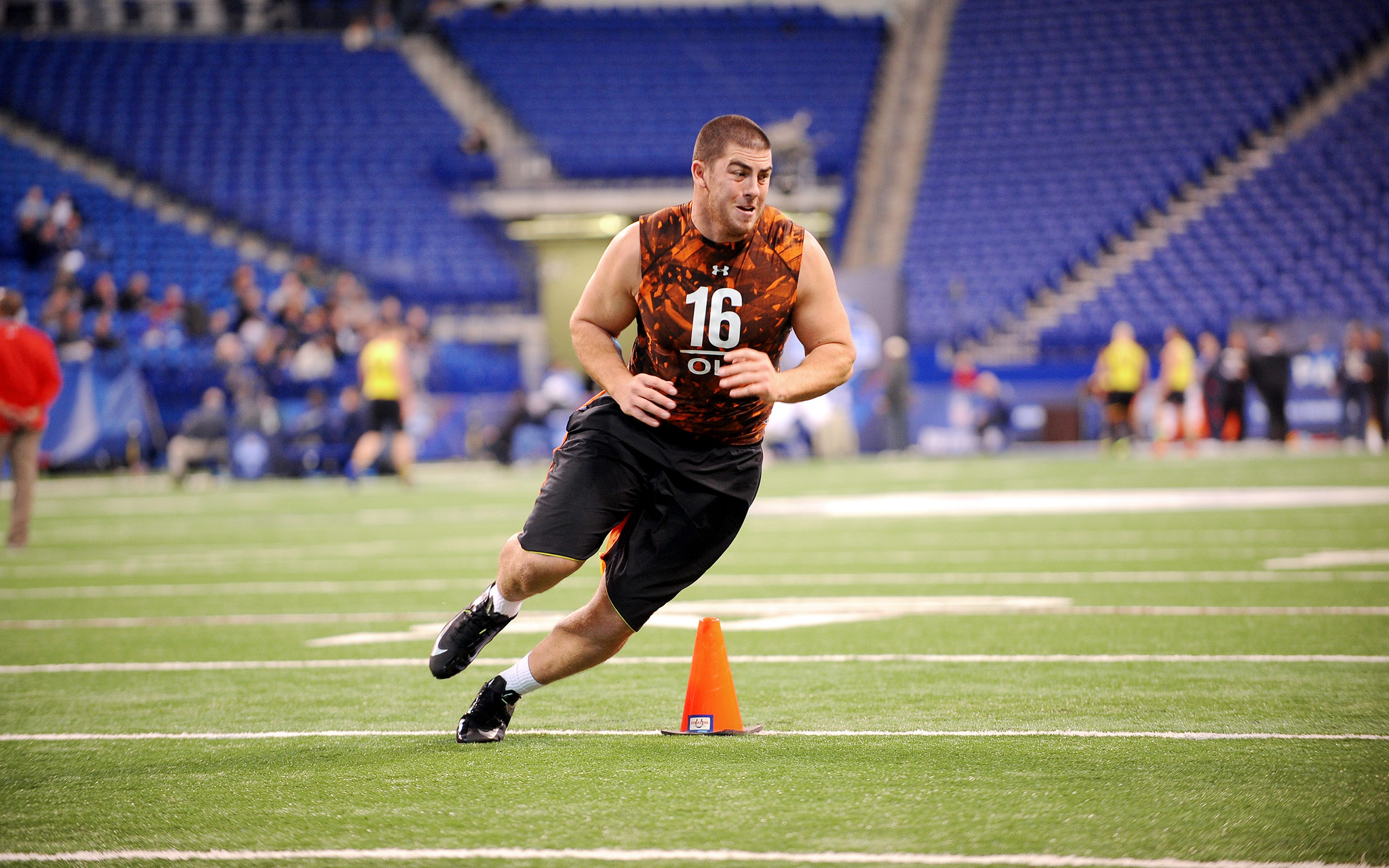 This year the offensive linemen are considered an outstanding group and expected to be very well represented in the top 10 picks.  They worked out yesterday and there are prospects who improved their standing and others who dropped a bit.
The number one rated offensive tackle Texas A&M's Luke Joeckel's was solid in his performance but at the NFL Combine yesterday.  He was slow in the 40-yard dash with a 5.22 and a 5.35, but the scouts don't usually put too much weight on them.  His standing broad jump was 8'10" and he ran the 20-yard shuffle in 4.68. His field work was better but he didn't outperform the other offensive tackles ranked below him.  He' no longer head and shoulders above his competitors, but I think he still has a good chance of being the first pick in the draft.
Central Michigan's Eric Fisher is considered the second best tackle in the draft behind Joeckel but he put up better numbers than the Texas Q&M tackle in just about every test.  He ran a 5.05 in his second 40-yard dash.  He had a standing broad jump of 9'8″ and did the 20-yard shuffle in 4.44 seconds, which was the best number of all the offensive linemen.  They both bench pressed 225 pounds 27 times.
Quite a few NFL player personnel people feel that Alabama guard Chance Warmack is best football player in this draft, but he struggled in the "Underwear Olympics"  yesterday.  The big fella could only run a 5.49 in the 40 yard dash.  His work in the drills done on the field was mediocre at best and had some onlookers questioning the glowing evaluations he had been given.
Jonathan Cooper is the second in guard rankings with most teams, but he moved closer to the top-rated Warmack yesterday with his workout.  He ran an impressive 5.07 in the forty-yard dash and moved well in the field drills.  He also showed off his tremendous strength by bench pressing 225 pounds 35 times.
Oklahoma offensive tackle Lane Johnson blew the roof off the Indianapolis Dome with his workout on Saturday.  He's currently an offensive tackle, but he converted from being a tight end and his athleticism showed up big time yesterday.  He ran a(4.72 in the 40, jumped an amazing 34-inches in the vertical jump, leaped to 9-11 broad jump.  In the field work, he wowed the scouts even more by with his work in the kick-slide drill where he has to cut off an opposing pass rusher.
Oregon offensive tackle Kyle Long, who is the son of Hall of Famer, Howie Long, had a strong showing at this year's Combine and showed that he's a tremendous athlete with a big upside.  He ran a 4.93 40-yard dash which is outstanding.  His standing broad jump was 8'11" and his 20-yard in 4.63 seconds.
Arkansas Pine-Bluff's Terron Armstead turned a lot of heads on Saturday with his 4.71 in the 40-yard dash.  This was a unbelievable time for an offensive tackle, but it shows that the big guys are getting faster and faster.  This guy is 306 pounds and was able to run a time which tight ends and linebackers would be very happy about.