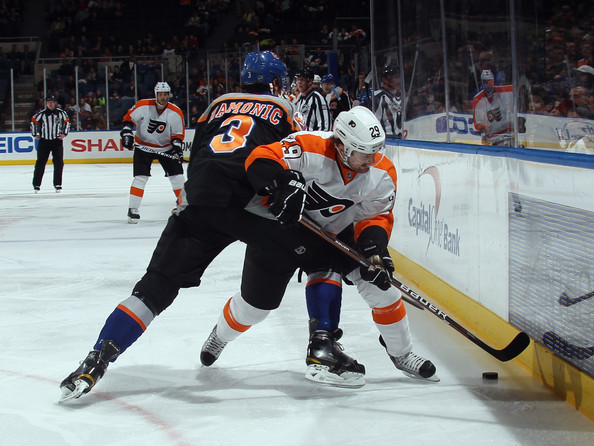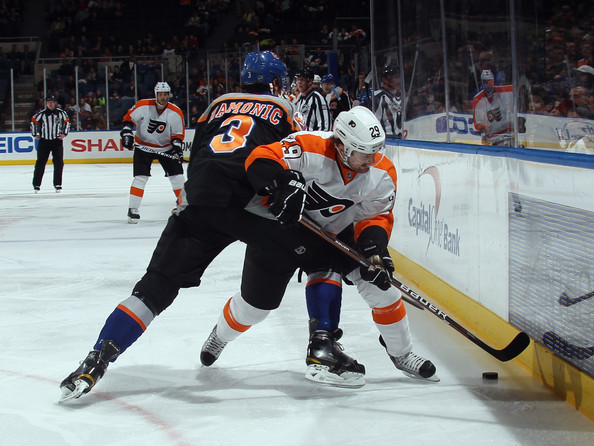 The Philadelphia Flyers gained an invaluable two points in Saturday's 2-1 win against the Ottawa Senators as they continue to fight for playoff positioning in the standings.
As a result of a reckless check from forward Harry Zolnierczyk in the first period of that game, though, the team will be without his services for at least four games.
"During the first period… Flyers' forward Harry Zolnierczyk was assessed a major penalty and game misconduct for charging Ottawa defenseman Mike Lundin. As the video shows, as Lundin carries the puck through the neutral zone, Zolnierczyk comes onto the ice for a line change. As Lundin enters the offensive zone, he cuts to the middle and dishes the puck to his wing. Zolnierczyk, who has Lundin lined up, moves in for the head. However, instead of delivering a hard, legal check, he launches prior to the check, making significant contact to Lundin's head. This is charging."
Shanahan acknowledges that players still need to be aware of where their opponents are on the ice, which is probably why Harry Z avoided punishment for his hit against Washington Capitals forward Mathieu Perreault in the previous game. In this case, though, it was an easily suspendable hit that resulted in a concussion to Lundin.
The loss of Zolnierczyk is compounded by the news that Tye McGinn is now expected to miss four weeks instead of two weeks and Tom Sestito is now property of the Vancouver Canucks. In the short term, Mike Knuble will likely return to the line-up against the New York Rangers on Tuesday.
I have been asked often why Eric Wellwood isn't back with the Flyers in light of all these injuries. He would be the best replacement as an "energy" fourth liner, but I still believe the team has reservations about recalling him, based on their past record. Their next best forward is Marcel Noebels, who plays more of a "skill" game than that of a role player.
For what it's worth, Wellwood scored his 6th goal and 12th point in 43 games this afternoon against the Albany Devils. The Adirondack Phantoms lost 3-2 in regulation, with a 1-6-1 record in their last 8 games.