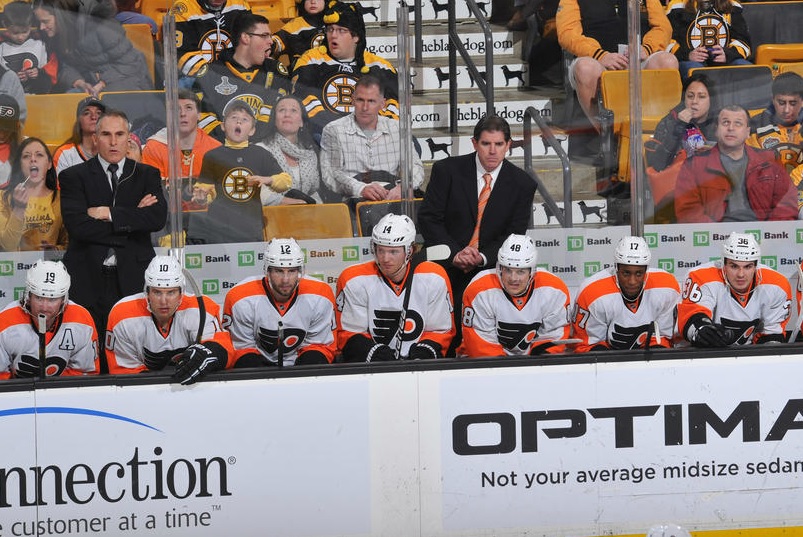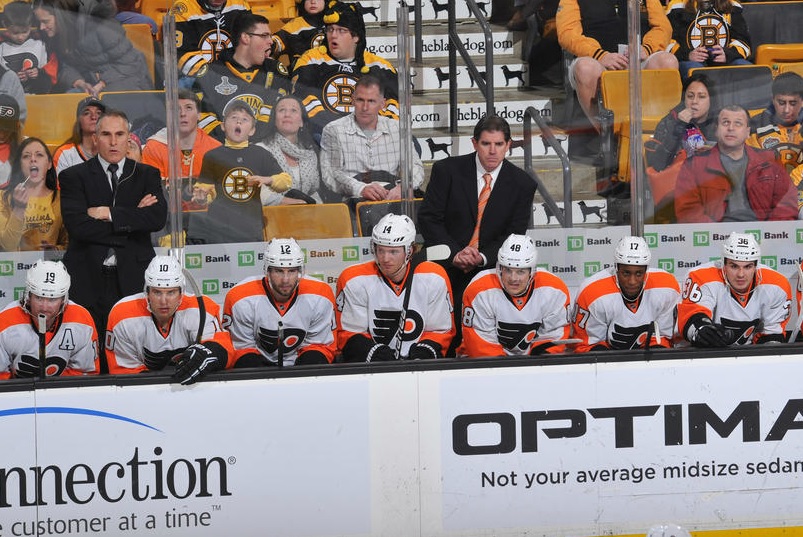 Bill Meltzer of HockeyBuzz hit the nail on the head this morning with regards to the Philadelphia Flyers' poor play against the New Jersey Devils on Wednesday night:
"A desperate club doesn't know how to stop the bleeding and get back on track when things don't go their way. Instead, they compound the problem with bad penalties, lack of puck support and trying to do too much as individuals offensively.

A desperate hockey team is, well, one that is in a state of despair. The players stop believing in one another and many individuals have lost confidence even in their own abilities. Such a club often has tuned out its coach, and every strategic or personnel management button he pushes seems to be the wrong one."
Although the team has not been mathematically eliminated from playoff contention yet, the magic number that everyone is working with as a rough cutoff margin is 55 points. Are the Flyers realistically going to win 15 of their final 20 games?
Better yet- if they aren't, what's the first step to turning the ship around for next season?
There has been a lot of discussion today that head coach Peter Laviolette could be on his way out very soon. The organization moved John Paddock from assistant general manager to assistant coach prior to the start of the season, suggesting that he would take over the team if Laviolette was removed from his position.
I don't think it's the right decision, though. Not at this point in time, at least.
Laviolette has won championships at both the AHL and NHL levels, including the Stanley Cup with the Carolina Hurricanes in 2006. He has led three different teams to the playoffs six times in ten seasons. He has also coached the 2nd highest number of NHL games among American coaches (708), behind the New York Rangers' head coach John Tortorella (802).
He hasn't been able to adapt his coaching style to the personnel he has this season or motivate his players into simply playing better hockey, but this season is too short to make final judgment on his coaching abilities.
Let's be honest- the Flyers were one of a handful of teams with an unreasonably rough schedule to start the season, allowing for little to no practice time between games. Injuries to key players and regressions by younger players have compounded their issues, feeding into an atmosphere that is not conducive to success.
If you want to call that making excuses, go ahead. If you look at the big picture, though, removing Laviolette doesn't strike me as the solution to make all of their problems go away.
The timing of an immediate firing wouldn't help the team either. As mentioned, Paddock would probably take over in an interim role until the offseason. So what would be the point of that? They wouldn't be learning a new coaching system to get themselves prepared for the following season.
Who do you replace him with? Neither Ron Wilson, Lindy Ruff, Paul Maurice, Terry Murray or any of the recently fired NHL head coaches instill any level of confidence in me. There are AHL coaches like Dallas Eakins in Toronto or former Flyer Luke Richardson of the Binghamton Senators who have performed well at that level, but they are still unproven.
There have been two mid-season coaching changes in recent years that have resulted in immediate returns- the replacement of Michel Therrien with Dan Bylsma for the Pittsburgh Penguins in 2008 and the replacement of Terry Murray with Darryl Sutter for the Los Angeles Kings in 2012.
In both cases, neither coach reinvented the wheel. Both were credited with loosening up the attitudes in their respective locker rooms, focusing less on the x's and o's and more on the collective atmosphere.
The Flyers could certainly use that type of change, but it's almost too late in a shortened season to make a difference.
In the remaining twenty games of the season, the team will actually have a better shot at playoff success if they focus less on the number of games left and more on enjoying the game they are paid handsomely to play. Appreciation and joy often breeds success, especially if the team can once more buy into the plan that their coach is selling.
Whatever direction the organization decides to go in the offseason, they better have a blueprint than they did in the summer of 2012.