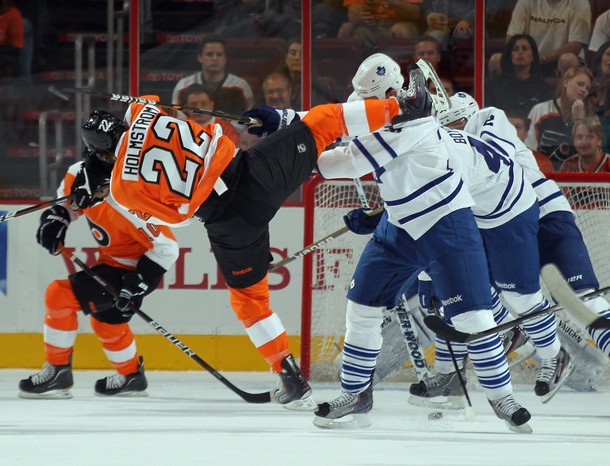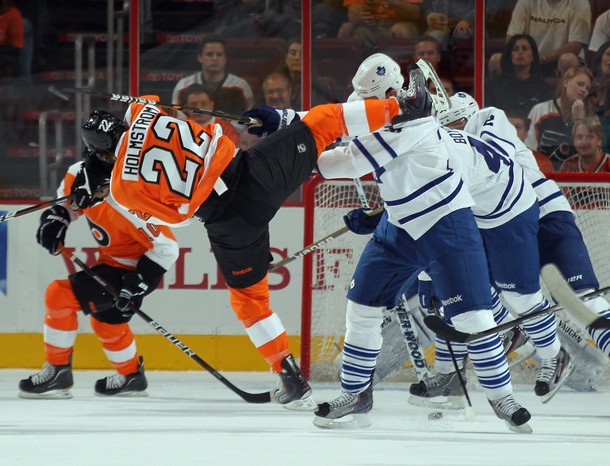 Renaud Lavoie of RDS reported this afternoon that the Philadelphia Flyers have signed forward Ben Holmstrom to a one-year contract extension.
The contract is worth $600,000 at the NHL level and $285,000 at the AHL level.
Holmstrom was first signed by the Flyers as a collegiate free agent in 2010. In 181 games with the Adirondack Phantoms, he has tallied 36 goals and 90 points.
Holmstrom has also been called up to the Flyers twice in the last two seasons, but he has yet to score his first NHL point.
He has been sidelined for the majority of the 2012-13 season due to a season ending ACL injury that required surgery. He has been skating recently, but has yet to take part in any practices.
It's difficult to say whether Holmstrom has what it takes to contribute at the NHL level. He has a lot of character, evidenced by his being named the Phantoms' captain, but he hasn't "broken out" at the AHL level and produced some of the worst statistics among forwards in his limited NHL appearances.
If he can develop into a face-off man, that would be an improvement on the fourth line. In seven NHL games over the last two years, his record in the face-off circle is 20-for-46 (43%).
With Scott Laughton likely to make the Flyers out of camp next season (assuming he isn't traded away), Holmstrom certainly has his work cut out for him to make the team. Hopefully having him back at full health will at least help the Phantoms improve their record so that maybe they could actually make the playoffs in Glens Falls, for once.