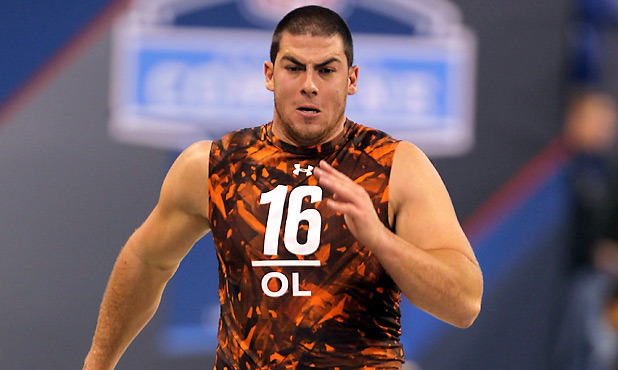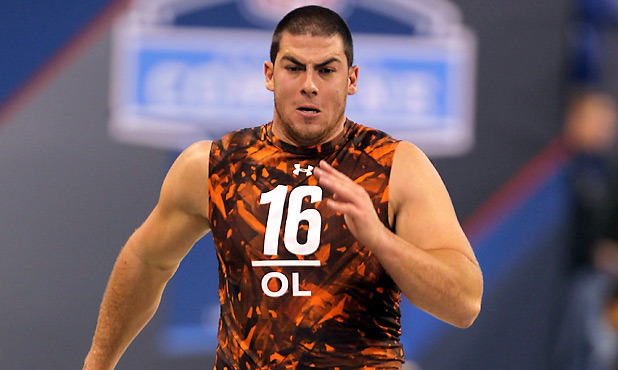 Birds GM Howie Roseman is at the NFL Owners meetings in Phoenix and he talked about the team's thinking regarding the fourth pick in the first round of the upcoming draft.
"When you're at four it's a smaller pool of players that you're looking at with that pick. You're not looking at 10 players," Roseman said at the NFL owners meetings. "You're down at this point to six or seven names."
I see not six or seven, but five players who the Birds might select with that number four pick in the first round of the draft.
Left tackle Luke Joeckel is considered a can't miss prospect out of Texas A&M.  He's only a junior but has been a starter since he came to the university as a freshman.  Joeckel was dominant in the toughest college football conference in the nation.  He's got great size, good feet and tremendous technique, but wasn't outstanding at the NFL Combine.  I say so what, he dominated during the season, which is what really counts.  I could see the Birds drafting Joeckel if he's there because he would be the best player on the board and he's considered a sure thing.
I got a chance to get an upclose look at another left tackle Eric Fisher of Central Michigan at the Senior Bowl and he was very impressive.  He's got great size 6'7″ 305, and quickness.  Plus he's got great discipline and is technically sound.  Of course the conference he played in wasn't on the same level as the SEC, but he kicked a lot of butt in Mobile, Alabama.  He could end up being better than Joeckel because he's more aggressive.  I could see the Eagles grabbing Fisher at the number four spot because they probably have him listed very close to Joeckel on the draft board.
West Virginia quarterback Geno Smith is clearly one of the players that the Birds might use that fourth pick in the first round on.  Smith has a great arm, good size, great speed and plenty of playmaking ability to interest the Birds at that number four spot.  There were some questions about his footwork, but he's been working on his fundamentals and his accuracy in throwing the deep ball.  Smith was expected to go amongst to the second ten until he shined at the NFL Combine and at his Pro Day workouts.  Now there's a good chance the Birds won't even get a shot at him.
Oregon linebacker/defensive end Dion Jordan is an athletic freak who would be a great fit as the weak outside linebacker for the Birds.  He would be rushing the passer or covering tight ends and he's shown us during his college career that he will be very adept at either task.  Jordan stands 6'6″,  weighs 248-pounds, but runs a 4.5 forty yard dash.  He's considered the most versatile defensive player in draft.   I wouldn't be surprised if the Birds draft Jordan since Chip Kelly knows him very well from their time together at Oregon.
Alabama cornerback Dee Milliner went into the NFL Combine as the country's top rated cornerback, but there were questions about his speed.  Well the 6'1″ 200 pound Crimson Tide defensive back blazed a 4.37 in the forty and answered all the questions.  Milliner is a complete corner, who can cover in a press technique or when backed off of the wide receiver.   He's also a solid tackler, who has no problem coming up and pounding a ball carrier.  I wouldn't be surprised if the Birds were to grab Milliner at the number four position in the draft.
I doubt the Eagles will draft local product, Florida defensive tackle, Sharrif Floyd with their top pick because I don't think they're willing to invest two number one picks in the same position, one year after the other.  Last year the Birds selected Mississippi State defensive tackle Fletcher Cox with their first pick.  I think they would love to line them both up side by side in the defense but it would mean ignoring needs at numerous other positions.
I don't think they will draft Chance Warmack or North Carolina's Jonathan Cooper because they're guards and the Eagles still have got a bad taste in their mouths from the Danny Watkins selection.
BYU defensive end Ezekiel Ansah is a tremendous specimen but he hasn't even started for a full season in college.  Despite his amazing numbers, you can't use the fourth pick in the draft on somebody who hasn't shown they can be a star in college ball.  It just doesn't make sense.
There no way they could select a player who barely has a college resume like Brigham Young defensive end Ezekiel Ansah.  This guy is past raw.  He probably doesn't know all the basic rules of the game very well.
On a side note, it wasn't a shock to me to learn that the Cleveland Browns have a private workout scheduled with West Virginia quarterback Geno Smith.  Of course you know that the Eagles had a workout with Smith on Monday of last week.  Now former Eagles President Joe Banner and Cleveland will take a close look at Smith.
I don't think the Browns are looking at Smith solely because the Eagles took a close look at him, but it could be part of the reason for them looking at him.  There's an article on Philly.com today about Banner burying the hatchet between he and his longtime friend Jeffrey Lurie.  I hope that's the case, but I wouldn't put any money on it.