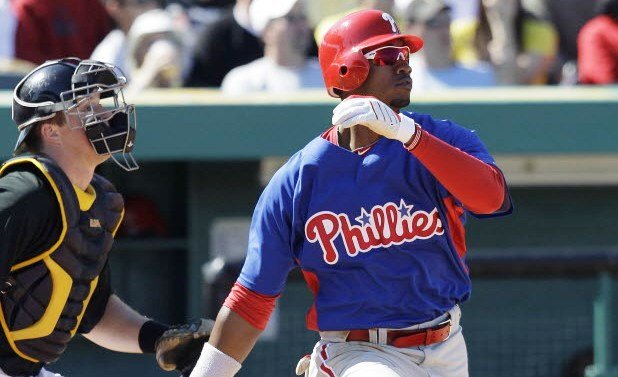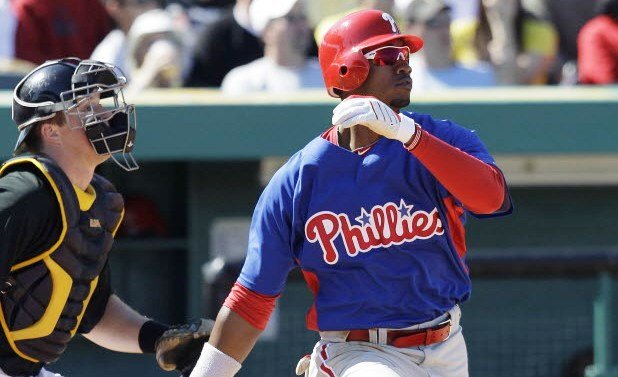 Domonic Brown's stat line this spring is astounding: a .397 average with 21 runs, 12 RBIs and six home runs in 22 games.
His resurgence during Spring Training is proving to be one of the few bright spots surrounding the Philadelphia Phillies as the season quickly approaches.
But is his sudden hitting outbreak just a fluke? Can he possibly carry this over into April and the summer months?
We've seen this storyline before. Back in 2010, Brown tore up the minor leagues, bashing 20 home runs and 68 RBIs with a .327 average while splitting time between Reading and Lehigh Valley. Because of his hitting prowess, Brown was able to showcase his talents at Citizens Bank Park on a daily basis. Unfortunately, the big lights were too much for him. In 62 at bats, the lefty struggled with a .210 average and 24 strikeouts.
The same continued in 2011 when Brown batted sub-.250 yet again in 184 at bats. The biggest concern, though, was his run production. In 2010, he knocked in 13 runners despite the limited at bats. In 122 more at bats than the previous year, Brown was able to knock in just six more runners. That's not what any fan wants to see from a middle of the order hitter.
It seemed impossible that someone who was that hot in the minors and so highly-touted like Brown was could struggle so mightily at the next level.
That's why this Spring Training is such a welcoming sight for every Philadelphia fan.
Unfortunately, these riveting few months from Brown mean nothing once April 1 rolls around.
This year, more so than in years past, all eyes will be on the 25-year old outfielder. In a banged up and aging lineup, Brown, along with Ben Revere, can become the difference maker in the Phillies' pursuit of a NL East title. He has the potential to erase all those bad memories he left in the minds of every Philadelphia fan with a strong 2013 campaign.
The difference with Brown going into this year is his confidence. Perhaps it's the "What Can Brown Do For You?" tattoo he got, or what many believe to be the biggest reason behind his outbreak, the fact that he has a hitting coach who finally corrected his biggest hindrance. New hitting coaches Steve Henderson and Wally Joyner have apparently spent a lot of time fixing Brown's stance, adjusting his hands on the bat and providing him with a much better approach at the plate.
All of this has led to Brown hammering every pitch he sees.
So what should Philly fans expect from the Florida native?
Well, for someone who was listed right behind Mike Trout and Bryce Harper among the prospects rankings, expectations will always be tainted when it comes to Brown. However, I'm a strong believer that Brown has finally figured things out. I know it's hard to judge someone in the spring, but I've always been quick to note that Brown's batting stance was atrocious when he first came up and his hands were way too slow. I felt this was the biggest thing holding him back at the major league level.
With all of that apparently fixed, Brown's swing this spring has been beautiful. Am I saying he is going to put up Trout-like numbers? No.
But I do think he can put up Harper-like numbers. His changed approach at the plate leads me to believe Brown could muster up a .270 average with 20 home runs and 50+ RBIs this season – identical to Harper's All-Star season in 2012.