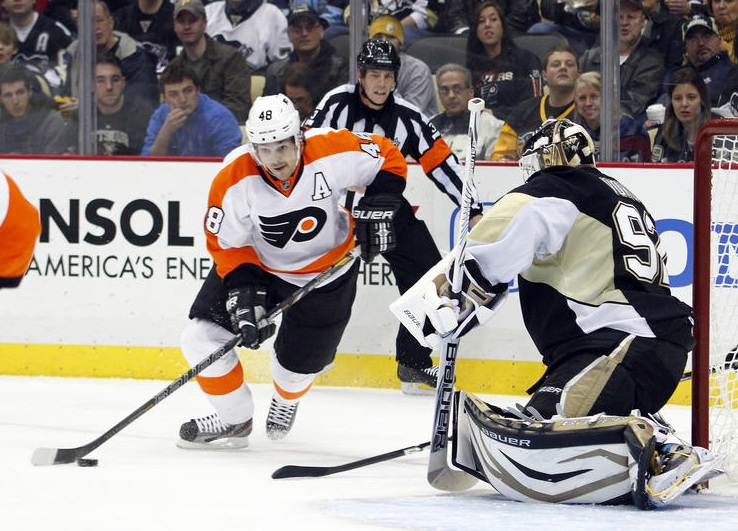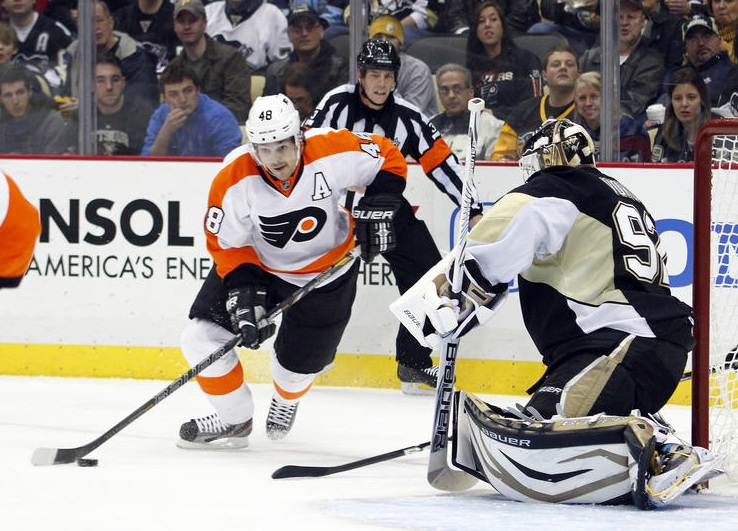 UPDATE: The Flyers have announced that Danny Briere is out indefinitely with a concussion sustained in practice on Saturday. He can not be traded if he isn't healthy.
Brenden Morrow was drafted by the Dallas Stars in 1997. His entire career has been spent in the great state of Texas, where he scored 243 goals and 528 points in 835 games. He did not join the team until the 1999-00 season, though, missing out on the Stars' one and only Stanley Cup win since being relocated from Minnesota.
His chances of winning the Cup have just gone up dramatically. As of this afternoon, he has waived his "no trade clause" to join the Pittsburgh Penguins.
With so many teams fighting for playoff positioning in a shortened season, the number of trades made to date has been small. Depth moves like David Steckel to Anaheim, Matt D'agostini to New Jersey, and even Simon Gagne to Philadelphia have involved mid-to-late round picks.
Few teams really knew (and arguably still don't know) if they had reached a point where hoping for their respective teams to "get hot" for the playoffs was realistic. With 18 games remaining in the regular season, though, the leaders of the pack have begun to pull away from the rest.
The Penguins, sitting atop the Eastern Conference with 48 points, are clearly "buyers."
The Philadelphia Flyers, idling in 13th place, are five points out of 8th place. They have been fortunate that many of the teams immediately in front have not pulled away in the past week, but another week of losses heading to the April 3 trade deadline will all but kill those meek chances.
It's time to realistically enter the seller's market. Pittsburgh has already made their big move; big market teams like Boston, Chicago, New York and Los Angeles have yet to make their own.
If Morrow can waive his no-trade-clause to move to a contender without the Stars being considered shameful, there's no reason for the Flyers to not be approaching Danny Briere with a similar question. I wrote over a month ago that it may be time for him to move on for his sake, but the Flyers also need to be looking to deal now from one of their few positions of strength- offense.
Another player with deep ties to the organization that drafted him- Jarome Iginla- has given Calgary Flames general manager a list of four teams that he would accept a trade to. That list, per Renaud Lavoie of RDS, included Pittsburgh, Boston, Chicago and Los Angeles.
Again- if Iginla can be moved, so can Briere.
Sam Carchidi of the Philadelphia Inquirer reported via twitter that his "sources" say the Flyers do not have plans to trade for veteran defensemen Jay Bouwmeester or Dan Boyle. This comes after CSNPhilly reported that Paul Holmgren and Chris Pryor were scouting Boyle during a recent San Jose Sharks-Minnesota Wild game.
Per Bruce Garrioch of the Ottawa Sun, the Sharks are looking for "a player who can help now and a meaningful draft pick." The Sharks are currently one point out of playoff position and are ranked dead last in the NHL in goals-per-game. They are looking for offense badly.
I'm not going to spend time speculating on what deals could be made. Simply, the market is going to get more and more desperate with every day closer to the trade deadline. A team like the Sharks, asking for a "meaningful draft pick," would likely reduce their demands to a late round pick (or no pick at all) if it improved their chances of earning a playoff berth.
Briere will not be playing tonight against the Penguins. The organization announced early this morning that he injured himself in practice on Saturday in the "upper body" area. This organization can not afford to lose him to injury before April 3 if it has any intentions of returning to a competitive team as quickly as possible.
There is no better time to enter the trade market, "no trade clause" be damned.