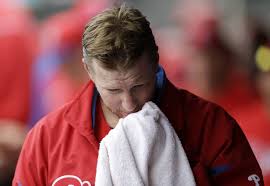 Phillies veteran pitcher Roy Halladay has come to the realization that he's got to reinvent himself as a Major League hurler.  On Saturday he pitched against some minor leaguers and he was not even close to being impressive.
His fastball was between 85 and 89 miles per hour.  He did reach 90mph on one pitch, but was able to only retire 7 of the 18 batters he threw.   Halladay surrendered seven hits, including three doubles, three runs, walked two and struck out just one in four innings.
"I don't know of any guys who were throwing harder as they got older," Halladay said after getting hammered against the minor leaguers in a start on Saturday. "You're always trying to evolve with the game and your body.
"To me, it's a competition, not a boxing match. It's not a strength-vs.-strength. It's a chess match. It's competition of the mind, and execution, and being smarter, and being more prepared. To me, that's what I've enjoyed. That's what I've liked about baseball.
"You look at a Jamie Moyer. He could compete with the best of them. He would've gotten knocked out in the first round if he was a boxer. It's just a different mentality. It's not about the strength and throwing harder and overpowering guys. It's about outsmarting and being more prepared and being more consistent. That to me is a challenge."
The big question is how long will it take Halladay to reinvent himself.  Can he do it in a month or two?  Will it take him a year or two to the point where he needs to be given some time out of the rotation?
Remember that this didn't just happen all of sudden.  Halladay's ERA ballooned a year ago to 4.49 from 2.35 in 2011.
Right now it's starting to look like he needs time away.  Hopefully he can pull a miracle out of his hat, but he surely hasn't done it so far in Florida.  His ability or inability to figure out how to get hitters out despite his lost velocity will play a very important role in the season.
Thankfully the Phillies hitters have been pounding the ball,, but they're still going to need Halladay if they plan on staying up with the Washington Nationals and Atlanta Braves.