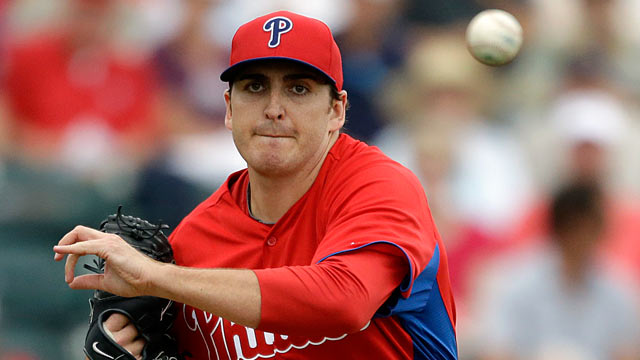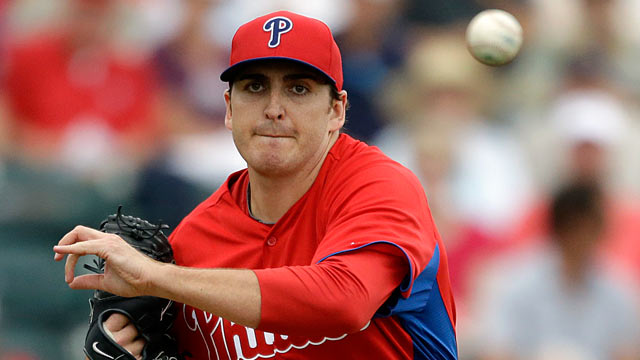 When a pitcher goes four innings and surrenders 12 earned runs on 14 hits, there's going to be plenty of questions surrounding that player.
This is the case with John Lannan.
The fifth starter in the Philadelphia Phillies' rotation, Lannan was rocked Monday by the Toronto Blue Jays. Right from the beginning, it was clear something was off. Prior to that outing, the former Washington ace posted a respectable 3.21 ERA in 14 innings. Unlike in previous years, there wasn't too much concern regarding the fifth starter.
But that changed Monday.
Sure, it's just one outing – actually, just one Spring Training outing. But it still leaves fans concern. Perhaps this is only being discussed so much because of the ongoing soap opera that is Roy Halladay and his decreased velocity. Or maybe it's just because there's nothing else to discuss with Opening Day within the week.
Nonetheless, Lannan and his performance this upcoming season could go a long way for the Phillies. He  may just be a fifth starter, but with concerns over Halladay and Kyle Kendrick always being streaky, having a reliable veteran manning the backend of the rotation is exactly what the Phils need.
The key word being reliable, of course.
When the Phillies signed Lannan, the first thought that came to my mind was the image of him being beaten on a regular basis every time he countered Philadelphia. If you take his starts against his current club out of the equation, his numbers are actually quite respectable.
Unfortunately, though, I don't think Lannan will keep his role the entire season. Last season, he only pitched in six games with Washington after spending time in the minors. While he did go 4-1 in limited action at the big league level, I'm still not sold on him.
He's pitched in the NL East for all six of his major league seasons so hitters know what to expect against Lannan. At 28-years old, there's nothing new about him or his pitches. This, albeit minor, could become a problem as the divisional games start coming along.
I also don't like his stats when pitching in the hitter-friendly confines of Citizens Bank Park. In eight starts, Lannan has a 2-5 record with a 6.49 ERA and eight home runs.  For the most part, the Phillies have had one of the top offenses in the National League since their '08 World Series run so it's understandable to see inflated numbers, but Lannan will be facing some challenging and powerful lineups within the division this year in Washington and Atlanta. If Lannan starts throwing lollipops like he did against Toronto on Monday against his former ball club, guys like Ryan Zimmerman, Bryce Harper and Jayson Werth will tee off on him.
That's not what Phillies' fans want to see.
I believe Lannan will be back-and-forth this year with more downs than ups. Eventually, I see the Phillies calling up one of their younger guys or making a move at the deadline if they're in contention for a playoff spot.