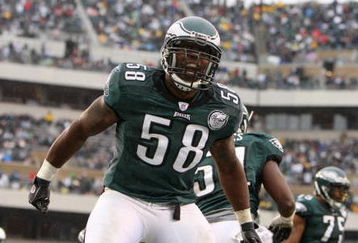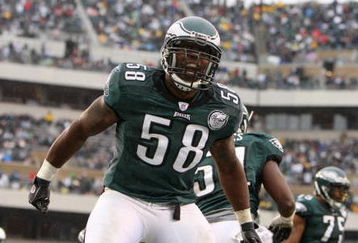 With the Eagles making the transition to a 3-4 defense, they've got a number of players leftover from their 4-3 scheme that could have some trade value elsewhere. Right now the Eagles have too many 4-3 defensive ends. Trent Cole, Brandon Graham, Vinny Curry, and Phillip Hunt are all still on the roster, but it would be very surprising to see all four of them on the Eagles Opening Day roster.
Right now, either Trent Cole or Brandon Graham would start alongside DeMeco Ryans, Connor Barwin, and Mychal Kendricks in the Eagles' new scheme. The team hasn't declared whether or not they view Curry, a second round pick from last year, as an outside linebacker or a defensive end in the new defense, although a number of 3-4 teams worked him out before last year's draft. Hunt wasn't given much of a chance to perform in the defensive end rotation last season, but he's shown flashes.
The Eagles aren't satisfied with their linebacker situation. They're going to bring former Dallas Cowboy Victor Butler in for a visit, and they'll add more depth and competition to the position through the draft. So where does that leave Cole, Graham, Curry, and Hunt? Which of these four has a real future with this team, and who will end up being the odd men out?
Of those four, Graham and Curry are the only ones that have any kind of trade value. After nearly three years of doing nothing, Graham finally began to slightly resemble a starting defensive end. He came on strong at the end of the season with four sacks in the final five games. Curry barely saw the field in his rookie year, but he was high on many teams' draft boards a year ago. Even if the Eagles decided to trade Graham or Curry, I couldn't see them getting much more than a fourth round in return for either player.
Trent Cole is coming off of a terrible year in which he managed just three sacks, the lowest total of his career. He was a complete non-factor for the most of the season, and his best days are likely behind him. The Eagles have said throughout the offseason that they believe Cole can succeed in a 3-4, but I'm not so sure at this stage in his career that he can make that transition.
Hunt has shown some potential, but the Eagles have never given him much playing time.
The defensive line/linebacker picture is only going to become more crowded after the draft, and it will be interesting to see which of the remaining defensive ends stays and goes.