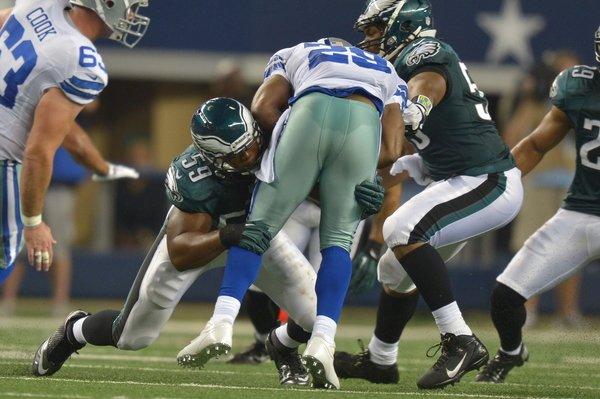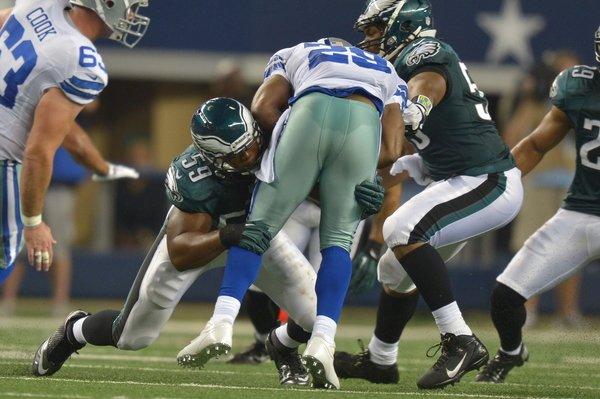 I commend Eagles new head coach Chip Kelly for putting his stamp on the team and one of the places he has started is in the locker room.  No longer will the Eagles team be separated by positions and offense and defense in the locker room.
This year, the offensive players will have lockers right next to defensive players.  Everyone will be mixed in together, but they will make it a point to have older players mixed in throughout the locker room with younger players.
This is good, but it won't mean anything if the veteran players like DeMeco Ryans, Jason Peters, Todd Herremans and Jason Kelce don't take control and lead the football team.   On the offensive line last year, they had no leadership when Peters, Herremans and Kelce went down.
The veteran players who were left a year ago on the team failed to step  up and lead with some "tough love".  They all followed Andy Reid's lead and refused to call anybody out.
I was disappointed in that Ryans wasn't comfortable to challenge his teammates on the defensive side to be more prepared and focused during games.  I know it was his first year with the team, but he was the best defensive player with leadership ability.  I respect the fact that Ryans carries himself like a professional.  He is mentally prepared for each game and was their most consistent defensive player a year ago.
He stayed quiet as the defense melted down week after week, especially in the secondary.  He never criticized his teammates publicly.  This should have been done at some point.  It should have started by getting in the face in one-on-ones, then eventually been made public when the private talks failed to work.
The goal of the leaders of the team is to find a way to win, not be your teammates best friends.  A lot of times as a leader, you can't be anybody's best friend because you have to challenge your teammates.
Understand I'm not talking about individually calling them out publicly, but he and the teams other leaders should have been making it known that there were veterans taking the field, who were unprepared to play.  People like Nmandi Asomugha and Dominique Rodgers-Cromartie should have been made uncomfortable and told that they were letting their teammates down.
I think it's very important that teammates call out their each other in one-on-one situations and during group discussions in the locker room.  That's the most important thing that happens in the locker room.  You must hold each other accountable.
The Eagles need leaders to step up this year and rule this team.  Sitting next to a veteran player in the locker room won't mean anything if those vets don't teach and lead.  Ryans must be one of leaders because of the fact he's always going to be talking in the Eagles defensive huddle.  With that position comes a leadership requirement.
Peters, Herremans and Kelce are also guys who must step up as leaders.  I know they were were hurt a year ago, but the team needs them back desperately as they head forward.  The fact that they're not all the way back to being ready to get on the field and play, makes me think the Birds will take one of those tackles with their first pick.
On another very important subject, both of these guys are still in the process of getting healthy.
I head that Peters is ready to go because he's had a lot more time than the others to rehab his Achilles tendon tears.
Kelce is the one farthest away.  He's recovering from serious knee surgery and won't be able to do much in the upcoming mini-camp.  It looks like he'll be back and ready to go when the summer workouts get started.  He's a key to that offensive line.
Herremans, who is recovering from foot and ankle surgery will likely participate in the upcoming workouts, but it will be the start of him doing football drills.  It will take him awhile before he gets all of his movement back, but he'll probably be much improved when they do their second group of team workouts after the draft.