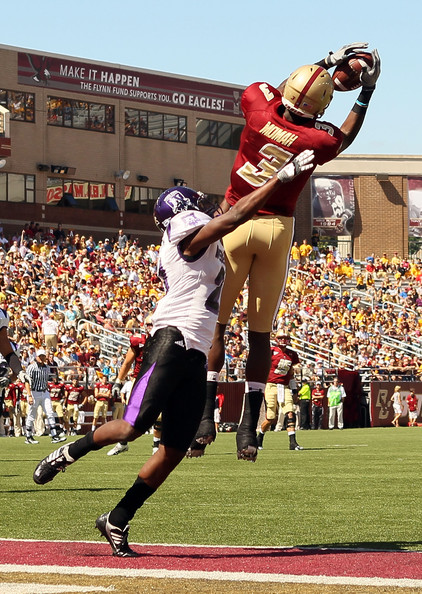 Eagles head coach Chip Kelly said he wanted to get bigger as a football team and he wasn't kidding.  Today the Birds signed 6'7″wide receiver, Ifeanyi Momah, who played his college ball at Boston College.
Momah who hasn't played football since 2011, recently ran a 4.4 forty-yard dash in front of some of the Eagles scouts.  Obviously, it's not easy to walk away from a 6'7″ and 239 pound wide receiver who can run that fast.
A serious knee injury in the first game of the 2011 season ended Momah's career at Boston College.  He did go out with a big bang on that September Saturday by having a monster game against Northwestern, when he caught eight passes for 157 yards.
In 2012, Momah's effort to secure a sixth year of eligibility was turned down by the NCAA.  He could have been drafted last year, but he was still rehabilitating from the knee surgery.  The 4.4. time in the forty lets us know that he's finally recovered from the surgery.