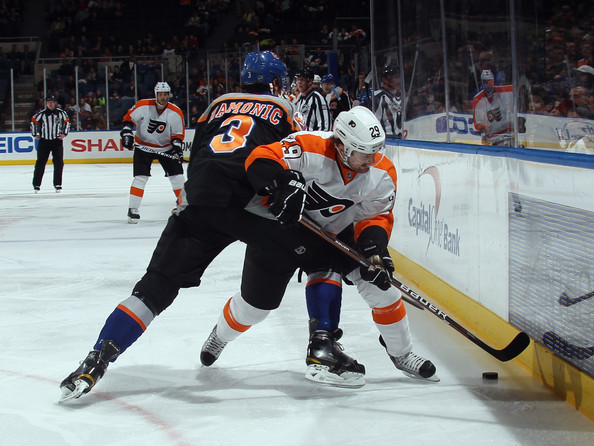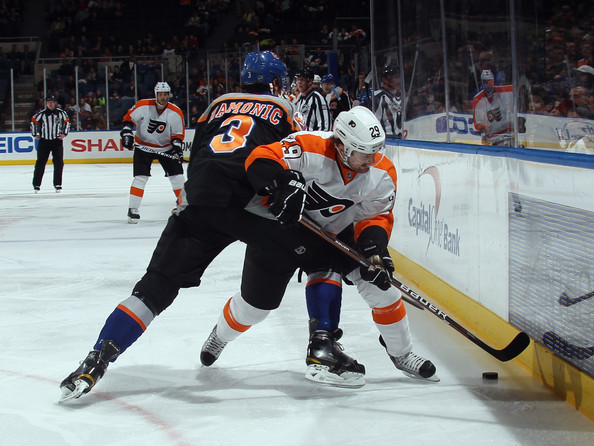 The Philadelphia Flyers have traded forward Harry Zolnierczyk to the Anaheim Ducks for "defenseman" Jay Rosehill. The quotes are there because Rosehill is used primarily as an enforcer.
Zolnierczyk was recalled to the Flyers recently to finish serving a four-game suspension earned for a head hit against Mike Lundin of the Ottawa Senators. He has been a healthy scratch recently, along with fellow call-up Tye McGinn.
In 44 games with the Flyers, "Harry Z" scored 3 goals and 7 points. His main asset has been his speed, which he used frequently in his call-ups as a fourth line forward to pin opponents in the offensive zone.
Moving Zolnierczyk should not impact the Flyers in the long-term. The deal is fairly pointless, though, as Rosehill is not generally effective for anything resembling hockey besides fighting. The cap savings in the trade equate to about $50K.
If this is the only move the Flyers make for the trade deadline, it could certainly be worse. In all likelihood, it was an overreaction to the fact that Jake Voracek had to stand up for Claude Giroux last night when that's not really his responsibility.