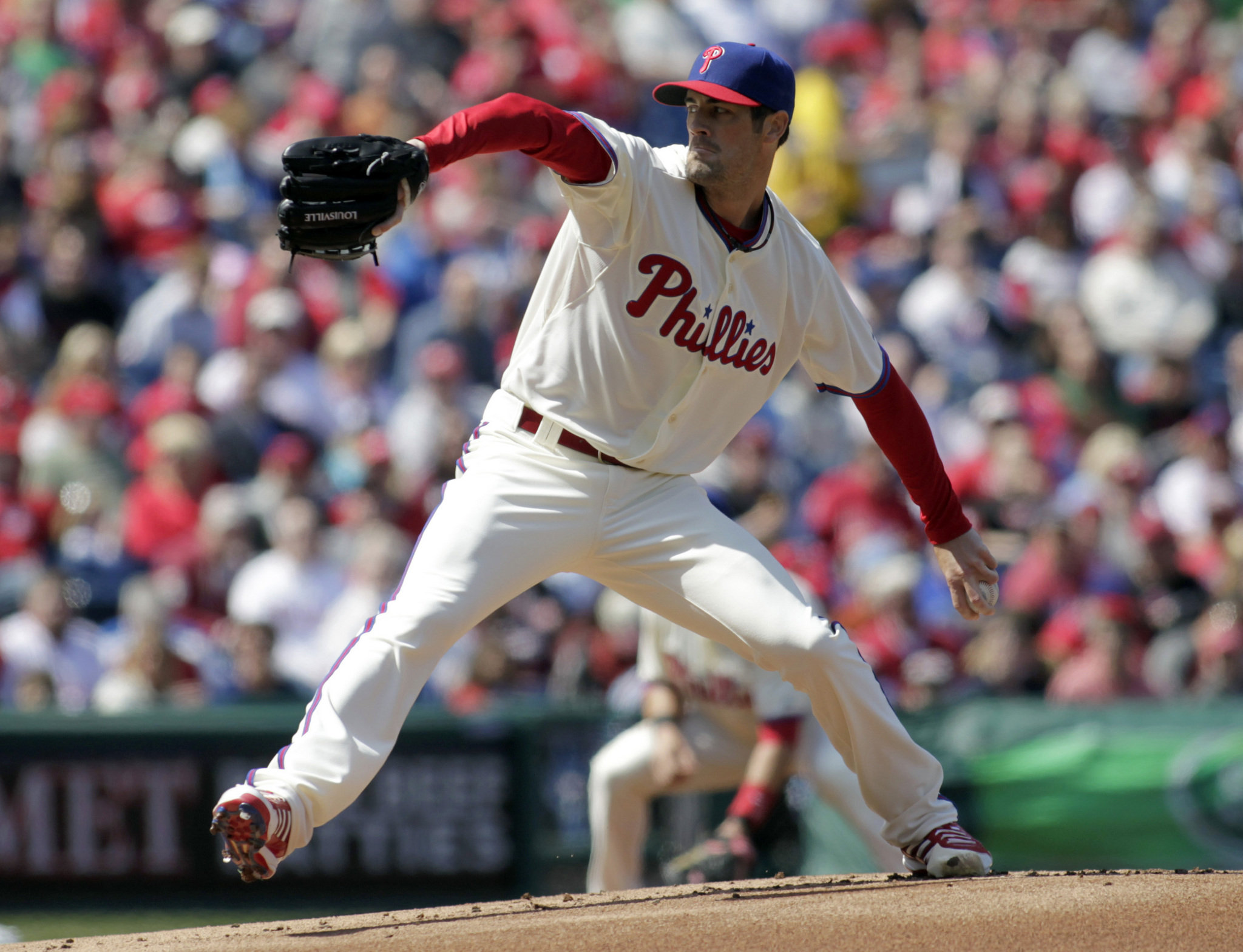 The Philadelphia Phillies lost the final game of their series with Kansas City on Sunday afternoon, falling to the Royals 9-8 in Philadelphia.
For the second time in three games, the Phillies blew an early four-run lead. The team jumped on Royals' starter James Shields earlier, putting up four runs in the first inning. Kansas City came back to score nine unanswered runs, and although the Phillies were able to knock in four runs in the bottom of the ninth, there just wasn't enough magic for another come from behind victory.
Cole Hamels turned in another disappointing outing, lasting just 5.2 innings and allowing eight runs. Hamels allowed two runs in the third inning, and then gave up a grand slam to Billy Butler in the fifth. He have up two more runs in the sixth inning before being lifted for Chad Durbin.
Durbin gave up two inherited runs in relief of Hamels, but didn't allow an earned run to his line, going 1.1 scoreless innings.
Jeremy Horst allowed a run in the eighth inning that proved to be the difference in the game. The bullpen has got to stop allowing teams to chip away and tack on runs like that.
At the plate, Jimmy Rollins had a strong day, going 2-5 and driving in a three runs.
Ben Revere broke out of his funk, and had himself a three-hit ballgame.
Chase Utley went 2-5 and knocked in a run. Utley is now hitting .391 with seven RBI's in the first six games of the year.
Michael Young went 4-5 with a double, and drove in a run.
Domonic Brown singled home a run in the first inning.
Ezquiel Carrera made his first start of the season, and didn't do much to impress. Carrera went 0-3 with a walk at the plate, and looked shaky in the outfield.
Final Thoughts
Cole Hamels can't continue to pitch at this level.
I don't want to hear that he and Erik Kratz are having issues with the gameplan. You're a top of the line pitcher, make good pitches and carry your team to victory. You don't hear Cliff Lee complaining about his relationship with Kratz.
One bad start every now and then is no big deal for an ace. But its unacceptable to string together multiple poor outings. As the ace, the entire ballclub leans on you to come out every fifth day, and give them a great chance to win. Today, the Phillies had a chance to win a series, and build some momentum for the week coming up. After already witnessing one four-run lead slip away on Friday, they really wanted to avoid losing another game in such an ugly fashion.
Now instead of finishing the weekend with a two-game winning streak, a .500 overall  record, and momentum, the Phillies are off to a 2-4 start, and will be forced to turn the ball over to a struggling Roy Halladay on Monday.
It's too early to have any kind of concern over Hamels, but he's not doing his job right now, and he's cost the team two victories in just the first week of the season alone.