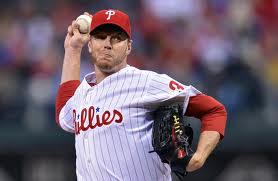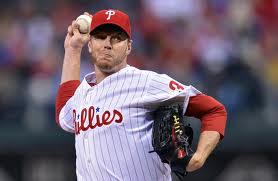 The Philadelphia Phillies lost their second straight game on Monday night, falling to the Mets 7-2 in Philadelphia.
Roy Halladay's struggles continued on Tuesday night. Halladay completed just four innings, before being pulled after allowing three consecutive hits to start the fifth inning. His troubles began in the second inning when he allowed a three-run homer to John Buck, and the former ace was never able to find his groove. His pitch count was once again exceptionally high, he had reached 99 pitches in his short appearance. Halladay allowed seven earned runs on six hits with three walks. His ERA ballooned to 14.73.
Once again, Chad Durbin was called upon to stop the bleeding and he couldn't get it done. Durbin entered the game with runners at second and third with no outs, and was able to get the first two outs but gave up a bases-loaded hit to Ruben Tejeda, allowing two runs to score. It was a difficult situation to expect Durbin to guide the team through with no damage, but he's been pretty hittable in all of his early appearances so far.
Humberto Quintero made the start at catcher, and wasn't able to improve the pitching performance at all. That's not a knock against Quintero, that's a knock against the pitching staff. Yes, neither Quintero or Erik Kratz is going to handle the pitching staff as well as Carlos Ruiz can. But the idea that Ruiz's absence has had something to do with the effectiveness of Halladay and Cole Hamels is being overblown.
To make matters worse, the Phillies just had no offensive firepower to speak of tonight. The lineup managed just two runs on four hits. The team got no production from the five, six, and seven holes with Michael Young, Domonic Brown, and Laynce Nix going a combined 0-8 with a walk.
Ryan Howard drove in the team's first run with a sacrifice fly in the fourth inning and Jimmy Rollins knocked in the second with an RBI groundout in the eighth.
Ezquiel Carrera made an appearance as a pinch hitter in the fifth inning, and struck out badly.
Jeremy Horst pitched two scoreless innings.
Raul Valdes badly needed to have a positive outing, and he managed to pitch two scoreless innings of his own.
Final Thoughts
It's very hard to watch Roy Halladay struggle like this. The once elite pitcher looks more and more like a just a hollow shell of his former self, with no answers in sight.
That being said, I think it's far too soon to write Halladay off. There's certainly great reason for concern, but it's not time to declare him a lost cause even though he's pitched poorly for over a month now.
Right now, the former All-Star is lost. Before Halladay can begin to pitch effectively again, he's got to accept that fact that can't do the same things that he did in the past. A guy as established and proud as Roy Halladay is going to have a difficult time coming to terms with the reality that he's no longer a top pitcher in the game.
The Phillies have no choice but to keep rolling Halladay out to pitch every fifth day. They've got to keep faith that the Doc will eventually straighten himself out, and become a respectable starter once again.