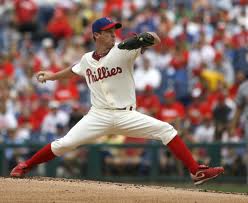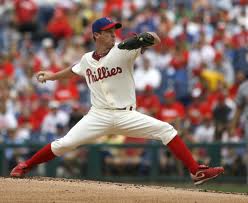 Former Phillies' pitcher Roy Oswalt is currently out of baseball.
After a disappointing stint with the Texas Rangers, Oswalt generated no interest on the free agent market this winter, and now he's gone to Twitter in order to launch a campaign to get himself another gig with a major league team.
And the first team he's expressed interest in playing for is none other than the Philadelphia Phillies. Oswalt tweeted that he would love to return to Philly, that he loved his time there, and that the city has amazing fans. This followed a previous tweet where the 35-year old mentioned that he hasn't felt this good since 2010.
Personally, I would have minimal interest in bringing Oswalt back to Philadelphia. He hasn't pitched at a high level since 2010, and it's hard to take any aging athlete seriously when they claim that they're either "in the best shape of their life" or "haven't felt this good in 'x' amount of years".
Would Oswalt really love to return to Philadelphia? Sure he would. But he'd also love to pitch in St. Louis, Houston, Texas, or anywhere that would give him a nice paycheck. At this point in his career, I think Oswalt is only hanging on in order to milk as much money as he can out of his career while he can. As an athlete, you only have so many years of your life where you can command multimillion dollar contracts, so anyone with that kind of ability would be wise to take advantage of it for as long as they can.
That being said, I do think it would be worth it for the Phillies to at least take a look at him, watch him throw, and see where he's at. They've got nothing to lose, and if they determine he's in good enough shape that he can still pitch effectively, he could be a nice insurance policy for Roy Halladay, or he could even take Kyle Kendrick's spot in the rotation, sending the versatile pitcher back to the bullpen where he's also enjoyed some success over the last couple of years.