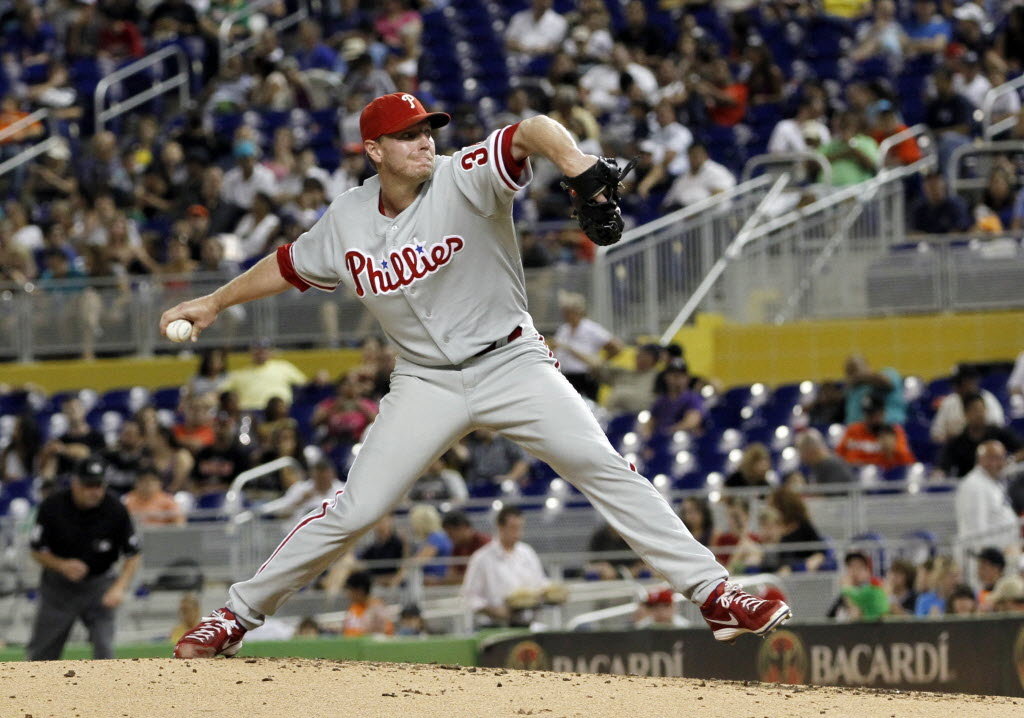 The Philadelphia Phillies finished their weekend series with a win on Sunday afternoon, edging the Marlins 2-1 in Miami. Their record now stands at 6-6 on the season.
Roy Halladay enjoyed a strong performance on the mound for the first time all season, tossing eight innings and allowing just one run. The Marlins more than did their part to make life easy for Halladay. They gave the former ace a lot of quick innings, often swinging at the first pitch and producing easy outs. That being said, give Halladay credit. No matter how weak a lineup is, if a pitcher has been dealing with mental issues like Halladay has, they
In the seventh inning, Miami was even kind enough to bail Halladay out of a jam. With two on and one out, after a flyout to centerfield, and Rob Brantley never tagged second before he tried to get to third, resulting in an inning-ending double play.
Another miserable effort at the plate by the offense. Roy Halladay was able to pitch a gem, and the offense was able to generate just one run through six innings.
Chase Utley has had a strong start to the season overall, but he might have had his worst game of the season at the plate today. Utley hit into double play with runners at the corners to kill one inning, and grounded out on the first pitch with bases loaded in the fifth.
The Phillies are going to get very little offense out of the catcher position until Carlos Ruiz returns. Humberto Quintero got the start today, and with an opportunity to hit with runners in scoring position in the sixth inning, Quintero made Chad Qualls look like a competent major league pitcher, grounding into an inning-ending double play on the first pitch.
For the Marlins, Qualls was excellent in relief, pitching two scoreless innings. After turning the double-play off of Quintero in the sixth, Qualls got another double-play off of Michael Young in the eighth.
Ryan Howard hit his fourth double of the series to lead off the sixth inning, and later came around to score the first run of the game. Howard's RBI numbers still aren't there, but at least he's beginning to hit consistently and get on base. He had his first three-hit game of the season today.
Michael Young came through with an RBI single that drove Howard home in the sixth.
Freddy Galvis made his second straight start, but this time played shortstop in place of Jimmy Rollins. Galvis looked good at the plate as well, picking up a couple of hits.
I did not like Charlie Manuel's decision to pinch hit Jimmy Rollins for John Mayberry in the eighth inning. Manuel was trying to get a favorable matchup, but putting Rollins into the game in that spot prompted the Marlins to take Chad Qualls out of the game. I'd have much rather taken my chances with Mayberry against Qualls, a guy who you know is ripe for implosion at any moment, especially after having already tossed nearly 30 pitches.
Ben Revere really struggled to make good contact with the ball at the plate today, and had three swinging bunts.
Laynce Nix gave the Phillies the lead in the ninth inning with a pinch-hit solo home run.
The Phils have now won two games because of big hits from their bench. They got one earlier in the year from Kevin Frandsen's hit against the Royals, and they got one today from Nix.
Jonathan Papelbon earned his fourth save of the season.
Final Thoughts
Before this series began, the general consensus was that nothing short of taking two of three games from this series would be acceptable. The Phillies managed to meet their quota, but they did it in a pretty discouraging fashion (at least offensively).
The Marlins pitching staff has some competent pitchers, but there's no excuse for the Phillies' hitters to struggle as heavily as they did over three games. They didn't just struggle against the Ricky Nolasco's and Jose Fernandez's, they couldn't even hit Chad Qualls despite having opportunities to face him in three different innings today. Nothing else I could say about the lineup could be more damning than that statement.
Offenses go through slumps in baseball, and its no reason to get overly concerned. However, the Phillies are in a spot where they have to take advantage of games against inferior competition. They can't afford to fall too far behind the Nationals and Braves this early in the season, and the lineup had to give the team more than what they did over the weekend.
The good news for the Phillies was that the Miami lineup was as bad as advertised. This is a lineup stocked with reject Phillies Greg Dobbs, Placido Polanco, and Juan Pierre, and was without their only capable hitter, Giancarlo Stanton for the entire series. On their best days, this lineup is going to have trouble scoring more than two runs, and that was the case for this series.
The best news from the series was the performance of Roy Halladay on Sunday. Granted, this was hardly a major-league lineup, but it was still impressive to see Halladay shake off his struggles that have been going on for well over a month and deliver a seven-inning gem. Hopefully this is a start that will restore Halladay's confidence, and serve him well in his upcoming starts.