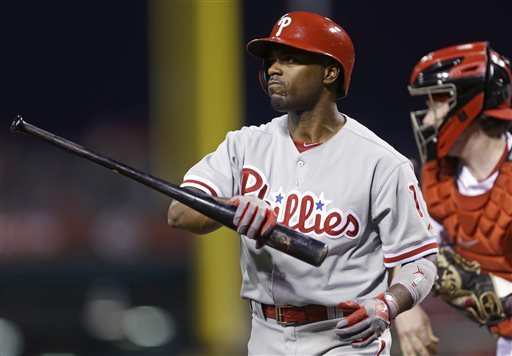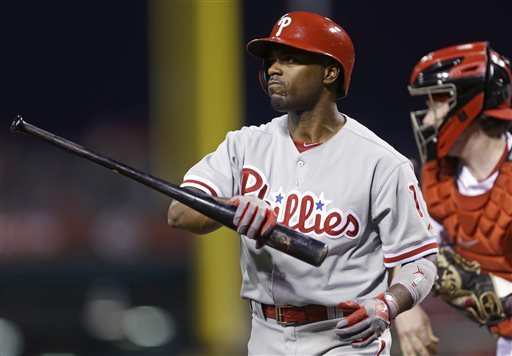 The Philadelphia Phillies lost both of their games against the Cincinnati Reds today, falling 1-0 in the conclusion of Wednesday's suspended game and 11-2 in the regularly scheduled game. Their record now stands at 6-9.
First let's go over the good news from these two games. Kyle Kendrick tossed seven scoreless innings last night, and Antonio Bastardo continued his strong play with a scoreless frame of his own. And that's all of the positives.
Two more absolutely embarrassing performances from the offense. Two runs in two games? What's even worse is that the two pitchers that they faced were a couple of fourth and fifth starters, Homer Bailey and Mike Leake.
These hitters are going up the plate without a plan right now, and they aren't even trying to give good at-bats. The fact that Bailey made it through eight innings on just 89 pitches and Leake got through seven on 81 speaks volumes about how poor the approach of this lineup as a group is. They swing early, they swing often, they swing at ridiculous pitches. They don't work the count, they're not patient, the don't walk. No one in this lineup managed a single walk over these last two games off of these mediocre pitchers. Absolutely disgraceful.
At the top of the order, Ben Revere is failing as the leadoff man. He went 0-8 in these two games, and is now batting just .194.
Jimmy Rollins has just one hit in his last 18 at-bats.
To make matters worse, John Lannan was crushed by the Reds lineup. Lannan couldn't make it out of the second inning, and gave up six runs on eight hits.
Oh, and Raul Valdes has got to go. He was the first man out of the bullpen to relieve Lannan, and he made matters worse by allowing five runs of his own over 3.1 innings.
Final Thoughts
The Phillies need to figure this thing out quickly.
After watching this lineup fail miserably to score runs against the Marlins, and perform even worse against the Reds, its time for Charlie Manuel to move some pieces around and shake things up.
Manuel has stated before that with his current roster, the amount of moves he can make in the lineup is limited until he gets Carlos Ruiz and Delmon Young back. He doesn't want to move Michael Young out of the five-hole because he doesn't have another reliable right-handed bat to protect Ryan Howard. He wants to give Ben Revere a chance to settle in and emerge as a good leadoff hitter.
But right now things just aren't working. This lineup is dead and needs some kind of shakeup. Even if it's just for a game or two, I think Manuel needs to do something.
My suggested lineup?
1. Jimmy Rollins
2. Michael Young
3. Chase Utley
4. Ryan Howard
5. John Mayberry
6. Domonic Brown
7. Ben Revere
8. Erik Kratz
Obviously this lineup is far from ideal, but no combination that Manuel could possibly put together is ideal right now and here's my reasoning behind it. Again, this isn't a lineup I'd want the Phils to move switch to everyday, but just as a temporary measure to try and create some new energy.
Putting Rollins back at leadoff gets the struggling Revere out of there, and puts Jimmy back in the spot where he's most comfortable.
Michael Young is an ideal two-hole hitter for the team when Ruiz and Delmon Young return, moving him there gives the team a much more stable hitter in the top of the order.
Young's move to the top of the order creates a need for a right-handed hitter behind Ryan Howard to break up the lefties, and Mayberry is the best fit for that role right now.
Revere hitting seventh allows him to get out of the leadoff spot, and if he can get on base, his speed and ability to steal could help reduce the possibility of Erik Kratz grounding into double-plays.