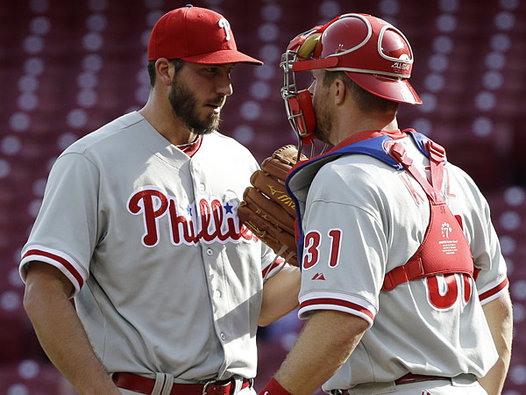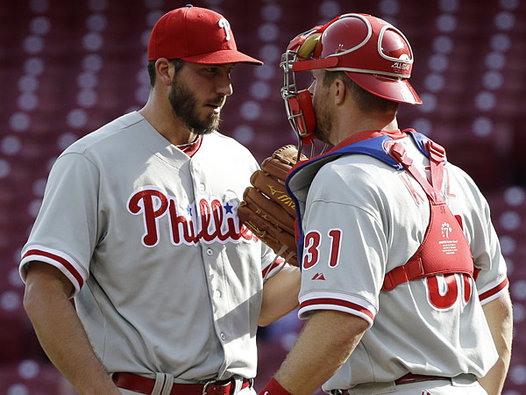 The Phils are at risk of getting swept by the Cincinnati Reds tonight because of a questionable decision by Charlie Manuel to stay with Phillippe Aumont in the resumption of yesterday's game.
Aumont was called into the game last night to pitch the bottom of the 9th inning with the score tied a 0-0. After play was suspended, he was chosen to start that half inning once again late Wednesday afternoon.
The right-hander has never started a game in the major leagues. In fact, the last time he was a starter, even though this wasn't an official start, was in 2010 when he started 11 games for AA-Reading, going 1-6 with a 7.43 ERA.
Aumont threw his first pitch Wednesday at approximately 5:31 p.m. and his last at roughly 5:41 p.m. with the Reds winning 1-0.
Zack Cozart led off with a single, followed by a Joey Votto walk (Aumont has now walked a batter in every appearance this season), then Brandon Phillips reached on a rare error from Ben Revere, and Jay Bruce singled in Cozart for the game-winning run.
Aumont threw 19 pitches, only nine of which were for strikes. He never recorded an out.
Forget the scenario that last night Manuel should've gone with Mike Adams. Even with the fact that pulling Aumont before today's resumption would've lost him for potential extra innings, starting with the 24-year-old righty was a definite mistake.
I'm not saying he should've put a member of the rotation in today's version of the bottom of the 9th, but I feel Manuel should've at least considered Adams, Chad Durbin or Jeremy Horst – someone with a little more experience.
Sitting at two games under .500 with the possibility of getting swept by the Reds, Manuel is leading this team to yet another slow April start.
Dave Uram is a producer and remote engineer at SportsRadio 94 WIP in Philadelphia. He is also a news anchor and sports broadcaster at 1490-AM WBCB in Levittown, Pa. You can follow him on Twitter @DaveUram88.