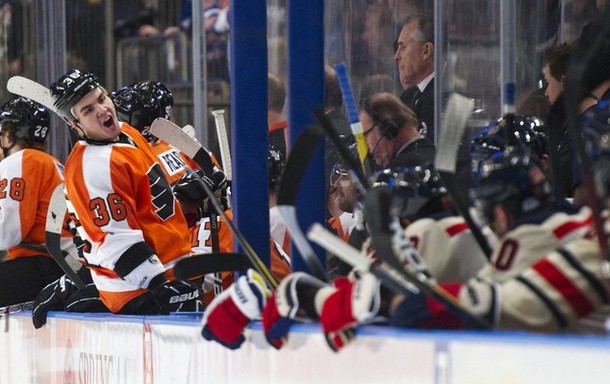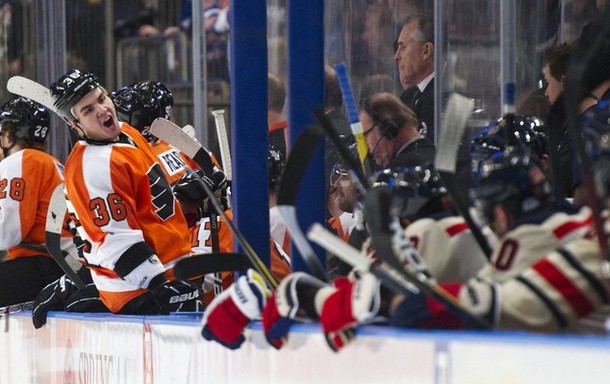 When NHL organizations began rebuilding their rosters last July, Jay Rosehill was one of the many odd men out. Many of his contemporaries- fighters like George Parros, John Scott and Brandon Prust- quickly found open seats while Rosehill listened as the music faded away.
In October, the 27 year-old signed a professional tryout contract with the Anaheim Ducks' farm team, the Norfolk Admirals. A PTO is worth 25 games, and by the time the NHL finally got its act together in January, the Ducks' signed him (as well as former Flyer Ryan Parent) to a pro-rated one year contract.
Perhaps if Jake Voracek hadn't decided to stand up for Claude Giroux after the latter received a legal open ice hit from Steve Oleksy, Rosehill would still be toiling away in the AHL. We'll never know exactly what reason that Philadelphia Flyers general manager Paul Holmgren decided to pull the trigger on a trade for his services, but the timing turned out to be fortuitous once Zac Rinaldo was injured with a high ankle sprain.
Holmgren apparently liked what he saw enough to sign both he and Rinaldo to two-year extensions, as announced by the club earlier today.
Per Tim Panaccio of CSNPhilly, Rinaldo's contract is worth $750,000 per season while Rosehill's amounts to $675,000 per season. Both contracts fall below the $900,000 threshold set by the new collective bargaining agreement, so either player could hypothetically be buried in the minors without their contracts affecting the salary cap if a situation calls for it.
Rinaldo's extension was only a matter of time. The 22 year-old has earned 5 goals, 14 points and 317 penalty minutes in 98 games played with Philadelphia. Feared as a liability when he was first introduced, he has steadily matured into a more reliable agitating presence for the Flyers with a workhorse attitude.
Before he went down with injury, he was still earning penalties arguably by reputation more than substance, and it's difficult to imagine that stigma ever being removed completely. His role requires that he skate the fine line between "physical" and "dirty," and as the game has gotten faster, the ability for officials to differentiate between the two hasn't gotten easier.
The organization never seemed completely comfortable having just Rinaldo, though. At 5′-11″, he's held his own just fine with the likes of Brandon Prust and B.J. Crombeen, but he would be completely outmatched against a player like John Scott (what with the 6″ difference in height and all). Rosehill gives them that "back-up" comfort.
The biggest criticism to have with Rosehill's contract is that he is not nearly as valuable as Rinaldo to the organization, and so the second year of his contract seems unnecessary. It's not the value of the dollars attached, but the space the contract eats up. Jody Shelley was unpopular in his time with Philadelphia largely because of his contract, even though he played the same role as Rosehill.
If the Flyers are forced to trade a draft pick for contract space and "future considerations" down the road, the extra year added on will be an unfortunate hangover to cope with.
There is also the argument that enforcers aren't really necessary, considering they are often too much of a liability to have skating with the top line players that they are supposed to be protecting. If Giroux or Matt Read ever finds themselves being run at, the team has to rely on Scott Hartnell, Wayne Simmonds and Brayden Schenn to back those players up immediately- not Rosehill or Rinaldo.
As I have all of zero NHL experience, though, it's difficult to gauge how the players actually feel about having enforcers on the roster. If someone asks a top six player whether having the likes of Shelley or Rosehill makes them feel safer, they're not going to answer, "no, he's useless." He's their teammate and is fighting for a job like everybody else (no pun intended).
Does their presence truly provide comfort on the ice? All we have to go by is their word, and their words are worth a lot more than mine.
Between Rinaldo, Rosehill and prospect Derek Mathers, the organization should have enough fighters on the books to fill any enforcing needs they have moving forward.