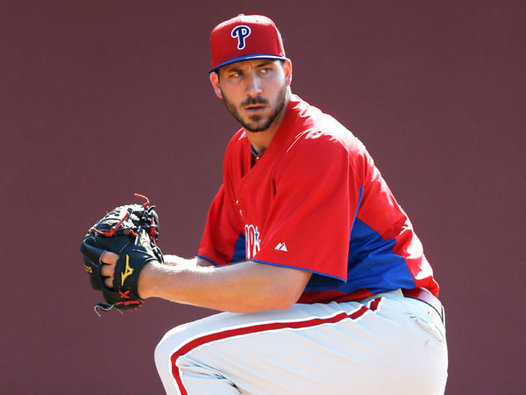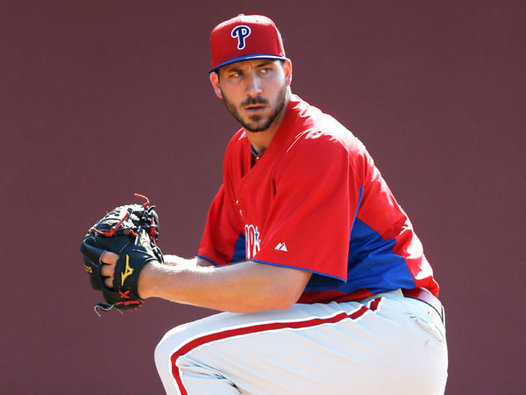 Charlie Manuel has made yet another dumb managerial decision.
Last night in a 0-0 game at the Great American Ballpark in Cincinnati, Manuel put Phillippe Aumont in to pitch the bottom of the 9th inning, rather than multi-million dollar set-up man Mike Adams.
We never got to see what Aumont would do against Zack Cozart, Joey Votto, Brandon Phillips and then maybe even Jay Bruce. The skies opened up and it began to rain, forcing the game to be suspended until 5:30 p.m. Wednesday.
The last time this happened to the Phillies was Game 5 of the 2008 World Series. As expected, it will be Aumont throwing "the first pitch"  later this afternoon.
It's pointless to replace him now with Adams because then the Phillies will lose a pitcher if the game goes deep into extra innings. Thus, another one of Manuel's head scratching decisions will give us the opportunity to see what Aumont is really made of.
The new 24-year-old right-hander came to the Phillies organization back in 2009 in the infamous Cliff Lee to Seattle trade. Ruben Amaro, Jr. touted it as a move to "replenish" the Phils farm system after they gave up Kyle Drabek, Travis d'Arnaud and Michael Taylor to Toronto for Roy Halladay.
Aumont was looked at as a pitcher to watch for the future – a prized jewel that would truly shine some day.
He struggled in the Phils minor league system his first year with the organization, but found better success in 2011, eventually carrying that over to 2012 with his Major League debut coming on August 20, ironically against the Reds.
Aumont pitched a scoreless inning in his unveiling, which is what he'll have to do today if the Phils have any hope of winning and maybe taking the series against the Reds, rather than coming home being swept – which is also a possibility.
In 14 2/3 innings pitched for the Phillies in 2012, Aumont posted an ERA of 3.68. So far in 2013, he hasn't let up an earned run in 3 1/3 innings, despite walking five batters.
While this isn't officially a "start," the big righty has never opened a game in his big league career. The last time he was in that role, was in 2010 with AA-Reading. In 11 starts for the then Reading Phillies, Aumont was 1-6 with a 7.43 ERA.
If he hasn't had his "coming out party" yet, today will be the occasion. He is familiar with pitching in the late innings when it's around 9 or 10 p.m. and a lot of people are in bed.
Later on today, he'll be hitting the mound at 5:30 with everyone watching at his or her dinner tables.
Welcome to the majors big guy.
Dave Uram is a producer and remote engineer at SportsRadio 94 WIP in Philadelphia. He is also a news anchor and sports broadcaster at 1490-AM WBCB in Levittown, Pa. You can follow him on Twitter @DaveUram88.