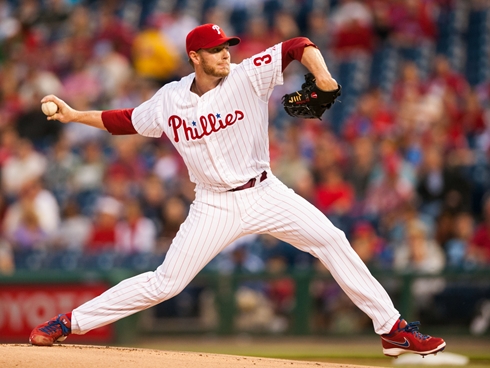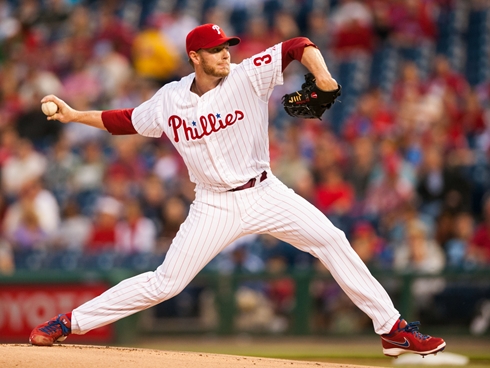 The Philadelphia Phillies snapped their four-game losing streak on Friday night, taking down the Cardinals 8-2 in Philadelphia. Their record now stands at 7-10.
Roy Halladay turned in his second strong outing in a row, this time tossing seven innings and allowing two runs against a legitimate major-league ballclub in the St. Louis Cardinals.
The bigger story tonight though was the eight-run offensive explosion that the bats provided against Jaime Garcia, a pitcher who had regularly dominated against them.
There was some delicious irony in what the Phillies did that sparked their five-run first inning against Garcia: for the first time in four games, a Phillies hitter managed to work out a walk! With two outs, Chase Utley gave a patient at-bat and worked his way to first base. The walk was followed by a 10-pitch at-bat from Michael Young that ended with a base hit. John Mayberry then drove in Utley with a double, Kevin Frandsen reached on an error, Ben Revere tripled and Humberto Quintero doubled to knock in the fifth run of the inning. It just goes to show you how easily big innings can happen if the hitters step to the plate with a patient mentality.
Garcia ended up throwing 33 pitches in that first inning, and was completely knocked out of his rhythm. The Phils went on to tag Garcia for three more runs.
Freddy Galvis went hitless at the plate, but made a spectacular diving catch in the field. He may be the team's best defensive corner outfielder…which really speaks volumes about the other outfielders.
Ben Revere has three hits in the last two games, and seems to be a little more comfortable hitting at the bottom of the order.
The Phillies got a nice offensive game out of backup catcher Humberto Quintero, who went 2-3 with a double and two RBI's.
The game was called in seventh inning due to inclement weather, giving the Phillies bullpen the night off.
Final Thoughts
It's great to see Roy Halladay enjoying success again, but don't get carried away with excitement.
When Halladay was struggling, I believed it was too early to write him off, and I believe now that it's too early to consider him "back".
I think what you've seen from Halladay in his first four starts is a pretty good sample of what you're going to see from him throughout the year: highs and lows. There's going to be nights that he feels good, and will be able to recapture his old form. But there's also going to be times like his first two starts of the year where he's very hittable.
Halladay won't always be able to hide the fact that he's lost something physically. He's in the process of reinventing himself, and finding new ways to get guys out. He can still be a very good pitcher in a rotation, but his days as a top-of-the-line starter are through.
Also consider the facts that in his last two games, Halladay had the benefits of facing a minor-league lineup that made things easy on him by swinging early and often, and tonight his offense made his job considerably easier by spotting him eight runs in three innings. That's not to take away from how well he was able to pitch, but it's just some things to keep in mind.
Offensively, while it was great to see the Phillies breakout for eight runs, it's hard to get excited because we don't have much reason to believe that this group will be able to sustain it. The offense has looked better in the last couple of games since Charlie Manuel shook up the lineup, but unless the hitters collectively change their approach, their going to continue to be frustratingly inconsistent.