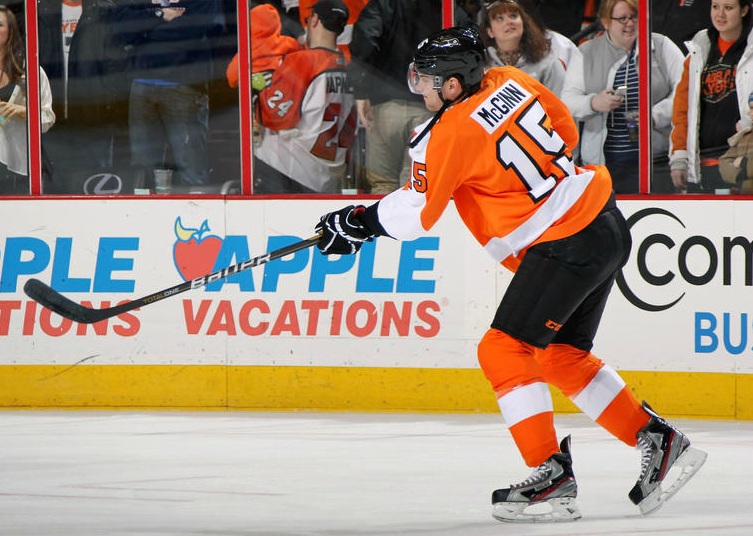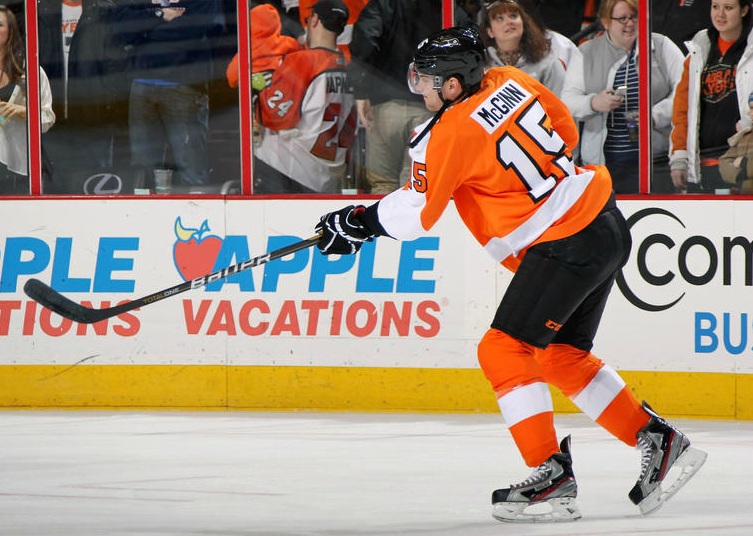 The NHL's 23-man roster limit does not apply after the trade deadline, though teams still have to operate under the salary cap. With three games remaining to close out the disappointing 2013 season, the Philadelphia Flyers have recalled four Phantoms for these otherwise arbitrary games: Jason Akeson, Scott Laughton, Tye McGinn and Matt Konan.
To be clear with Laughton- he will not play. The six-game limit is still in effect for Laughton, so to waste a year of his entry level contract on a meaningless game would be ludicrous, and the Flyers organization knows this. That said, it would be worthwhile for him to practice with the team for a week before heading home for the summer.
McGinn has already had his first "cup of coffee" in the NHL. An early season call-up after a hard-fought training camp, McGinn scored 3 goals and 5 points in 18 games played. He bounced around the line-up, including time spent on the first line with Claude Giroux and Jake Voracek.
He arguably should have played over a number of other Flyers in recent weeks, as meaningful ice time utilized to develop the 22-year-old is more valuable than watching Jay Rosehill… do anything, really.
McGinn's talent ceiling is likely that of a third line winger, for which there is a potential opening next season.
Akeson is a player that the organization soured on last season, for whatever reason. He began the 2012-13 season in the ECHL, a demotion that I was not a fan of and criticized on multiple occasions.
Michael Cignoli of The Saratogian spoke with both Akeson and Holmgren last weekend, as the Adirondack Phantoms' season ended.
Per Cignoli:
He was one of the more-used forwards on a penalty kill that ranked seventh in the AHL at 85.2 percent, and ran the point on the power play. His 11 power-play goals tied him for 10th in the AHL.

"We like the way Jason has come along," Holmgren said last week. "He's coming out of junior hockey, where he was a very prolific scorer. He's come here and put up really good numbers and also – I think the most important part for him – is improve his game away from the puck. He's a smart game. I think his skating has improved. He's certainly a guy that we talk about a lot."

"To Jason's credit, he went to Trenton and worked hard," Holmgren said at Adirondack's games last week. "He didn't pout. He didn't complain. And then when he came up, he's been a good player since then. Like I said, he's a guy that we talk about a lot. He's a gifted young hockey player and he's just going through the development phase of trying to get better in all areas and he's doing that."
Akeson is a very skilled forward, and adding penalty-killing to his toolbelt makes him a more valuable player to the organization. Bill Meltzer of HockeyBuzz suggested today that forward Eric Wellwood, who will be rehabbing for the next eight months or so with a sliced Achille's tendon, may not receive a qualifying offer from the Flyers if he won't even be ready to play until the end of the year.
Akeson may not be as fast as Wellwood, but he put up 110 points in 138 games played with the Phantoms. By comparison, Wellwood earned 66 points in 164 games played.
As for Konan, the 6′-3″ 185 lbs defenseman was limited to 45 AHL games due to injury. Signed as an overager CHL puck-moving defenseman, Konan scored just 2 goals and 6 points this season. He will certainly need at least another season to develop, but it can't hurt to let him play one game at the NHL level to help him figure out for himself what he needs to improve on if he ever wants to make the jump "full-time."
The Flyers organization has not been particularly good at rewarding its farm players in the past with NHL call-ups, which unfortunately helps foster a culture of apathy at the AHL level. Some players are professional and "get it," but for players like former Phantom Pat Maroon, the empty promises can quickly destabilize what should be a talented farm team.
Hopefully the ice time given to these players, along with Erik Gustafsson, Oliver Lauridsen, and Brandon Manning, will help improve the competition at the AHL level next season, as well as at the Flyers' training camp.