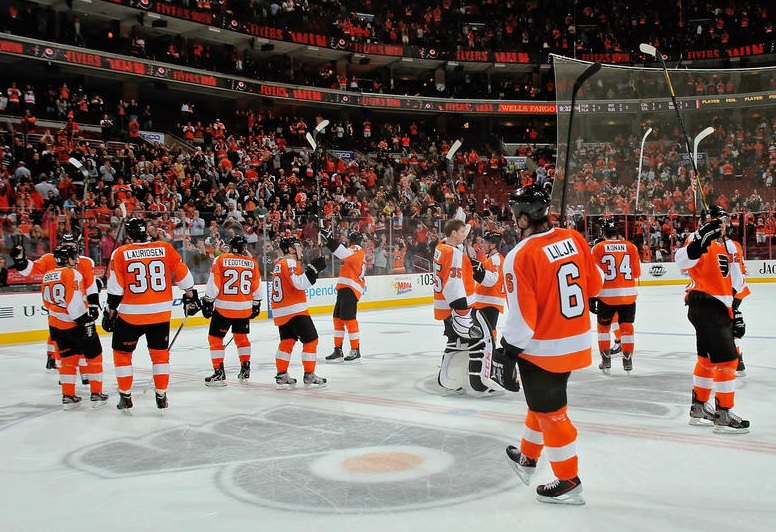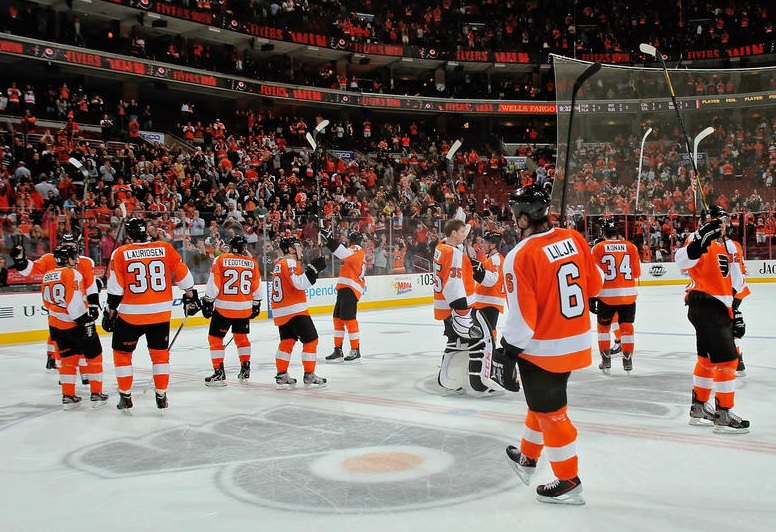 You watch a game unfold like that between the Philadelphia Flyers and New York Islanders tonight and wonder, "Where was this team three months ago?"
Many Flyers fans were probably quietly hoping- alright, let's not kid ourselves, vocally and belligerently pleading- that the team would lose to help improve their draft position in June.
The Flyers organization certainly helped the situation by icing a defense that included Luke Schenn, Andreas Lilja, and rookies Erik Gustafsson, Oliver Lauridsen, Brandon Manning and, making his NHL debut, Matt Konan. The latter three players now have a combined 24 games of NHL experience.
A solid, simple game from the Phantoms' defensemen, a strong performance in net from Ilya Bryzgalov and some individual yeoman efforts from the forwards helped propel the Flyers to a final 2-1 win in the last home game of the 2013 NHL season.
Oliver Lauridsen was named the standout star of the game, and rightfully so. The nervousness that can plague a rookie in his first few games appears to have subsided for the Great Dane, who has gone from taking ill-timed penalties to scoring the game-winning goal in back-to-back games.
Lauridsen is never going to be a "puck moving defenseman," but for a team that struggled with clearing the porch last season, it's a positive sign that he may be able to reliably fill in for Nicklass Grossmann or Luke Schenn in the future (if he doesn't earn a roster spot next season).
Danny Briere scored the other goal for the Flyers. As many, many fans and reporters felt the need to point out tonight, this was likely Briere's last game as a Flyer. Expected to be bought out in the offseason, it was a fitting, poetic end to his career in Philadelphia.
I did not have access to the locker room after the game, but the atmosphere in the press room with Peter Laviolette was positive and somewhat cheerful.
Nobody can truly say that they know what moves the organization will make in the offseason, but I don't think firing Laviolette will be one of them. Most NHL coaches lose their jobs because they either don't have a clue what they're doing (see Scott Arniel and John MacLean) or the players have tuned them out and a fresh voice is needed.
The reality of the 2013 Philadelphia Flyers is that they just weren't very good. In some cases, it was a matter of simply underachieving. In other cases (i.e. the defense), they were paper thin on depth and losing nine NHL defensemen didn't do them any favors.
Laviolette will no doubt be on a short leash. General manager Paul Holmgren isn't going to put his position on the line if the team slumps early in the 2013-14 NHL season, but it's recognizable that Laviolette wasn't necessarily "the problem."
The final game of the season is on Saturday night in Ottawa. Whether you want the team to win or lose, enjoy the game and remember that it's all just entertainment.