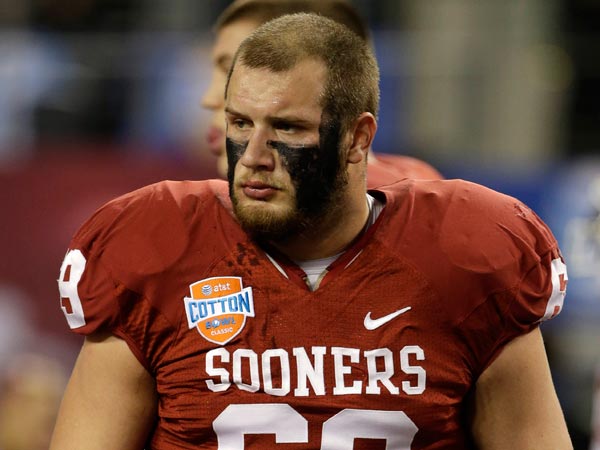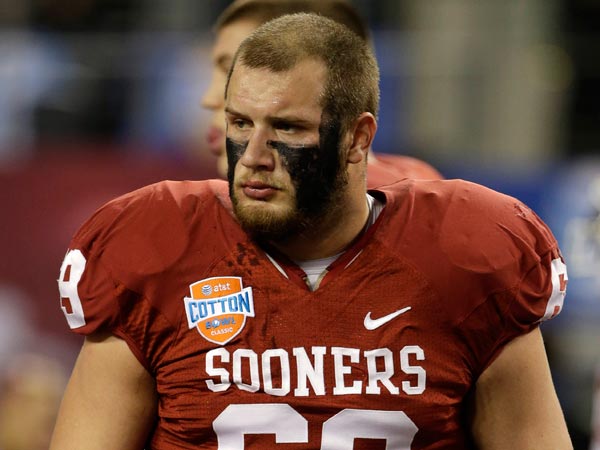 The report cards are out.  I've seen the A's, B's, C's and even some D's.  I've heard that Chip Kelly was spot on with his first ever NFL draft, where others say he did some good things on the offensive side of the ball, but the "biggest areas of need" were on defense, especially in the secondary.  A 3rd round pick was used on a defensive tackle who has the potential of playing nose tackle, a safety in the fifth round and then three more defensive players in the 7th round.  Five of the eight Eagles selections were defensive players, but let's back up just a bit, and do a quick re-draft that many have forgotten about.
First round a safety, second round a safety, a sack collecting outside linebacker and a defensive end.  In the third round a physical cornerback and then a nose tackle in the fourth.  Adding to those players would be a gritty linebacker in the fifth; a massive defensive end and a speedy linebacker in the sixth and a hard hitting cornerback in the 7th round.  A total of ten defensive players were acquired by the Philadelphia Eagles whether through free agency or by trade prior to the 2013 NFL draft.  No rookie seasons to be had, no adjustments to the big lights and lifestyles of the rich and the famous.  Some marred by injuries but tremendous talent, others full time starters on playoff caliber teams who loved what Chip Kelly had to say about coming to the Philadelphia Eagles.  These acquisitions are just as important to grade as last week's NFL draft.  It allowed the Eagles to feel comfortable drafting both an offensive tackle and tightend with very high selections in the first and second round.  With 15 new defensive players, the Eagles are bigger, faster and will not shy from hitting you right in the mouth.  As we transition from our 4-3 defense and overhyped wide nine gimmick; a hybrid 3-4 leaves us all to ponder the havoc we will cause on opposing defenses.
Referencing back to the 2013 draft, I will give the Eagles a B+.
Lane Johnson: As it stands Lane Johnson was not the best of the 3 top drafted offensive linemen and was probably ranked the worst.  He saw his stock rise with both his tremendous speed and strength at the NFL combine in addition to the offensive line needs by many teams a top of the draft board.  What I love about Johnson is his love for being the best he can be through hard work.  He is smart, plays with an edge, and has experience playing multiple positions, something I believe Kelly will take advantage of.  In three years, Johnson will collect more Pro-Bowl invitations that the two offensive linemen drafted before him.
NFL Player comparison-Joe Staley (SF)
Zach Ertz: In the second round, where I anticipated the possibility of the Eagles drafting Zach Ertz if he indeed fell out of the first round, they snagged the big guy from Standford.  Leading college football last year in overall offensive production from the tight-end position, this kid is smart, tough, has great hands and loves his name called to make the big time play.  He compliments the other 2 tight-ends on the roster, but adds a very specific dimension the other tight-ends don't possess.  He is a lean 6'6 250lbs, he will put on another 7-10 lbs of muscle.  He is the best pure receiver of the three, we know Celek will get down and make the block and run through people, but we saw way too many drops last year, and his boardline elite status from that break-out season just a few years back, has us slowing down our expectations of him going forward.  Casey is more of an h-back who can also run the ball.  Ertz is my favorite pick for "sexy" points in the draft, and I'm truly excited for what he can add as a target for the red-zone, an area that has tormented us for the last few seasons.
NFL Player comparison- Jason Witten (DAL)
Bennie Logan:This is my least favorite pick by the Eagles.  Logan at times looked like a high motored disruptive player, clogging up run gaps and batting balls down at the line of scrimmage.  Unfortunately he was inconsistent, coaches loved him, he played against NFL style offenses and premium competition, but he wasn't dominant.  I would have drafted Jenkins from Georgia, a "no-doubt" 350 lb nose tackle.  If we are indeed going to be a 3-4 team, you have to have a ham steak clogging up your nose tackle spot.  Logan has tremendous upside, but he reminds me of a former Eagles and now Giants player with similar build and similar college stats.
NFL Player comparison- Mike Patterson (NYG)
 Matt Barkley: The most controversial player selected by Kelly.  Controversy not so much because of the position he played or when he was drafted, (first pick in the 4th round), but because his last name is not Smith, Manuel or Scott.  Barkley is not known for his athleticism or a rocket for an arm.  His attributes are similar to that of another player on the current Eagles roster, Nick Foles.  Barkley has great poise, very intelligent and can make the correct audible call at the line of scrimmage.  If he had declared for the 2012 NFL draft he would have been selected in the top 5.  He had very good stats at USC, his senior year he threw some picks that had some people asking what was he thinking and while executing behind a patch work offensive line.  What I like about the Barkley selection is that it raises even more questions about what Kelly is going to reveal with his offense and what style of quarterback he is looking for.  Vick does reflect a little connective tissue from the Reid era.  Many believe Vick is done where others think that Kelly could get the most out of Vick with his new style of offensive play-calling.  Barkley has played under the big lights, he is trying to not just compete, but trying to win the starting role as quarterback for the 2013 Philadelphia Eagles.  It will be fun to watch #2 adjust to the city of brotherly love, he is far from the sunny beaches of California, and he has some apologies to make with some of the 97.5 radio personalities, blowing them off at the NFL combine for a requested five minute interview.
NFL Player(s) comparison- Mark Bulger (formally of StL), Matt Hassleback (formally of SEA/TENN), Matt Shaub (HOU)
 Earl Wolff-Lots of tackles, hits hard and is a great special team player.  He lacks the speed and footwork in man to man coverage, works best when closer to the line of scrimmage or in zone coverage.  Has a chance to make the team with Kenny Phillips also getting injured and Nate Allen on his last life as an Eagles.
NFL Player(s) comparison: Michael Lewis (Formally of PHI/SF)
Krueger-Adds variety as both a 3-4 and 4-3 built linebacker.  Nothing that really stands out, has average athleticism with a strong passion for the game.  His brother who signed with the Browns this past offseason and played for the Super Bowl Champion Ravens last year, so hopefully the bloodlines fall a little more in our favor than the Mathews brothers, and soon to be cut Casey Mathews.
NFL Player(s) comparison:  Same name with 1/3 of the talent of his older brother Paul.
Jordan Poyer- How the Eagles landed this guy with their second pick in the 7th round amazes me.  I had Poyer slated as a mid-third to early 4th rd pick.  He has a few off-field legal run-ins, but this kid can flat out play.  I think he finds himself already as the fourth cornerback on the depth chart.  He is a playmaker, both blitzing from the edge and picking off the quarterback.  He is an above average tackler, has average size for his position and good but not great speed.
NFL Player(s) comparison: Casey Hayward (GB)
NFL Player(s) comparison: Michael Lewis (Formally of PHI/SF)
Dave King- A long shot to make this team; as he is too small to be a defensive tackle and too slow to be a defensive end.  Liked by teammates and coaches, King will the respect as a guy who gives effort when his name is called, there are just many names who will be called before his.
NFL Player(s) comparison: Raheem Brock(Formally of INDY/SEA)