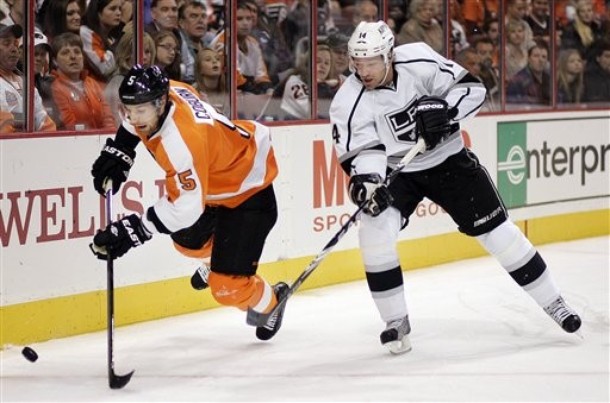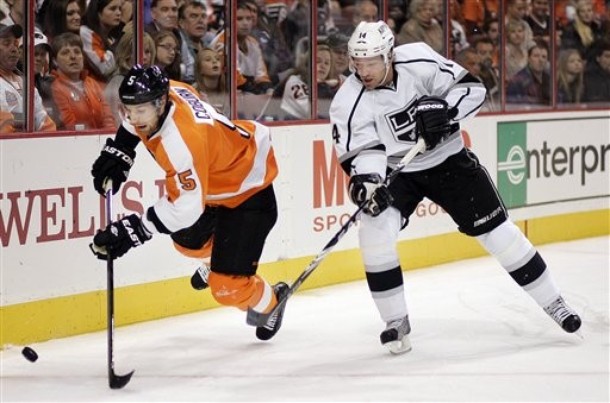 When I wrote the other day that the Philadelphia Flyers did not need to target big name free agent forwards in the offseason, I suggested that the organization could free up salary cap space by trading defenseman Braydon Coburn. I did not offer a reason why Coburn could or should be traded, and this led to some questions from some readers as to why that would even be considered.
Allow me to clarify.
One stock answer for some of the Flyers' woes following the 2012 postseason was that the defense needed improvement (including the addition of more right-shooting defensemen).
Fans expected the team to "blow up" the defense in a similar fashion to how the offense had been completely reinvented following the trades of Mike Richards and Jeff Carter.
After missing out on Ryan Suter and Shea Weber, though, the "revitalized" defense was a swap of Matt Carle for Luke Schenn and the acquisition of Bruno Gervais. We all know how this turned out.
So what happens next?
General manager Paul Holmgren's job is safe for now, but if he doesn't want to lose it in 2014, he can't miss out this time on a top four defenseman. Attributing this season's atypical results to a brutal opening schedule and a comical number of injuries while exhibiting patience could arguably be the best course of action for the club, but no one in his position would ever bet their careers on it.
Let's assume the team somehow acquires a top defenseman. This player will share duties between Kimmo Timonen, Luke Schenn, and Nicklas Grossmann as the team's top four defensemen. That leaves Coburn, Andrej Meszaros and Erik Gustafsson as the bottom three defenseman.
Except it doesn't, because there's no way the organization can afford to bring in a top defenseman ($5 million plus) without shedding existing salary in addition to a buyout of Danny Briere.
The obvious candidates are thus Coburn and Meszaros.
If you're a fan of old-school metrics, Coburn's offensive production has steadily declined since his breakout season in 2008. After finishing with 36 points that season, he's finished with 28, 19, 16, 24, and (extrapolated for an 82-game season) 14 points.
It's not that crucial that he be strong at moving the puck if he can excel as a shutdown defenseman, but he's regressed there as well.
Advanced statistics from Behind the Net show that his Corsi rating, which is an indicator for whether the puck is directed more at the player's goaltender or the opposing team's goaltender when said player is on the ice, has dropped steadily from a high of +7.35 in the 2009-10 season to -7.22 this past season.
Even if you chalk up this season as an aberration because of the role he was asked to play, he's fallen a bit on the depth chart behind Grossmann and Schenn.
The advantage of keeping Coburn is that he can still log a ton of minutes and play a solid overall game with the right partner.
As for Meszaros, he's still an open book because of his never-ending list of injuries this past year. Can he return to form as an adept puck moving defenseman like he was in Ottawa six seasons ago (or three seasons ago as a third pairing defenseman)? How have all these injuries affected his game on a mental level?
Coburn still has trade value for teams that are in desperate need of defensive depth, such as the Edmonton Oilers. I doubt Meszaros could be had for anything but waivers or "future consideration," but it's certainly possible I'm misreading the market. Considering how deep the 2013 NHL entry draft is considered, moving Coburn for draft picks could prove fruitful.
Here's the real challenge- we can go back and forth on who stays and who goes for the 2013-14 season, but what about the season after that?
Both Timonen's and Meszaros' contracts expire after next season. If you trade Coburn, then the team has to cross its fingers that Meszaros or Gustafsson can improve enough to fill Timonen's spot and that Meszaros can be signed to a relatively inexpensive extension.
If you move Meszaros, then the team at least has Coburn available to serve as a stopgap solution until Gostisbehere or whoever they draft in June is ready to make the jump to the NHL (which could be several seasons away).
To recap:
An existing defenseman has to go and a new defenseman brought in in order for Paul Holmgren to keep his job (rightly or wrongly the best motivation for the club).
One of those defensemen is going to be Coburn or Meszaros.
The team better pick the right one so that it doesn't find itself in the same position next summer as it's in now.
I certainly don't envy the position Holmgren is in, but it's one that he put himself in.