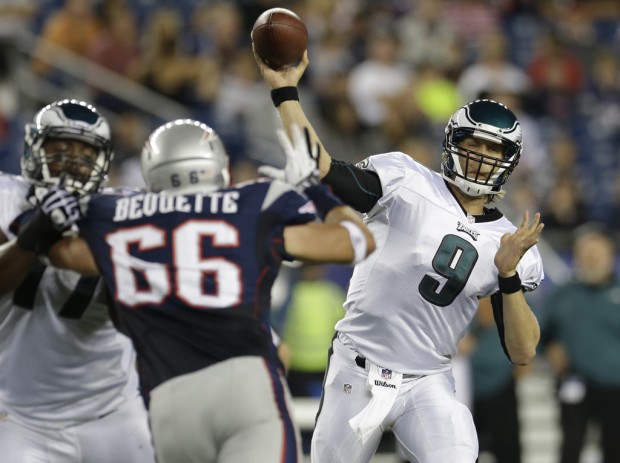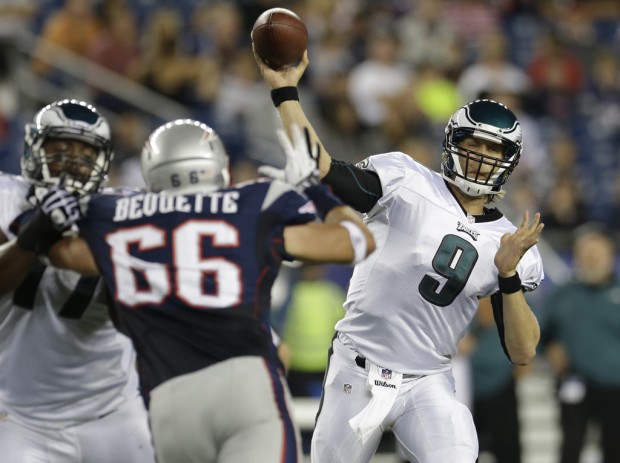 The big question everybody is asking about the Eagles concerns their quarterback situation.  What does the drafting of Matt Barkley tell us about what Chip Kelly really wants in a quarterback?
How important is the quarterback's ability to run with the football to Kelly?  Will Michael Vick be able to overcome his shortcomings to be the team's starting quarterback?
Nobody really knows the answers to these questions except Kelly and his assistant coaches.  Kelly and his staff have left some clues about what he likes and doesn't like in a quarterback.
Vick let us know that the Birds were working on the read option in their first mini camp, so you know Kelly would like to have a quarterback, who can run.  At the same time, the fact that he drafted Barkley, who can't run says that the ability to run doesn't mean everything to Kelly.
After drafting Barkley, Kelly downplayed the need for a quarterback to have a strong arm and be able to complete the deep pass.  Barkley doesn't have a strong arm, but he has very good accuracy in the short to intermediate passing game.  Vick has a big arm for the deep pass, but Nick Foles hasn't been impressive with his deep throws.
Kelly has talked previously about a quarterback being able to consistently be accurate with his throws.  He wants his quarterback to complete a high percentage of his passes.  Vick's completion percentage has been below %60 for most of career except for the 2010 season.  Accuracy has never been one of his assets.
Kelly doesn't want a quarterback, who turns over the football.  We've all see Vick throw interceptions, fumble and turn the ball over at a high rate in the last few years.  Vick has been unable to make a good decision and get the football out of his hands very quickly.
Kelly and his staff believe they can remake Vick into a quarterback, who can take care of the football, make quick, correct adjustments at the line of scrimmage, then make the correct decisions after dropping into the pocket.  He wants a quarterback who can come to the line of scrimmage, read the defense and coverages, then make adjustments to attack the weaknesses in the defense.
I'm sure you've heard some of the talk about Kelly wanting his quarterbacks to get rid of the football in 1.5 seconds, but that's not really so.  He wants them to get rid of it quickly but getting rid of it in 1.5 seconds is unrealistic and probably impossible to do consistently.  Still Kelly wants the ball out of the quarterbacks hands in immediately, which will be a chance for Vick.
For the last few years, Andy Reid became enamored with the speed of the team's wide receivers, especially DeSean Jackson, so he encouraged Vick to hold the ball and look deep.
Kelly isn't going to ask his quarterbacks to throw deep anywhere near as much as Reid did.  He prefers the short to intermediate pass, which can be completed at a much higher percentage.
Right now on May 9th, 2013, I don't think Kelly and his staff know who their quarterback will be when the season starts in the fall.
We all know about the flaws which Vick has shown the last couple of years, but Kelly and his staff believe they can correct Vick's flaws.  We'll see.  There are other coaches who have thought the same thing, but are now unemployed.
Both Foles and Barkley can't run fast enough to present a threat in the read option attack.
I believe they would like to have a mobile quarterback, but they're willing to go to battle with a quarterback, who can't run as long as he's a good decision-maker, accurate passer and capable to making plays in key situations to win football games.