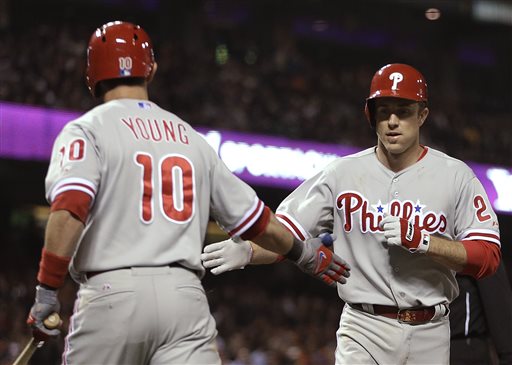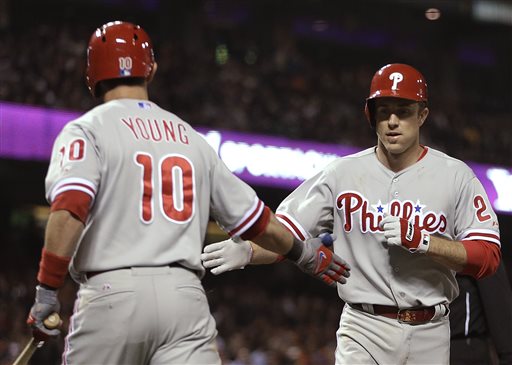 The Philadelphia Phillies won their second straight game on Tuesday night, taking down the Giants 6-2. Their record improves to 16-18.
Every fifth day, Kyle Kendrick just keeps on earning more praise. Kendrick turned in another solid start, going seven innings and allowing just two runs on six hits. His record improves to 4-1, and his ERA stands at 2.45.
Chase Utley paced the Phillies offensively, going 3-5 with two RBI's. Utley picked up an RBI single in the second inning, and led off the fifth inning with a solo home run, his seventh of the season.
Michael Young went 1-4 with an RBI double off of Tim Lincecum in the seventh inning.
Ryan Howard went 2-3 with an RBI single in the first inning, a solo shot in the ninth, and also drew two walks.
Carlos Ruiz continues to struggle offensively, going 1-5.
Laynce Nix got the start in right field, and went 2-3.
Ben Revere also got a start in center field, and went 2-4 with a bunt single.
Mike Adams and Jonathan Papelbon finished the game with a pair of scoreless innings.
Final Thoughts
It's nice to see the Phillies have a little success against one of the better teams in the National League.
Once again, the team received quality performances from their pitching staff and from their lineup. If the offense could ever develop into a reliable threat to score at least three runs a game, the Phillies would have a great chance to win every night. Their starting pitching has been excellent for the most part. Right now, Cliff Lee, Cole Hamels, and Kyle Kendrick are giving the team good (if not great) efforts when they take the mound. Even Jonathan Pettibone has performed remarkably well.
The biggest problem that this team has had is that the offense has taken too many nights off. The last couple of nights, the lineup has managed to stay focus and do some damage against a couple of talented pitchers. You'd like to think its a sign that this group is turning the corner, but their history suggests otherwise.