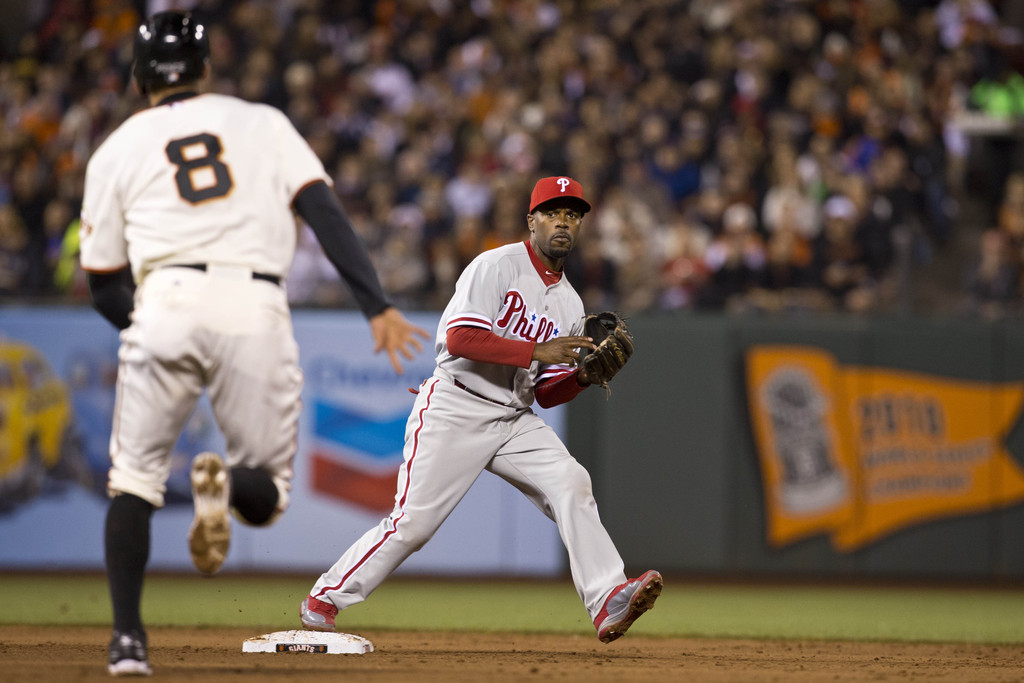 The Philadelphia Phillies had their two-game winning streak snapped on Wednesday afternoon, falling to the Giants 4-3. Their record falls to 16-19.
Jonathan Pettibone had a decent start, lasting 5.2 innings and allowing three runs on seven hits. Pettibone gave up a solo shot to Hunter Pence, and was lifted in the sixth inning after allowing an RBI single to San Francisco pitcher Barry Zito.
The Phillies played from behind for most of the game, with their only run in the first eight innings coming from solo shot from Kevin Frandsen, who got the start at first base for Ryan Howard.
In the ninth, the Phillies were able to manufacture two runs to tie the game. Jimmy Rollins led off with a double, and Michael Young drew a walk. Chase Utley then knocked in Rollins with an RBI single, and Delmon Young would add another run on a sacrifice fly to tie it up.
The bullpen did a nice job picking up the slack for Pettibone and keeping the game within reach. Jeremy Horst came in first to relieve the rookie starter, and got the final out of the sixth inning. Phillippe Aumont worked a scoreless seventh inning, Chad Durbin kept the Giants at bay in the eighth, and Mike Adams forced the game into extra innings with a clean ninth.
Antonio Bastardo would take the loss. He was able to get two outs in the 10th inning, but gave up two hits and a walk.
Ben Revere got another start, and went 2-4. He was caught stealing in the top of the 10th.
Carlos Ruiz went 1-4, raising his average to .138.
John Mayberry got the start in left field, and made a nice diving catch.
Final Thoughts
Although they were unable to complete the sweep, taking two of three from the Giants is a fine way to open up a west coast trip.
What I really liked about this game was that certain guys from the bullpen (Horst, Aumont, Durbin) that have been largely unreliable all season came through today and kept the Phillies in the game. It's very important that at least one or two of these guys emerge as an additional legitimate option for Charlie Manuel to turn to so that he can avoid burning out Antonio Bastardo and Mike Adams by turning to them in every tight situation.
Next up for the Phils is a four-game set with the Arizona Diamondbacks.