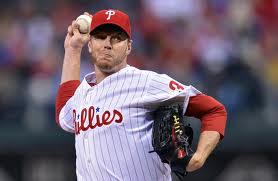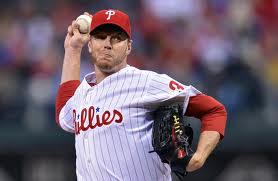 The fuel that drives a man can also break a man.  The Roy Halladay that we knew, who we thought could return to partial form this season, is hurt because he is human.  We wait in angst for a possible return but are not foolish enough to hold our breath that he will ever be an ace again.  Over the weekend, Mitch Williams was ripped by the media when pointing out that Phillies pitching coach Rich Dubee was not seeing the mechanical flaw that was obviously a modification on Halladay's behalf to disguise some form of injury.  Outspoken doubters now slowly retract their scrutinizing statements of the former Phillies closer; and begin to write their own editorial pieces referencing exactly how long Halladay has been injured.
This season we witnessed his 200th win before his 100th loss.  We are able to relive his perfect game and those we shared it with.  We can recall the angst to which we witnessed a no-hitter.  These memories were at the end of a great career, of a great man, a reflection on how dedication and study of the game could earn the respect of everyone around you.
Dominance is a word that should be used with caution. There is no wiggle room, you are simply the best.  The ability to concur any feat faced while denying others the chance of victory.   Halladay was intimidating to hitters simply by the way he stared at them, comfortable and confident that his stuff was better than theirs.  His pre and post-game work-outs were legendary; he was dedicated to the sport, his teammates, to the city he called home.
Mastery of excellence, Halladay provided Phillies fans with performances that dated some back to the days of Hall of Famer Steve Carlton, while others were watching a pitcher paint the strike zone for the very first time.  Born in 1983, I recall the back to back 300 strikeout seasons of Curt Shilling, how his sheer power dominated the opposing lineup 1-9.  Halladay was, is, and will be remembered for so many things.  Unfortunately what he will be remembered for most, his dedication to the game both mind and body, will ultimately be what translates to an exit we wish did not happen so soon.
Charlie Manuel's laid back personality and Halladay's "keep me in" mentality made for a great professional relationship.  However, the respect and sincerity between the two left Halladay in games way too long and allowed him to pitch when mechanical flaws screamed that Halladay was laboring or possibly injured.  When a player like Halladay who has amassed a professional resume like he has, you must respect what he tells you as a coach, but there is also a reason you are the coach, you adapt to those crucial calls and stand by those decisions.
Halladay's mentality and work ethic has served as true mentorship for the likes of young pitchers like Cole Hamels and Kyle Kendrick.  Their poise on the mound, their trust in the pitches they select, Roy has played large role in. With the uncertainty of how badly Halladay is injured, his role will be coaching even more than he already does.   If and when Halladay returns, we will watch a shell, a fraction, a mere disconnect from what we knew only a short time ago.  Is it better at this point to get whatever Halladay has to offer, or just admit that it's best to accept what we know is true, and hopefully he is able to salvage enough so that he can suit up for a new ball club for the 2014 season.
What Halladay leaves behind is a city who wished he was traded to Philadelphia much sooner than he was.  A city who can't thank him enough for his services, never again will a beer or meal be charged to his credit card, an open door policy will always be his.  A spot on the Phillies wall of fame will honor his career in Philadelphia; he is a legend and was sheer greatness.  He provided fans who may not recall the 2008 World Series lifelong memories, photos framed in man caves, posters tacked to bedroom walls and a jersey to always be proud to wear.  Any father, whose little boy dreamed of being a major league pitcher, watched Halladay's starts as a study session.   "My son," model your devotion to the game of baseball like number #34, he just does it the "right way."