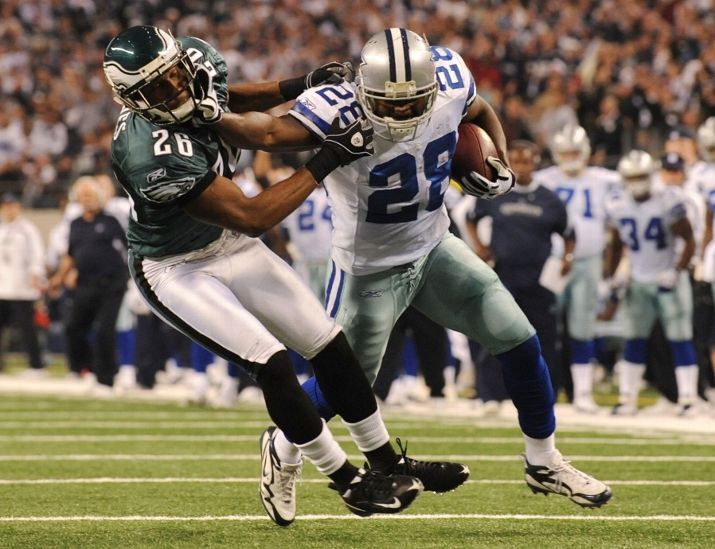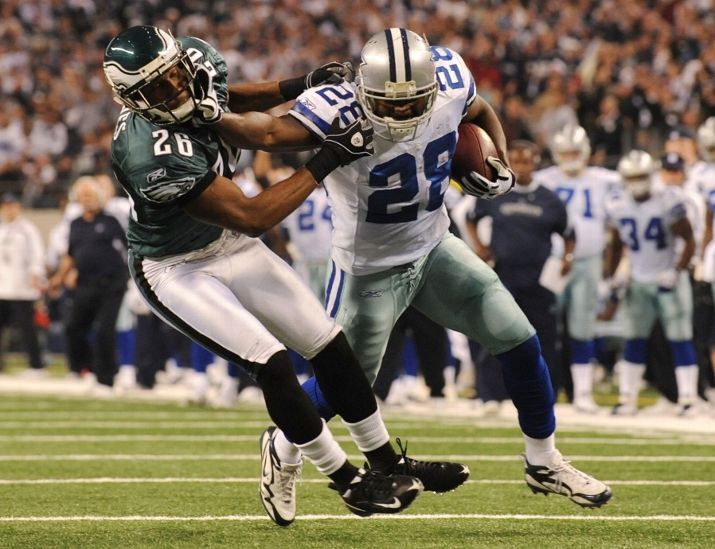 Chip Kelly and the Philadelphia Eagles added another piece to their offense on Tuesday morning. Felix Jones, the former Dallas Cowboy, joined the team on a one-year deal a week after the team invited him in for a private workout.
Felix Jones will be the sixth running back on the Eagles roster joining veterans LeSean McCoy, Bryce Brown, and Chris Polk, and rookies Miguel Maysonet and Matthew Tucker.
Jones was drafted out of Arkansas by the Cowboys with the 22nd overall pick in 2008. He spent his first year as a backup to Marion Barber and only carried the ball 30 times, the first of which he turned into an 11-yard touchdown run against the Eagles. On those 30 carries, Jones got into the endzone three times and averaged almost nine yards per carry.
Since entering the league in 2008, Jones is fourth in the NFL in yards per carry with 4.8. His 4.8 career average is the same average he held in his eight career regular season games against the Eagles. However, if his playoff game in 2009 against the Eagles is factored in, Jones' average jumps to 5.6 yards per carry against his new team.
In 2009, Felix Jones led the Cowboys to their first playoff win in 13 years against the Eagles. Jones rushed for 148 yards on just 16 carries as the Dallas easily handled Philadelphia 34-14. The performance is Jones' best-to-date.
Also in 2009, Jones spent a good portion of time returning kickoffs, a position the Eagles have addressed and will hold an open competition for. With 30 returns in 2009, Jones averaged 22.6 yards per return, a number the Eagles haven't topped since 2008.
As a first round pick, Jones was expected to be the next Tony Dorsett or at least a starter for their franchise for years to come. However, DeMarco Murray took the starting job from Jones last year and the team looks poised to be set at running back as long as Murray can stay healthy. Jones ended 2012 with 2,728 career rushing yards, 1,062 career receiving yards, and 14 career touchdowns and the Cowboys decided to let him enter free agency without offering him a contract.
Entering his 6th season, Jones' career looks to be as a backup from this point forward. There is no question that Jones has a decent shot at making the team but he is in for some competition. Bryce Brown, despite his fumblitis, proved to be a talented backup for LeSean McCoy. Chris Polk, who was injury-ridden the whole 2012 season, didn't get much of a chance to prove himself. Miguel Maysonet is one of the better undrafted free agent pickiups around the league and Matthew Tucker is an unknown at this point. Felix Jones may find himself returning kicks to help make the squad.
As it sits, Jones, Polk, Maysonet, and Tucker will be fighting for the third running back position. We know how Kelly loves depth on his offense so a fourth running back position may be open as well, a spot that would require contributions on special teams.
Email Brenden at BPeddigree2011@gmail.com and follow him on Twitter @brendenp2011.