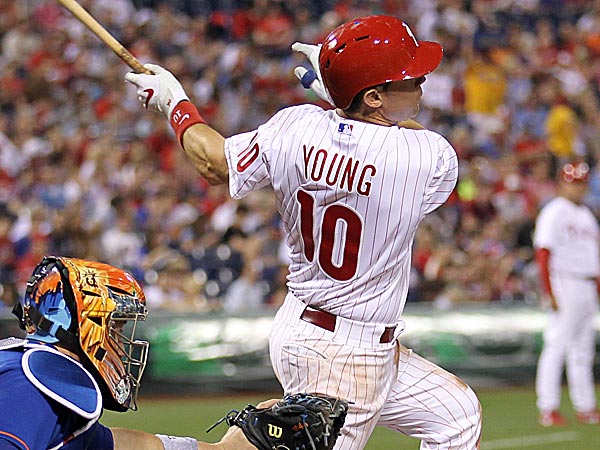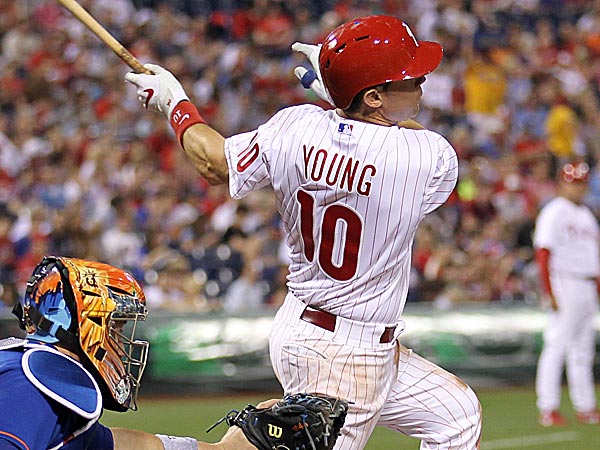 The Philadelphia Phillies won the first game of their series against Cincinnati, taking down the Reds 5-3. Their record improves to 20-22.
Cliff Lee received a no-decision, but turned in another very good inning, allowing two runs over seven innings. Lee's only blemish was two-run shot he gave up to Jay Bruce in the sixth inning.
Lee also hit his first double of the season, and came around to score two runs.
Michael Young had a strong offensive game. Young worked three walks, including a 10-pitch at-bat in the eighth inning that helped sparked the team's two-run rally in the inning. The third baseman also hit his first triple of the season, driving in a run in the process.
Jimmy Rollins knocked in the team's first two runs with his third home run of the season in the third inning. Rollins finished the game 1-3.
Carlos Ruiz went 1-3, and drove his second run of the season with a sacrifice fly in the eighth inning.
John Mayberry made his third straight start in centerfield, and went 1-3 with a single. Mayberry has at least one hit in his last four starts, and his average has raised to .253.
Antonio Bastardo had another rough outing. Bastardo was Charlie Manuel's first choice to pitch the eighth inning, and he responded by immediately giving up the game-tying home run to Joey Votto.
Justin De Fratus came in for Bastardo, and got the final two outs of the inning, and earned his second victory of the season.
Jonathan Papelbon earned his eighth save of the season.
Final Thoughts
The eighth inning was a major issue for the Phillies in 2012, and its becoming a problem again with Mike Adams unavailable due to a back strain.
Charlie Manuel's first choice is to go to Antonio Bastardo, and the lefty just hasn't responded well. Bastardo has allowed at least one baserunner in his last 11 appearances. He's allowed five hitters to reach in his last two outings. Manuel needs to ease up on Bastardo before his confidence completely crumbles, and he reverts to the disaster that he was in 2012.
It's time for the Phillies to look at other options in the eighth inning.
The team has stayed far away from Phillippe Aumont in tight situations, but he's had five straight scoreless appearances, and it's time to give him another chance.
Justin De Fratus has been put into eighth inning in relief of Bastardo several times since being called up, and he's responded well so far.
Whether its Aumont, De Fratus, or someone else, Manuel can't keep putting the game in Bastardo's hands in the eighth inning. He's just not up to the challenge right now.