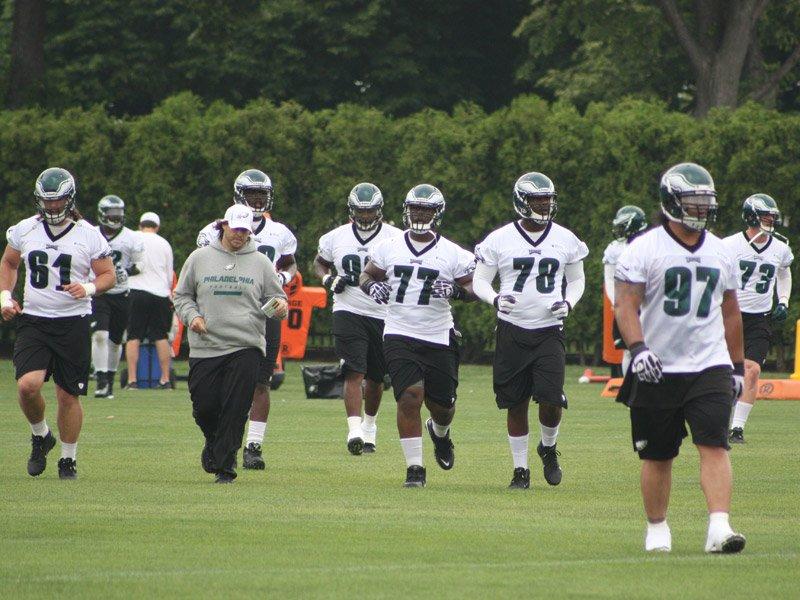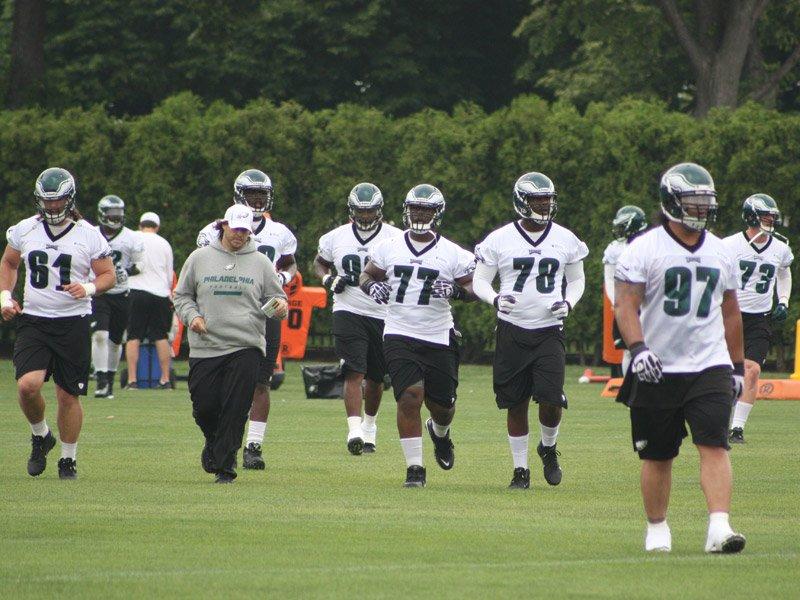 I don't remember exactly what music was playing when I walked into practice, but the music seemed to start kind of mellow then it built a tempo as the practice went on yesterday.  It was a different selection to what we heard last week, more old school stuff.   "You Dropped the Bomb On Me" by The Gap Band from back in the day stood out amongst the early selections.
NBC-10's John Clark said he saw Chip Kelly jogging down Delaware Ave. last week.  Kelly likes to hang out with his coaches at local sports bars like Chickies and Petes among others and talk football.  The former players loved the get together he put on at Lincoln Financial Field a few weeks ago.
They say he doesn't yet realize what it means to be the Eagles head coach.  Everybody knows who he is and watches his every move.  Kelly doesn't seem to want to be a celebrity.  He just wants to coach football.  The coach is really down to earth and easy to talk to.
After awhile you're focused on the football and not the music, which is what Kelly wants his players to do.  I know as a player for years, it would be quiet at practice and noisy during the games.  Players would have to get used to the noise on the day of the game.  It would affect the offense more than the defense.  That won't be a problem for the Eagles this year.
Immediately I can tell that the Eagles are a bigger football team with the size of their defensive line and their wide receivers. Arellious Benn looks like one of the tight ends and Ifeanyl Momah looks like a young Harold Carmichael.  These guys are huge, but they're longshots to make the team.  Benn has a better chance than Momah.
The Eagles tight ends started out the workout right in front of us.  They were running ten yard outs, then ten yard ins, then ten yard out and ups.  You can tell by how many times the ball is thrown to the tight ends during the workouts, that the tight ends are going to be a key part of the passing attacks.  The tight ends are in position to get the dump down passes versus zones.
Backup tight end Clay Harbor had a bad practice yesterday.  He dropped a couple of easy passes and jumped offsides a couple of times.  At times I see improvement in Harbor who has the athletic ability to make the Birds keep four tight ends, but he's got to get more focused.  He seems to run good routes, but he drops too many passes.
Brett Celek, Zach Ertz and James Casey are surely going to be on the roster, while Harbor is fighting for his roster spot.  Celek needs to get more sure-handed as well.
Connor Barwin is starting as a left side outside linebacker and he's physical with the tight ends.   None of his pass rushes jumped out at me as outstanding.  Trent Cole was the starting right side linebacker.  Cole is facing a serious challenge in playing the outside linebacker position.
"It comes down to trusting what you see," Cole said. "We've made a lot of progress. It's coming together, but we have a long way to go and a lot of work to do. You take it in pieces. Once we get the pads on and we're in a game, we're going to see how all the work we're doing now is paying off."
Brandon Graham backs up Barwin and somehow yesterday he was covering wide receiver Jason Avant man-to-man and Avant beat him deep for a touchdown.
DeMeco Ryans and Mychal Kendricks are the starting inside linebackers.  Kendricks did a great job tracking Avant as he ran a crossing route.   Foles tried to get the ball in there any way and somehow Avant came down with it, but it wasn't a wise throw.
"I think we're improving every day," said Ryans. "You can tell just by the communication and by how the guys are playing faster because they don't have to think as much. They know where they're supposed to be. They understand the reads and the adjustments that we're making.
"I love this so far. I think we're going to be aggressive and physical. Our mindset is to take the football away and make big plays."
Second year running back Bryce Brown got plenty of work yesterday because number one running back LeSean McCoy left the practice with pain in his knee.   Brown is getting more comfortable catching the football out of the backfield. Third string backup running back Chris Polk benefitted from the the situation because it greatly increased his reps.  Polk has lost about 15 pounds from a year ago.
Cornerback Brandon Fletcher was in great position for an interception of a Foles pass, but he wasn't able to hold onto it after cutting in front of the receiver.  Foles was late with the outside throw and that's a critical mistake in the NFL.   Fletcher was the starting left cornerback during the workout and Curtis Marsh was the starter on the right side.  Marsh was starting because Cary Williams was unable to make it because of a delayed flight due to the weather.
At the safety position we saw something that I doubt we see again, Nate Allen and Kurt Coleman starting.
As I had written in the previous article, left offensive tackle Jason Peters, defensive tackle Fletcher Cox, safety Patrick Chung and cornerback Williams all missed the workout because bad weather either delayed or got their flights canceled their flights.
The number one offensive line was a mess with Peters, Jason Kelce and Evan Mathis missing.  Kelce is still going to rehab on his knee, after surgery to repair his ACL and MCL.  Mathis is recovering from surgery to clean out his ankle.
Todd Herremans was the only offensive lineman of the group that is expected to start.  Number one draft pick Lane Johnson is being brought along slowly with the second team offensive line.  Second-year offensive tackle Dennis Kelly is starting at right tackle.  The O-line was making too many mistakes yesterday, which didn't make life easy for Chip Kelly and his quarterbacks.