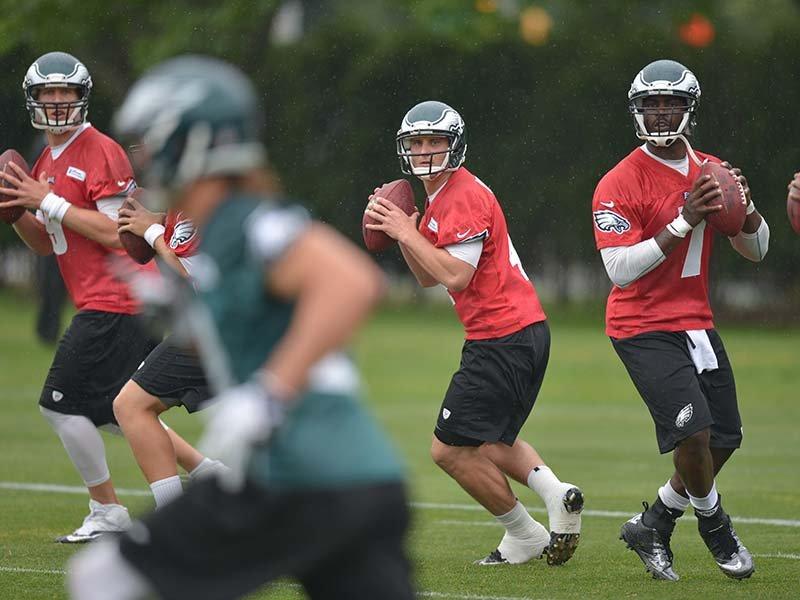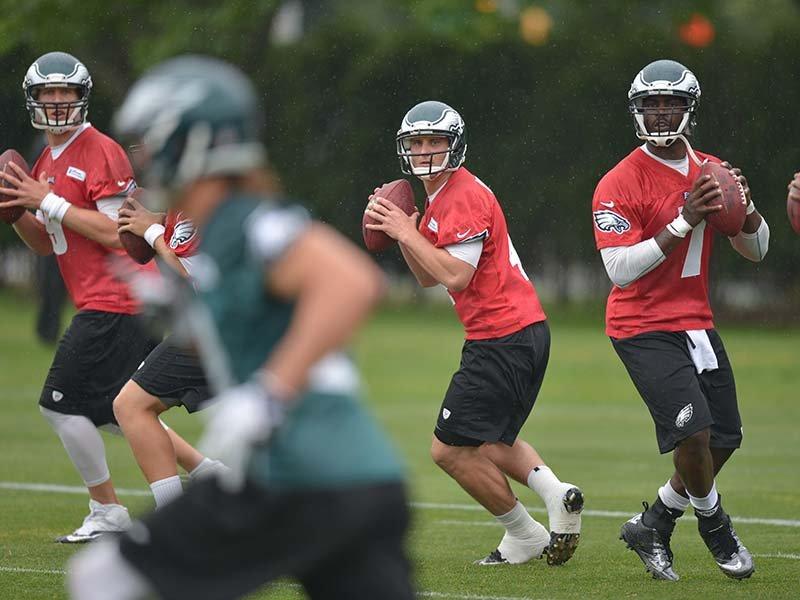 Eagles Pro Bowl left tackle Jason Peters wasn't at practice today and head coach Chip Kelly told us that he knows why and it didn't have anything to do with an injury.  "We know where he is, and we know what's going on," said Kelly, who let us know that he expected the Pro Bowler to be back soon.
The absence of Peters produced an opportunity for number one draft pick offensive tackle Lane Johnson.  He practiced with the number one offense. "I just came out here today and went out with the ones," said Johnson. "I didn't really have too much to think about it. I just went out there and played."
Eagles safety Kenny Phillips was kept out of practice for precautionary reasons, but it wasn't anything serious.  We were all thinking about his knee.
It was raining throughout the Eagles practice this morning and it didn't help the offense.  There were far too many balls on the ground after plays.
With Andy Reid, the Eagles took their practices inside the bubble, but Kelly kept the team outside in the rain.  "I think football's played outside", Kelly said in explaining why he kept the team outside. "Last time I checked, [Lincoln Financial Field] doesn't have a dome. It rained a little bit. I know it may have been a little inconvenient for you guys, and I do apologize for that, but I think we had a practice. It wasn't like we had a hurricane or anything like that."
"We just need to get a lot accomplished. We don't have a big indoor facility, so there are a lot of things. You can't practice special teams like that, so if we can be outside, we're going to be outside. We have to play outside. We have to get used to it," Kelly said. "I know you've got to practice in it if you're going to play in it. We've always felt that; unless it's just so bad that you can't be productive. But we had some guys slipping and sliding a little bit. They have to learn to stay on their feet in those situations, so we felt it was good working outside today."
Michael Vick began the 7-on-7 workout by staring down a throw down the middle of the field.  Safety Nate Allen broke on the ball and should have had an interception.  Vick's practice was up and down.  Vick put a deep pass into the lap of wide receiver Riley Cooper, but he dropped the ball.
Nick Foles tried to throw an interception to cornerback Bradley Fletcher, but he couldn't hang onto the football.  Foles made a great throw in the red zone to Jeremy Maclin, but the wide out couldn't hang onto it.
Matt Barkley had a ball picked off and should have had more intercepted.  He tried to make a couple of throws outside and he let them go late.  In the NFL you can't make a late throw to the outside and not run the risk of getting it picked off.  Barkley is probably the most accurate quarterback on the roster in the short to intermediate throws.
"You have to make a really important decision," Kelly said in response to a question about why he doesn't name a starter at the quarterback position . "Why should we jump to conclusions? Why do we need to name a starting quarterback in May?"
"Right now we haven't done a thing in front of officials," he said. "We haven't done anything except we've had three days of voluntary minicamp before the draft, and today was our seventh OTA. So none of us have had any thoughts of, 'Hey, we've got to get a guy named by a certain point in time.' It will play itself out.
"It will play itself out over the course of time when we've had an opportunity to make a thorough evaluation. It is a big decision. When you make a big decision, you have to take your time and let it play itself out on the field. So we're not looking at it like that. They rotate on a daily basis. Billy will tell you who will play in each group and they'll just go out and play."
In a month of practices, the Eagles wide receivers have spent more time working on blocking drills than they did through more than a decade under Andy Reid.
The rainy weather didn't chase Eagles owner Jeffrey Lurie inside.  He was out there on the field for the practice.