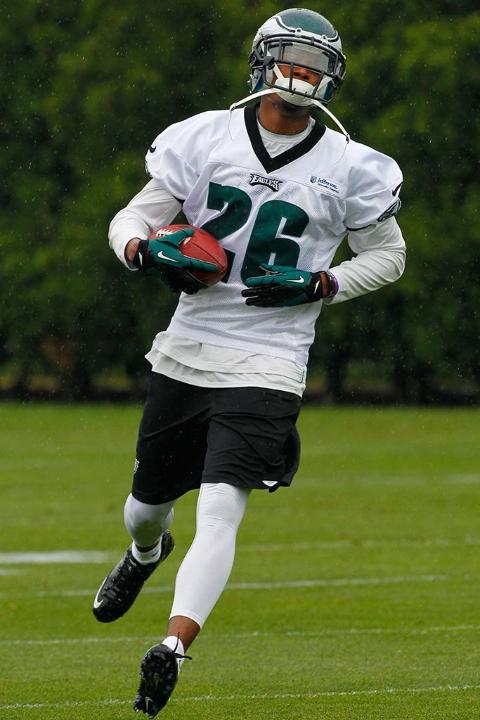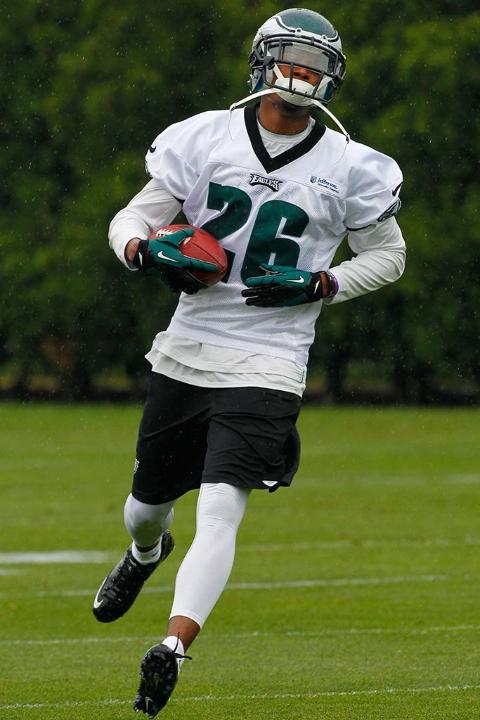 Last year the Eagles secondary was an embarrassment.  They were either blowing assignments and having receivers running down the field wide open with nobody around them or playing touch football with them as they caught the football and ran into the end zone.  It was pathetic and that's why talented players like Dominique Rodgers-Cromartie and Nmandi Asomugha are no longer on the roster.
The Eagles weren't able to find anybody more talented than DRC , but they did get somebody to play the right cornerback position, who definitely is a lot tougher and much more of a professional.  Former Baltimore Ravens cornerback Cary Williams grew up in a defense with future Hall of Famers Ray Lewis and Ed Reed leading the way.  He's trying to bring some of the atmosphere, which he grew up under in Baltimore to Philadelphia.  It's similar to the Eagles defense which was led by Reggie White, Jerome Brown, Seth Joyner, and Eric Allen.  Both defenses played physical, aggressive in your face football.
Everybody remembers how Williams tried to strangle Eagles wide receiver DeSean Jackson, when they got into last year in the Ravens-Eagles game.
"It's a difference between being a top-10 defense and a top-25 defense," Williams said
Williams knows how to practice.   He knows how to prepare for a game and he knows the demeanor one must carry to make it in the NFL.   You pick all this up after talking to him for a few minutes.  Right now the veteran corner is trying to play catch up, after missing four of the first six workouts because he was recently married and went on his honeymoon.
"It's a part of the learning process, we're all learning", Williams responded to a questions about him playing catch after missing a few of the OTA's. "I'm not a rookie or anything like that, I understand how to come in and be a professional, I take each and every day seriously, every time I step out here.  It's a just another day in the office for me."
He made it a point to emphasize that playing in a new scheme with new teammates means that communication is even more important now than it was in Baltimore when he was playing in a familiar scheme with players who he knew very well.
"It's a lot more things going on, there are a lot of things we have to talk through", Williams said very seriously.  "That's a part of the process. We're still trying to learn each other.  We're still trying to get better each every week, each and every day. It's still a process. The OTA's is a part of that process. We're trying to get know each other and try to play around each other while learning the scheme at the same time.  I think we're all doing that. It's just a part of the process."
I was thrilled to hear him emphasize the communication part of playing defense in the NFL.  Nowadays you don't have a chance of being successful defensively in the NFL, if you don't communicate properly.  Games are won and lost on 3rd down and the key to 3rd down success is communicating properly first then making the play.  If you don't communicate properly the way the Eagles secondary did a year ago, you don't even give yourself a chance to make the play.
The other thing which Williams brings is a throwback attitude of toughness and physical play.  Last year, is a no-nonsenese guy when it comes to playing in the NFL.
Last year he got into it with Eagles wide receiver DeSean Jackson and says one of the first things he did was talk to Jackson when he walked into the Eagles locker room.  Each of the players say they have put the shoving match behind them, but Williams isn't going to change his style of tough in your face play.
"Once we get the pads on," Williams said, "the cream will rise to the top."