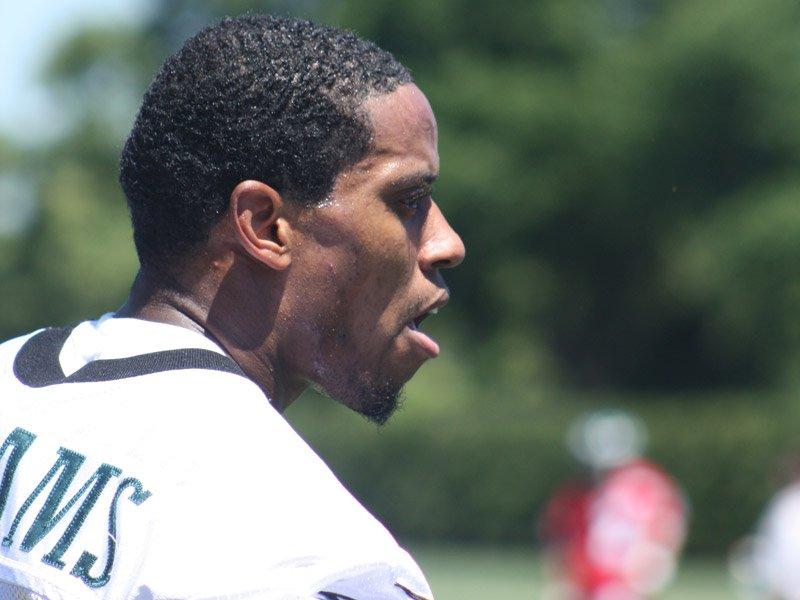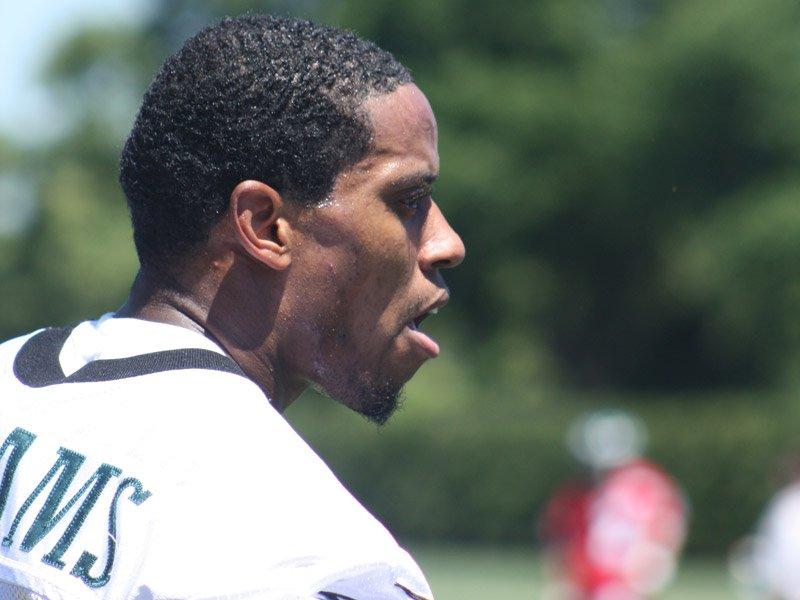 When the Eagles number one defense took the field yesterday at the Birds mini-camp, new Eagles cornerback Cary Williams lined up at the right cornerback position.  He had been backing up third year cornerback Curtis Marsh for most of the workouts, but the fact that he hadn't attended most of the OTA's was put to the side.
There had been a major controversy over the air waves and online about new Eagles cornerback Cary Williams getting married, honeymooning, overseeing the building of his home, getting dental work done and attending his daughter's dance recital rather than attending OTA's with his new teammates.  Williams was unapologetic about taking care of all those personal matters, in fact he went after the media with some strong comments.
"I'm sorry that people make such a big deal over something so small," said Williams to a throng of media members after practice yesterday. "I grew up as a kid who didn't have two parents in my household. I definitely take pride in being a father, in being a husband. I take pride in being there for my daughter, for my children and future children because I didn't have that when I was younger.
"I'm sorry that y'all make such a big deal out of it and fans have something to do with it. I love the fans, I love the people that have supported me but at the end of the day, if I were to worry about what a fan thinks of me then I won't be here very long…I can't please every person out here in America."
"It's just funny. I mean, fans, I love y'all, but jeez, give me a break," Williams said. "If I was a guy that had three kids with three different women and I was a womanizer, you'd be reporting that. Now I'm a guy that wants to go see his girl's recital and I'm a bad guy. Like, come on, man."
"I haven't gotten in trouble in years. I've learned my lessons. I've been through so much scrutiny in previous years and things like that. If I was doing something negative, then report it. I'm not doing anything negative. I'm just trying to be a great dad, I'm just trying to be a great family man. I'm just trying to live my life outside of football and not be confined to just a box. Life does happen."
"I don't want to sound like it's disrespect. I love my job," Williams said. "I just had to make sure my sconces, my wood was picked out, my fireplace … it was a whole bunch of stuff that was going on.
"I'm sorry I wasn't here during OTAs. You want me to do that during the season? We don't have any days of during the season, except for Tuesday."
The former Baltimore Raven made a good point by focusing on what really matters, which is making plays on Sundays during the season.  Some players practice often and hard, but they don't make plays on Sundays, so they get benched and eventually released.
He did a good job for the most part yesterday, but was beaten for a big play when wide receiver Jeremy Maclin made an acrobatic catch on a long pass.  Williams was in great position and probably could have caused an incompletion if he had been more physical with Maclin, but they weren't in pads.
Williams isn't a great athlete.  He's not blazing fast or extremely quick.  He will be physical with receivers because he has to be in order to survive.  Speedy receivers will get deep on him at times, but he will deliver some big hits when he can.