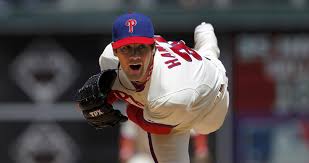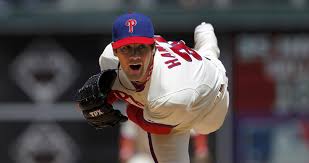 The Philadelphia Phillies won their fourth straight game on Wednesday afternoon, defeating the Miami Marlins 6-1. Their record improves 30-30.
Cole Hamels is finally on the right track. Hamels earned his second win of the season today, allowing just one run on four hits while striking out 11. It was the lefty's best effort of the season.
The lineup still didn't make things easy for Hamels today. They managed just one run through the first six innings, so it was up to Cole to pitch his best and hold the opposing lineup down through seven frames until his run support finally came.
The offense then broke out in the bottom of the seventh inning for a five runs. Delmon Young got a pinch-hit single, and Ben Revere followed with a hit of his own to put two on with one out. After Michael Young flied out, Jimmy Rollins got the scoring started with a base hit. Ryan Howard followed Rollins with a two-run triple, and Domonic Brown put the game out of reach with a two-run bomb.
The home run was Brown's 18th of the year. He finished the game 1-4.
John Mayberry earned a start out in right field after his heroics on Tuesday night, and went 1-4 with a run scored.
Mayberry was driven in by Erik Kratz, who hit his fifth double of the year. Kratz is now hitting .242 with seven homers and 19 RBIs. He has RBIs in 10 of the last 11 games now.
Justin De Fratus and Mike Stutes eached pitched a scoreless inning to finish the game.
Final Thoughts
The Phillies have finally hit the .500 mark for the first time since early April.
Its great see everything finally come together for Cole Hamels. Now that he's finally gotten another win under his belt, perhaps it will be easier for him to pitch at a high level on every fifth day. If the Phillies hope to make the playoffs, they need a strong positive impact from their $120 million dollar pitcher the rest of the way.
The Phillies will now begin a 10-game road trip, beginning with a four-game set with the Milwaukee Brewers.