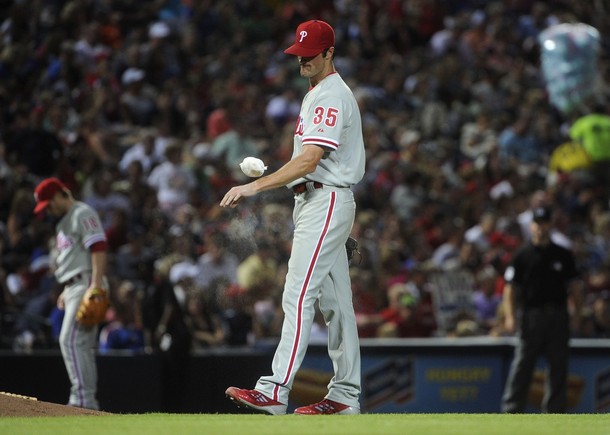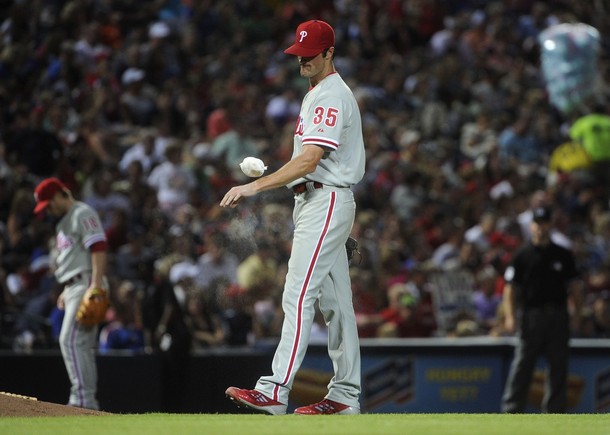 The Philadelphia Phillies lost their fourth straight game on Tuesday night, falling 2-1 to the Twins. Their record drops to 31-34.
Its back to status quo for Cole Hamels. He pitches a good (not great) game, gets no run support, and takes a loss or gets a no decision. Hamels pitched six innings, allowing two runs on seven hits.
It was another night in which the Phillies' hitters were just not interested in making the opposing pitcher work. P.J. Walters threw only 86 pitches to get through seven innings. They did manage to scrape a second run off of Walters in the eighth inning, but ultimately the lineup didn't do enough tonight.
Mike Adams ended up taking the loss. Adams came out to start the eighth inning, and allowed a walk and a hit to begin the frame. He recorded two outs before being pulled in favor of Antonio Bastardo, who allowed an inherited runner to score.
Michael Young knocked in the team's first run with an RBI single in the third inning. Young finished 1-4, batting lead-off once again.
Ryan Howard went 2-4, and got the game-tying RBI single in the eighth inning.
Domonic Brown went 0-4 and left four men on base.
John Mayberry went 1-4 with his 11th double of the year and came around to score a run.
Justin De Fratus pitched a scoreless seventh inning.
Final Thoughts
Just another painful loss for the Phillies.
Another underwhelming start from Cole Hamels. Another frustrating effort from the offense. Another late-inning failure from the bullpen. Let's talk a little bit about all three of these issues.
Cole Hamels just hasn't been able to pitch deep into games all season, and its really hurt the team. He's only pitched seven or more innings in three of his 14 starts. That's not good enough for a guy who's supposed to be the team's ace of aces. They need him to be great, not good.
The lineup just couldn't get anything done tonight. P.J. Walters is having a good season, but the fact that he only needed 86 pitches to get through seven innings is an indication that a lot of the hitters just went up there and started hacking tonight. A lazy, uninspired approach like that is doomed to fail more often than not.
Finally, Mike Adams is really killing this team. He isn't healthy right now, he's trying to pitch through his discomfort and it just isn't working. He's allowed runs in six of his last eight appearances, and at the moment the team just can't count on him to get them through a tight spot. If Adams can't be relied on, it means that the eighth inning is going to be a nightmare for the Phillies.
The momentum that the Phillies gained through their five game winning streak a week ago is now but a distant memory, as the team's record continues to sink further below .500.