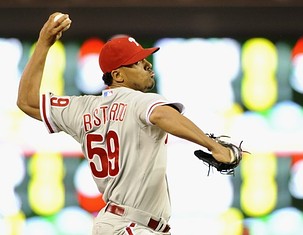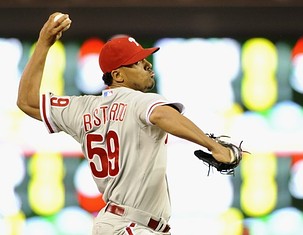 The Philadelphia Phillies lost their fifth straight game on Wednesday night, falling to the Twins 4-3. Their record drops to 31-35.
Tyler Cloyd pitched five innings and allowed just one run on six hits and three walks. Cloyd wasn't able to go deep into the game, but he pitched out of trouble throughout the night (including a bases-loaded jam in the first inning) and gave the team a chance to win. You can't ask for much more than that.
Unfortunately, because Cloyd was only able to go five innings, it meant that Charlie Manuel needed to find a way to squeeze four out of his bullpen.
Joe Savery was the first man to get the call, and he allowed one run on three hits in the sixth inning. It was just the second time that Savery has made an appearance in a game since being called up to take Chad Durbin's roster spot several weeks ago.
Mike Stutes began the seventh inning, and recorded two outs without allowing a walk or a hit.
Antonio Bastardo was next, and that's where the trouble really began. Bastardo had his worst outing of the season, allowing two runs on three hits in the eighth inning. He was lifted in favor of Justin De Fratus, who allowed an inherited run to score on a wild pitch to give the Twins the lead.
At the plate, the team was only able to support Cloyd's start with three runs. Two of the runs came in the first inning, off of a sacrifice fly from Domonic Brown and an RBI single from Delmon Young. Ben Revere added the third run with an RBI single in the fifth inning.
Although Brown drove in a run early in the game, he went hitless once again going 0-3.
Revere had a productive game out of the two-hole, going 3-4.
Michael Young went 1-4 with his eighth double of the season.
Ryan Howard, Freddy Galvis, and John Mayberry went a combined 0-11.
Catcher Steven Lerud made his first start of the season, and went 0-3.
Final Thoughts
All of the ground that the Phillies made with their five-game winning streak has officially been undone. Their current five-game losing streak has destroyed whatever momentum they had gained, and now has the team in a terrible funk.
Charlie Manuel just doesn't have a lot to work with on this roster. He's got a lineup that's missing a couple of key pieces (Chase Utley, Carlos Ruiz), and he's getting very little offensive production from anyone not named Domonic Brown. Ryan Howard continues to struggle, with just one home run and six RBIs in his last 20 games.
He's also got a bullpen that continues to disappoint. Mike Adams' injury and ineffectiveness forced Manuel to go back to Antonio Bastardo for the eighth inning last night, and the lefty just imploded. It was the second straight day that the team had seen a game lost in the eighth inning because of their bullpen.