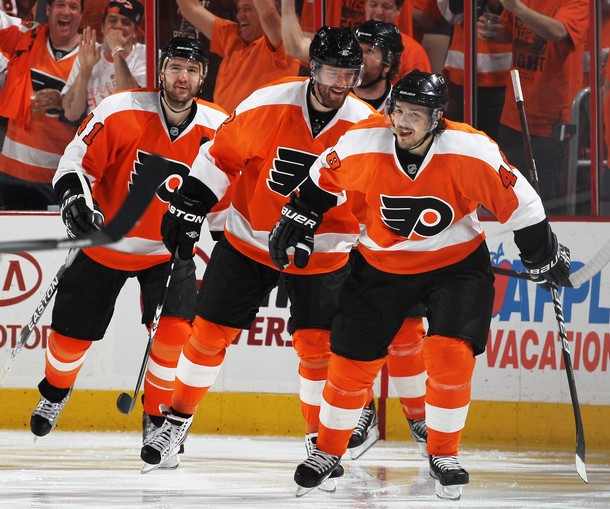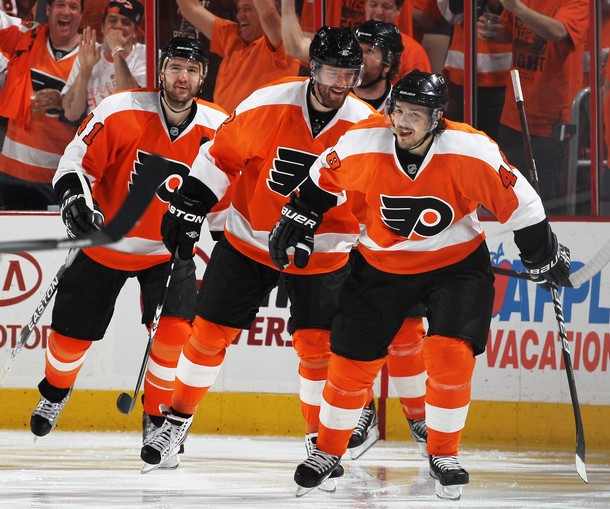 The Philadelphia Flyers formally announced today what many knew was coming even before the beginning of the 2013 NHL season- the remaining two years of Danny Briere's contract will be bought out to maintain salary cap compliance.
Paul Holmgren's official statement:
"I met with Danny last week and informed him of our decision to use a compliance buy out on his contract. This was a very difficult decision for us to make as Danny has been a very good player for us over the past six years. Danny came to our organization as a free agent in July of 2007 and has been a tremendous player, person and role model in all aspects and for that we thank him. We wish him continued success and best wishes in any future endeavors."
Video of Briere's final meeting with the Philadelphia can be viewed here.
Danny's stint in Philadelphia began following the tumultuous mess that was the 2006-07 NHL season. Along with newly acquired players Kimmo Timonen, Scott Hartnell and Martin Biron (among others), the Flyers made a surprising run to the Eastern Conference Finals in 2008 before falling to the Pittsburgh Penguins in five games.
In what many refer to as the "Mike Richards era," Danny's best performance came during the 2010 Stanley Cup playoffs. The sputtering Flyers barely made the post-season before embarking on a deep and emotional Cup run. Briere found chemistry with Hartnell and oft-scratched Finnish winger Ville Leino, scoring 12 goals and 30 points in 23 playoff games.
If not for that final shot from Patrick Kane, Danny Briere would have won the Conn Smythe Trophy for MVP.
Ever since Holmgren "blew up" the roster in the offseason of 2011, though, the Flyers have been a rudderless ship. I don't normally follow the writing of Frank Seravalli of the Daily News, but he very eloquently summed up one of the two biggest issues for the current team:
"The Flyers are in desperate need of an identity. They aren't fast. They aren't overly skilled, a finesse team that can out-dangle the Penguins or Blackhawks. And they aren't all that physical and punishing, as they'd get run over by the Bruins or Kings… The Flyers need a mantra. Skill like Chicago or blue collar like Boston. Stuck in the middle, with a constantly changing cast of characters, isn't the winning formula."
When the roster upheaval occurred, Briere never found his scoring touch again. In the 2011-12 NHL season, Briere shared the ice with Matt Read and Wayne Simmonds as his primary linemates. He scored just 16 goals that season, though his 33 assists were on par with his usual production.
This past season, his linemates were Brayden Schenn and Wayne Simmonds. Prior to a poorly-timed concussion sustained in practice, Briere was on pace for 14 goals and 38 points. It would have been his lowest producing season among the last twelve, assuming you discount the 2008-09 season when he was coping with a groin injury.
How much of that was because of a natural decline in Briere's playing ability and how much was a function of the team's chemistry and coaching is difficult to quantify. The former argument is the safer bet, but Briere will now have the opportunity to prove that one false.
Regardless of the causes (or excuses, if you prefer), the honest truth is that he hasn't looked like a key member of the Flyers in two seasons and didn't appear to fit in the line-up for two more.
As a free agent, Danny will have no shortage of interest among other clubs around the league. Darren Dreger of TSN reported via twiter today, "15 teams or more believe to have interest in Briere once he becomes a buyout UFA. Briere will want a 1-2 year deal."
Reporters often cite his relationship with his children as being the #1 factor in where Briere will play next, but if you listen to his conversation with the media today, that only seems to be one factor. Obviously his kids will need to weigh in on wherever he goes, but playing for a team with a legitimate shot at winning the Stanley Cup is going to be given due consideration as well.
In addition to the "identity" issue, the other sad reality of Briere's compliance buyout is that it highlights once again just how inefficiently this management group continues to operate under salary cap constraints.
Had the organization been marginally close to being compliant, they could argue that this was an unfortunate sacrifice that had to be made as a result of the financial constraints implemented by the smaller franchises around the league to make the NHL more successful in the long-term.
Then they traded for and signed 35 year-old defenseman Mark Streit.
Even after the buyout, the team still remains over the cap by over $4 million. They are going to have to dump salary somewhere, and just like what happened with Simon Gagne in 2010, they are going to be hard pressed to gain any value on return and fill the line-up holes with the change left over.
That the organization continues to be linked to Bobby Ryan, Brad Richards and "everybody" suggests that they still don't understand what it takes to be a successful franchise in the modern NHL. There is no long-term plan, no vision of an identity… only band-aids and shiny new toys.
The silver lining in this move for Briere (aside from the additional money he will make in free agency) is that he now has the opportunity to spend the remainder of his career fighting for a Stanley Cup with a team that has a better idea of what it's doing than the one currently gambling its future like a frat boy at Sugar House Casino.
Assuming that team is not the Buffalo Sabres, of course. That franchise is a mess.