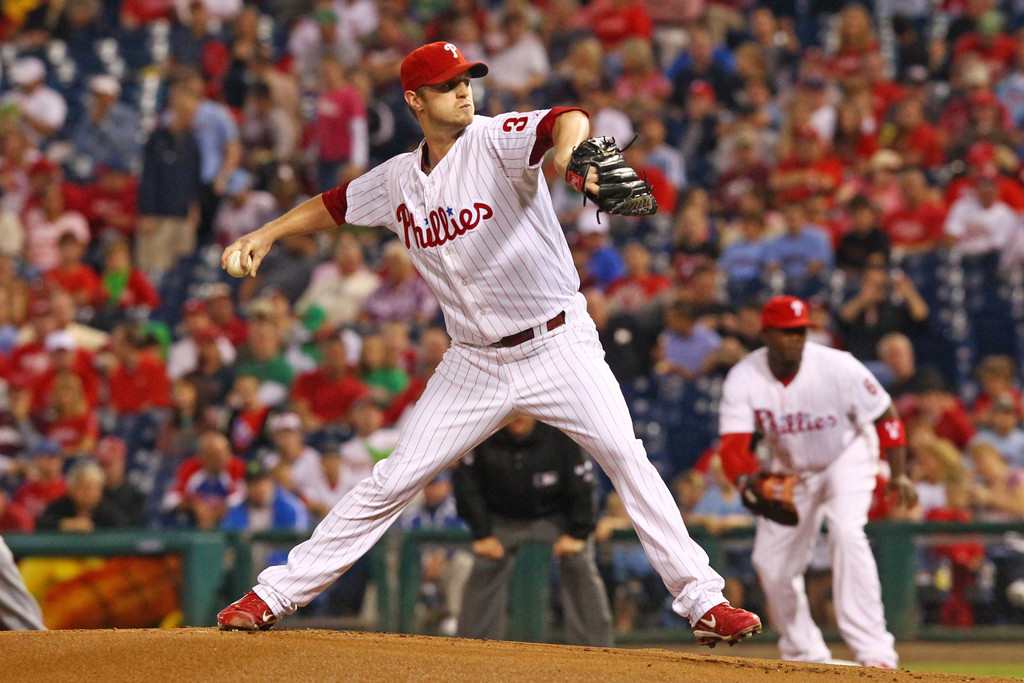 The Philadelphia Phillies had their two-game winning streak snapped on Wednesday night, falling to the Washington Nationals 6-2. Their record drops to 35-38.
Kyle Kendrick brought his A-game to the ballpark tonight. Kendrick pitched 7.2 innings, allowing just one run on two hits and a walk. The righty worked quickly throughout the night, and didn't have many long at bats. By the time his night was complete, the starter had only thrown 92 pitches.
Kendrick's only run came on a two-out single from Jayson Werth in the seventh inning.
The Phillies did all of their offensive damage in the first inning, scoring two runs on a home run from Michael Young. After that, the bats shut down. The team didn't get a hit until extra innings, and only worked four walks after the first inning. Washington starter Gio Gonzalez really had the lineup under control the rest of the night, striking out 11 batters in his seven innings of work.
Michael Young's homer was his third of the year, and he now has 17 RBI's for the season. Young has begun to give the team a little more power as of late. He's got five doubles, a triple, and a home run in his last eight games.
Ryan Howard went 0-4 with four strikeouts, but he did manage to work a couple of long at-bats.
Domonic Brown also went 0-4 with three strikeouts. He popped out with two runners on in the bottom of the ninth. Its now been 10 games since Brown has hit a home run.
Antonio Bastardo replaced Kendrick in the eighth inning, and got the final out. Charlie Manuel brought Bastardo in to get a favorable matchup against pinch-hitter Chad Tracy, but then Washington countered by pulling Tracy back and replacing him with righty Chris Marrero.
Carlos Ruiz went 1-4, with a single in the 10th.
Jonathan Papelbon entered his third consecutive game, and for the second time in the series blew a one-run lead, allowing an RBI single to Jayson Werth.
Mike Adams did a good job pitching out of trouble in the 10th. Adams gave up a double to Kurt Suzuki, and then allowed him to advance to third on a wild pitch with one out. However, the veteran was able to bear down and pick up the final two outs to keep the game tied.
Mike Stutes gave Washington the lead in the 11th. Stutes loaded the bases with one out, and then gave up a grand slam to Ian Desmond.
Final Thoughts
Charlie Manuel cost the Phillies this game. I thought Manuel was overmanaging by putting Bastardo in against Chad Tracy. Washington didn't have any runners on base, and although Tracy had burned Papelbon for a home run the other night, he was hitting just .152 on the season and Kendrick was pitching lights-out with only 92 pitches.
With Kendrick pitching as well as he was, Manuel had a chance to get through the game without going to his bullpen at all. He could have avoided going to Papelbon for a third straight game, and perhaps could have avoided extra innings.
Kyle Kendrick hadn't been pitching that well over his last couple of starts, but he eased the concerns of many tonight with his great performance. I'm starting to trust Kendrick. Those are words that I've been very hesitant to say all season, but its time to really give him his due. Ever since the end of last season, he's been a reliable starting pitcher. His stuff is never going to be overwhelming, and there will be games like his start at Colorado where he gets hit around. But at this point, I think he's shown enough consistency that I can confidently say I feel good about him as the team's third starter.
In years past, Kendrick would have let a situation like the Colorado game shake his confidence and allow it to carry over into future starts. But now he appears to be at a point in his career where he's learned to have a short memory and shake off bad outings.