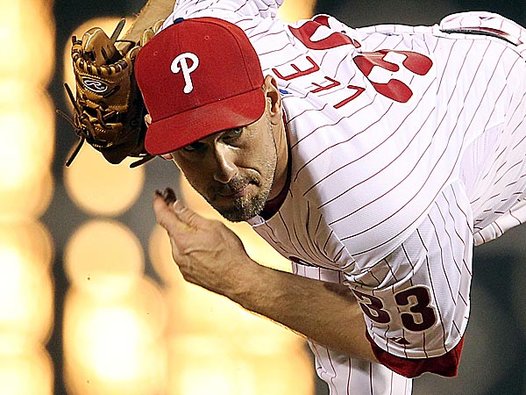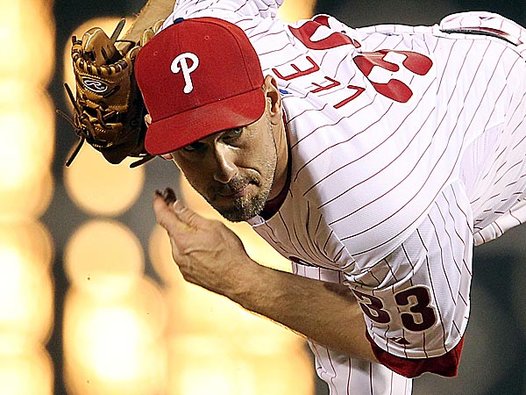 The Philadelphia Phillies won their second straight game on Tuesday night, taking down the Nationals 4-2. Their record improves to 35-37.
Cliff Lee continued to pitch at a high level, allowing just two runs on five hits over eight innings. Lee earned his ninth win of the season, and lowered his ERA to 2.53.
The Phillies took the lead with a three-run rally in the sixth inning. Ben Revere began the inning with a single, and scored on a double from Michael Young. Jimmy Rollins singled and Ryan Howard was hit by a pitch to load the bases with none out, but it looked as though the team wouldn't be able to do any more damage. Domonic Brown and Delmon Young both struck out, but Kevin Frandsen came through with a two-run single.
Michael Young finished with a three-hit game and scored two runs. Young has played pretty well since rejoining the team several weeks ago, and has bumped his average back up to .288.
Ryan Howard went 1-2 and drove in a run with a sacrifice fly.
A night after supplying the game-winning hit, Domonic Brown went 0-4 and left four men on base.
Carlos Ruiz returned to the lineup, and went 1-3 with a single.
Jonathan Papelbon bounced back from his blown save on Monday to pitch a scoreless ninth inning to preserve the win for Lee.
Final Thoughts

The Phillies have gotten off to a great start in this series, having already taken two of three from the Nationals, and will now have a chance to sweep the series tomorrow night with Kyle Kendrick on the mound.
Cliff Lee has been the model of consistency and greatness for the team this year. In his 15 starts, Lee has only allowed more than three runs three times. He's gone eight innings in six starts, and he's gone at least seven in 13 of them. Every fifth day, he's giving them a great (not just a good) chance to win. While Cole Hamels and Roy Halladay have left very little positive impact on the team this year, Lee has stepped his game up and is pitching as well as he ever has.
He's the true ace of this team. And by the way, can we please stop talking about trading this guy? I understand that Lee's value will never be higher than what it is right now, but the reality is that its very unlikely that the Phillies would get anywhere near the same value in return. Maybe if Lee had an expiring contract it would certainly be alright to entertain the idea of dealing him away, but he's still at the top of his game and under the team's control for the next couple years. If you trade him away, who do you have to replace him in the rotation with in the next couple of years? Not to mention Ruben Amaro hasn't exactly done well selling off his veteran players. He's already traded away Lee once, he's traded Shane Victorino and Hunter Pence, and what does he have to show for it? Three All-Stars traded away right there, and Tommy Joseph is the only guy the team netted in return who might have a big league future. The Phillies are much better off with Lee in their future than without him.
On another note, I like that Charlie Manuel has been giving Kevin Frandsen the nod over Freddy Galvis at second the last couple of days. Frandsen has swung the bat well and come up with some big hits throughout the season, and he's earned some more playing time. Galvis has had a couple of big hits himself, but Frandsen brings much more consistency offensively. His two-out, two-run single with the bases loaded in the sixth inning proved to be the difference in the game today.