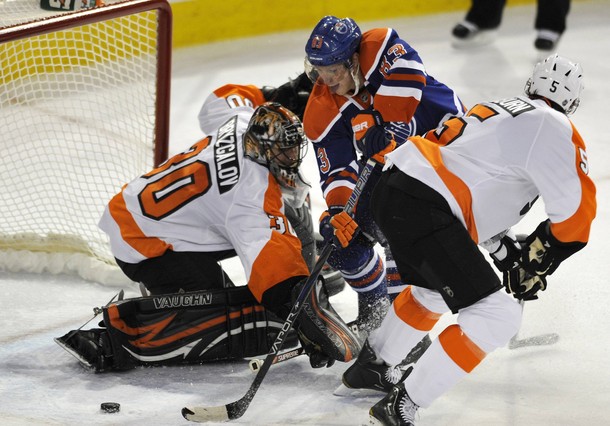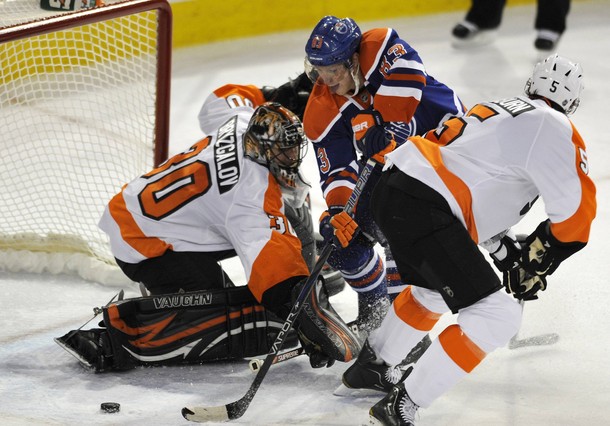 Depending on who you believe, the Philadelphia Flyers will either be an exciting force to watch for the 2013-14 NHL season or a trainwreck waiting for the whistle to blow.
The rumors that typically circulate at this time of the year have begun gaining traction, as every insider tries to "out source" the other in guessing what bold (or ridiculous) move the Flyers will make to improve their fortunes for the following year.
On goaltenders…
The Los Angeles Kings have notified pretty much every team in the league that Jonathan Bernier is for sale.
The Kings have to work a lot of financial "magic" to come under the salary cap this season, especially after signing RFA defenseman Slava Voynov to a six-year year, $25 million contract earlier today. Everyone and their uncle knows that Bernier will receive an offer sheet if he isn't traded before July 5.
The three teams that appear to be "in" on Bernier the most are the Flyers, the New York Islanders and the Toronto Maple Leafs.
Nick Kypreos of Sportsnet, via twitter: "Keep hearing #Kings Bernier will b traded sooner than later. With poss' Breeze buyout and Leiweke La link, #Leafs #Flyers front-runners."
Dennis Bernstein of The Fourth Period, via twitter: "League source on #LAKings Bernier trade chatter won't dispute Isles in mix but 'he'll be in Philly since those guys trade all the time.' "
The gamble that the Flyers face is that, if they are to buy out the remainder of Ilya Bryzgalov's contract, they have to inform the league by June 30. The Kings have that leverage over the Flyers, as it would be a very risky move for general manager Paul Holmgren to buy out Bryzgalov without knowing for certain that he could acquire Bernier a week later.
As a result, the two organizations are playing a game of chicken.
Tim Panaccio of CSNPhilly reported this afternoon that the Kings were asking for Jakub Voracek for Bernier, but that the Flyers would "move Matt Read in a deal." Anthony Mingioni of Sportsology hit the nail on the head after this nugget came out, stating "From LA's perspective, appearance of great demand is important to gain a respectable return for Bernier, who has played 62 reg season games."
How did the Flyers respond?
Josh Rimer, via twitter: "Rich Winter, Ilya Bryzgalov's agent, has been informed by Paul Holmgren that Bryzgalov will NOT be bought out after Cup Final! Was also told that Holmgren told the Bryzgalov camp that they felt they overplayed him this yr. That he shouldn't have started so many games."
Stephen Whyno of the Canadian Press, via twitter: "Can confirm Josh Rimer report that #Flyers have told Bryzgalov's representatives he won't be bought out. We will find out."
Todd Cordell of The Hockey Guys, via twitter: "Ilya Bryzgalov's agent, Ritchie Winter, confirmed to me via e-mail that Paul Holmgren said he will not buy out Bryzgalov."
If the Flyers aren't committing to buying out Bryzgalov publicly, that improves their leverage in negotiations. Of course, Holmgren had to muddy the waters again by denying that "confirmation" to Panaccio.
"I didn't assure Rich Winter of anything. When the time comes to do our business we will do whatever is best for our hockey team."
This wouldn't be the first time that Holmgren told an agent that he wasn't going to move a player and changed his mind. Jeff Carter knows all too well how trustworthy Holmgren can be.
On Bobby Ryan…
Ugh, this thing again.
Every offseason, it's the same rumor. "Bobby Ryan grew up in Cherry Hill and knew Bobby Clarke growing up- he was born to be a Flyer!"
The latest iteration from Panaccio is that the Flyers are considering trading Braydon Coburn and their 11th overall pick to the Anaheim Ducks for the 26 year-old winger.
Never mind the fact that Ryan is all but guaranteed to sign with Philadelphia once he reaches free agency in two years. I've noted this before, but trading Coburn only makes sense if the organization has a legitimate plan to replace his minutes next season, when Kimmo Timonen and Andrej Meszaros will both be gone.
Trading a high draft pick in the deepest NHL draft since 2003 would be foolhardy.
Sam Carchidi of the Philadelphia Inquirer, meanwhile, reported that he heard the opposite. "Funny thing is, the Flyers denied that this morning. I'm not questioning my friend Tim and his source, but another source just told me 'nothing going on' with Flyers and Ryan. Weird."
Hopefully the Flyers exercise patience and wait for Ryan to sign at age 28, when it will cost them zero in assets.