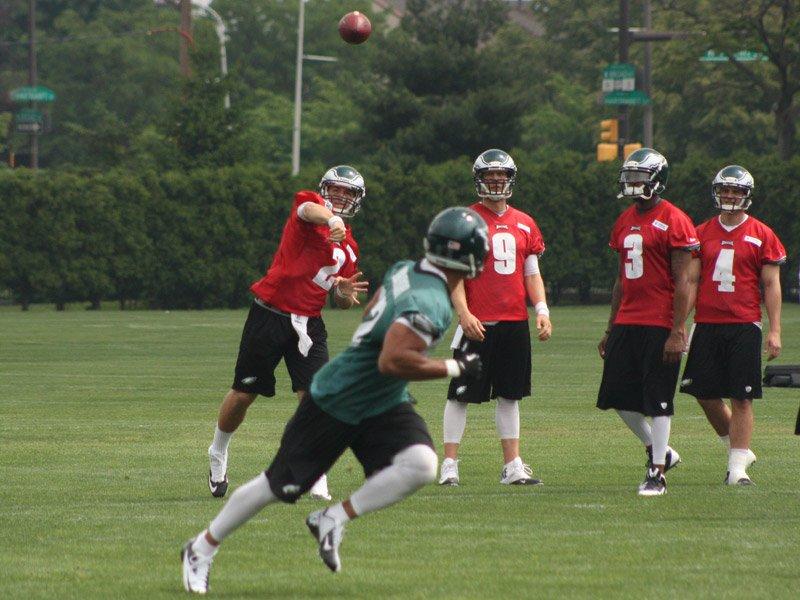 As a NFL coach Eagles offensive coordinator  Pat Shurmur was very positive about the Eagles individual offensive players and the entire offense as a unit when he talked to the media at the end of their mini camp.  He is very high on rookie quarterback Matt Barkley.
"You try to project in college what he's going to do in our game," Shurmur said.  "Here's a guy [Barkley] who threw for over 10,000 yards, helped his team win many games. He really did all the things playing quarterback that you need to see at this level. "
"He's taken to our training extremely well. A lot of the way we communicate is very different to how he did in college, but he's been to do very nicely here in the first few weeks. "
Shurmur responded to a question about whether he thought Barkley would be able to take the talents which he showed at USC and be successful on the NFL level.
"It doesn't really matter what level you're playing quarterback. Once you have the general skill set necessary you have to be an outstanding decision maker, you have to have a sense of timing and you also have to be an accurate passer. Wel felt like he had all those traits, so now it's just a matter of him learning how we call things, how we function and put all those traits to work. "
Shurmur refused to allow the media guys who were interviewing him , to categorize the Eagles offense because it is a collection of Kelly's college offense plus the west coast offense which Bill Walsh developed years ago.  They're going to be taking successful plays and concepts from numerous offenses and making them a part of the Eagles offense.
I think it's imperative that they're able to run the football.  If they can run the football, it will greatly help the entire football team.
"When you look at offenses in general people run zone schemes, they run gap schemes," Shurmur continued. "A lot of the concepts that you see in everybody's passing game are similar. What's in vogue is that we want to say this offense is this or that offense is that. What we want to do is put together an offense that is successful in the NFL and the inspiration for a lot of it is coach Kelly and what he's done. "
"But we've got a lot of coaches that are working together for the first time. We've got varied experiences and so we want to put together an offense that will work in this league. "
"Well we hope you're seeing an offense that's extremely effective running the ball and throwing the ball. People are trying to paint this as what Chip did in college and say that it's this and won't do that and I don't think that's the case. [Chip Kelly] was very very effective running the football, it was a no huddle based offense and he was very effective passing the ball. So we'll see." You're going to see an Eagles offense which pounds the football on the ground, then executes a short to intermediate passing game off of it.
They'll take occasional shots down the field, but it won't nearly as much as Andy Reid did during his time here.