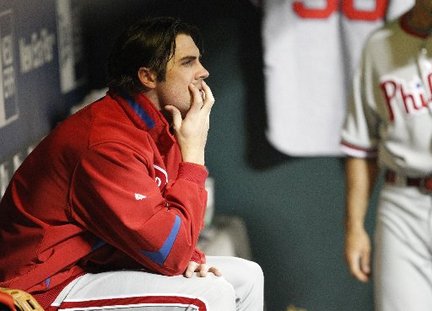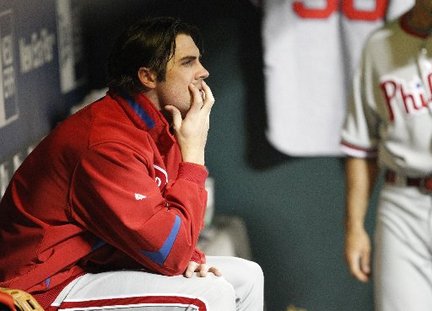 The Philadelphia Phillies lost their second straight game on Friday night, falling to the New York Mets 4-3. Their record drops to 35-39.
Cole Hamels turned in a mediocre start, allowing four runs on seven hits and three walks over just six innings. Hamels got an early three-run lead from his offense, but slowly spit it up and turned it into a one-run hole. He suffered his 11th loss of the season, and his ERA stands at 4.50.
Hamels allowed the Mets to slowly chip away at him. After allowing a double to Eric Young, he then gave up an RBI single to David Wright in the fourth inning. In the fifth, Hamels surrendered two runs on a single to Young. In the sixth, he gave the Mets the lead on an RBI double to Juan Lagares.
The Phillies scored all of their runs in the third inning. Ryan Howard led off the inning with a double, and Domonic Brown drove him in with a double of his own. Ben Revere got an RBI on a fielders' choice two batters later, and Jimmy Rollins also got a run home thanks to an error.
Howard finished the game going 2-5 with two doubles. Howard may not have the home run power that he used two, but he's still been able to find the gaps, he's now got 20 doubles on the year.
Domonic Brown went 2-3 with a walk.
Chase Utley made his return to the lineup, but went 0-5 and left five men on base.
Jimmy Rollins returned the lead-off spot, and Michael Young moved to three hole because of Utley's return.
Justin De Fratus pitched a scoreless seventh inning.
Jake Diekman handled the eighth without allowing any more damage.
Final Thoughts

Cole Hamels is his own worst enemy right now.
Its not the opposing hitters, its not the Phillies' lineup not getting him run support, the problem now is that Hamels just can't shut any of these teams down. This isn't even one of the top offensive lineups in the National League, this is the New York Mets, a bottom-feeding team with only one legitimate offensive in their lineup (David Wright). This is a team that a guy like Hamels should cruise against. We keep waiting for Cole to have that dominating effort where he tosses a complete game shutout, but even against a team like this he can't make into the seventh inning. That's very alarming, to say the least.
Now Hamels isn't the only one to blame for tonight's loss. There's no doubt that the lineup failed to their job tonight as well. Even though they got a three-run lead early, they just shut down for the rest night. You've got to be able to keep tacking on runs throughout the game to put a team away, especially a sorry bunch like the Mets.
That being said, a three-run lead should be all that a $125 million dollar pitcher should need to earn a victory on a typical night. Unfortunately, that's not the case for the guy who the Phillies thought to be their ace of aces this season.
You can't say enough about how disappointing Hamels has been in 2013. He's made almost no positive impact on this season. The Phillies have lost nearly every one of his starts. Think about that for a minute. Cole has made 16 starts, and the team has won only three of those games. If they could even manage to play .500 ball when he's on the mound, they'd be neck and neck with the Braves for first place.
But Hamels hasn't been the guy he was supposed to be. Even though the run support hasn't been there most of the year, he's had at least three games now where he's blown three and four-run leads. That's inexcusable and unacceptable. The Phillies need the former World Series MVP to step up, but he's gone into a shell instead.