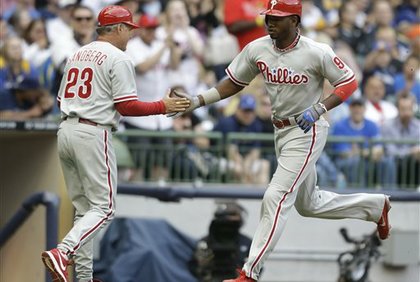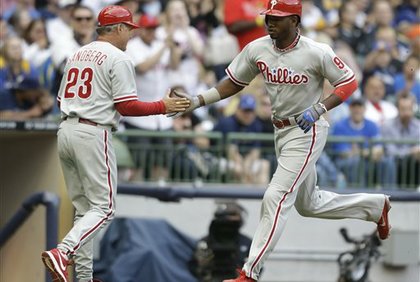 The Philadelphia Phillies snapped their two-game losing streak on Tuesday night, taking down the Padres 6-2. Their record improves to 37-41.
It was another strong effort on the mound for Kyle Kendrick, who pitched eight innings and allowed just two runs. Kendrick scattered seven hits, and struck out six. His lowered his ERA to 3.46.
The Phillies were uncharacteristically patient at the plate tonight, working out seven walks to go with their seven hits.
Domonic Brown ended his home-run drought with a three-run blast in the third inning to give the Phillies the lead. Brown also drew a walk with the bases loaded in the fifth inning to force in a run. He finished the game 1-4.
Chase Utley went 1-3 with a single, but also worked out two walks.
Ben Revere even managed to get on base by walking twice.
Michael Young went 2-5 with a couple of singles and scored a run.
Ryan Howard returned to the lineup, but went 0-4 with a walk and left five men on base.
John Mayberry got the start in right over Delmon Young, and went 1-3 with an RBI on a sacrifice fly.
Antonio Bastardo came in to work the ninth inning, and didn't make things easy. Bastardo recorded an out, but also put runners at second and third to begin the inning. However, the lefty finished the inning with two strikeouts to end the game.
Final Thoughts
Its good to see Dom Brown breakout and make a strong contribution again. When Brown is at his best this season, the offense seems to click much more naturally. He'd been struggling over the last two weeks, and had become almost a non-factor save for a couple of nice moments here and there. If the Phillies are to somehow survive and keep themselves relevant, they need Brown to be special.
It's a shame that this team just can't be counted on to find any kind of consistency. We've seen a lot of games like this one where they actually look like a competent major league team. The starting pitching is solid and the lineup, while not the most dynamic, is capable of being decent when they aren't going up to the plate with a free-swinging mentality.
The reality is that you never know which team is going to show up every night. This team could give you a solid 6-2 win behind a strong pitching effort and a well-rounded offensive performance. And they could just easily come back the next two games and be held to three hits by some team's fifth starter with an ERA in the 5.00's.