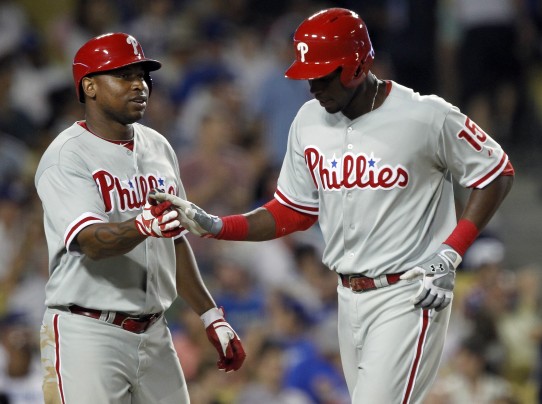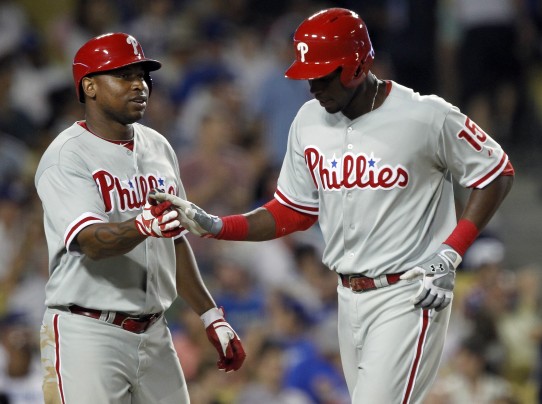 The Philadelphia Phillies won the second game of their series with the Dodgers on Friday night 16-1. Their record improves to 39-42.
16 runs? The Phillies haven't had an offensive showing this strong in several years. It was the first time all season that the offense has put up more than 10 runs.
Every starter had at least one hit.
Michael Young was back in the lead-off spot, and went 4-6 with two RBI's. Young hit his fifth homer of the year in the fourth.
Chase Utley went 2-3 with a walk, and scored three runs.
Jimmy Rollins went 2-3 with a walk, and also drove in a run.
Domonic Brown hit out of the cleanup spot, and went 1-5 with a walk and drove in two runs.
Delmon Young went 3-6 and drove in six runs.
John Mayberry went 1-4 and hit his sixth homer of the year.
Even John Lannan got into the offensive act, going 3-4 with an RBI.
All of the run support made life easy for Lannan on the mound. The lefty cruised through seven innings, allowing just one run to earn his first win of the season.
Phillippe Aumont and Joe Savery each pitched a scoreless inning to finish the game.
Final Thoughts
Talk about an anomaly.
As anemic as this Phillies lineup has been through most of the season, who would have thought that this group would piece together a single 20-hit, 15-run game all season? We may very well not see another game like this from them for the rest of the year, but for at least one night, everything clicked.
I like that Charlie Manuel moved Michael Young back into the lead-off spot, and I hope he keeps him there. Young just is not a good fit to be the three-hole hitter on this team. He doesn't have nearly enough power to fill the role, and he's too much of a double-play candidate. Having Jimmy Rollins bat third gives the team a little pop at that spot in the order, and Rollins' abilities as a switch hitter also allows Manuel to break up his left handed hitters.
How about the tear that Delmon Young has been on over the past few games? Young hit the game-tying home run that forced extra innings in the final game of the San Diego series, went 4-4 on Thursday, and drove in six runs last night. He's swinging a hot bat right now, and he's finally beginning to give the team the type of production that Ruben Amaro envisioned when he signed him during the off-season.