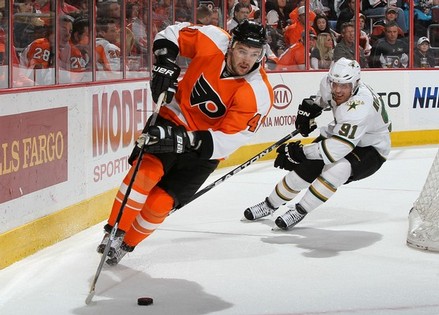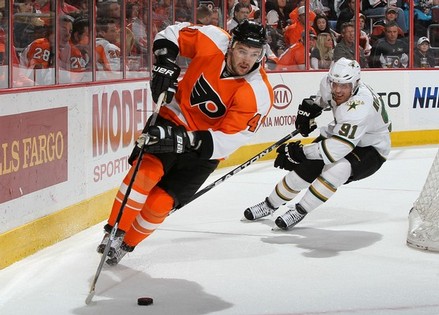 The Philadelphia Flyers made official on Friday evening defenseman Mark Streit's four year, $21 million contract that was previously reported almost two weeks ago.
With Streit on the books, the Flyers now have $33.25 million committed to the blueline in a year when the salary cap drops to $64.3 million. This number includes Chris Pronger's cap hit, which can not be considered for long-term injured reserve until the season has begun. It also accounts for the second years of injured defenseman Marc-Andre Bourdon's $612.5K contract and much maligned defenseman Bruno Gervais' $812.5K.
It does not figure any new contracts for restricted free agents Erik Gustafsson and Oliver Lauridsen (though both are likely to be re-signed).
It's a crowded group, and one that does not figure to remain intact come July 5.
I already touched on this subject in early May, but in short- one of Braydon Coburn or Andrej Meszaros is going to be moved.
Meszaros is the type of player that could potentially fill the role that the Flyers were looking to address when they signed Streit. He's recorded 49 goals and 202 points in 533 NHL games played and was a valuable depth player for the organization in 2010 while playing on the third pairing with Sean O'Donnell.
Since last year, though, Meszaros has recovered from back surgery, Achilles' tendon surgery, and two shoulder injuries. In the short period of time that he did return this past season, he looked timid and anxious with the puck.
Flyers general manager stated publicly at the end of April that he didn't have any concerns about this.
"Andrej is a big, strong guy. He has had 18 months of bad luck … the work they did on his shoulder will make it stronger. He's a hard-working kid. I have no issues or worries."
A recent update from "Homer" indicated that Meszaros is looking at July at the earliest for a return to training.
Meszaros has one year remaining on the six-year contract he originally signed with the Tampa Bay Lightning (he was traded in 2010 for a 2nd round pick). The Flyers likely will not re-sign him next season, especially with the salary cap juggling they are going to have to do to as the current contracts of Claude Giroux, Sean Couturier and Brayden Schenn expire.
Unfortunately, the market just isn't there.
If the Flyers are to move Meszaros, it's going to require that they either take salary back, or retain a large portion of his salary as part of the trade.
Two players that could conceivably be traded for Meszaros are Eric Belanger and Adam Burish. Belanger, 35, has one year remaining on his contract with the Edmonton Oilers worth $1.75 million while Burish, 30, has three years remaining at $1.85 million per year with the San Jose Sharks.
Neither player has provided much value to their team with respect to their cap hits and they serve fourth line roles at best. Belanger is still excellent at face-offs, but he followed a 40-point season with the Phoenix Coyotes in 2011 with 19 points between the last two seasons (though it's worth noting that the lockout affected the game totals).
Burish, not unlike Dan Carcillo, won a Stanley Cup with the Chicago Blackhawks while watching from the press box.
Coburn is the player that will garner the most attention, and recent reports suggest Holmgren has been busy drumming up a bidding war.
Coburn did not look particularly good this past season, but he is still a valuable, experienced defenseman that can eat 20+ minutes a night. Frankly, I am not fond of the idea of moving Coburn unless the organization can restock their farm system (through his trade or another) with a young, valuable up-and-coming defenseman simultaneously.
The two trade partners mentioned in the linked article above are the Oilers and the Carolina Hurricanes. Through the first two rounds of the 2013 NHL Entry Draft, the Oilers hold the 7th, 37th, and 56th draft picks while the Hurricanes hold the 5th and 35th picks.
Both teams are in need of top four defensemen (though arguably the Flyers are too), but I would be shocked if they considered parting with their first round picks. The second round picks may be up for grabs, though.
If the Flyers could collect the Oilers' 37th overall pick and a young defensive prospect (say, Joey Laleggia or Martin Gernat), the organization could potentially add two valuable defensive pieces to the cupboard. They may not be ready to replace Coburn immediately, but it's a good start for building for the future.
The 2013 NHL Draft begins at 3:00 p.m. on Sunday. Presumably any trade of Coburn happens before or during the event.
To paraphrase Holmgren from his media sessions on Tuesday, "There's going to be lots of funny stuff happening in the next [seven] days."