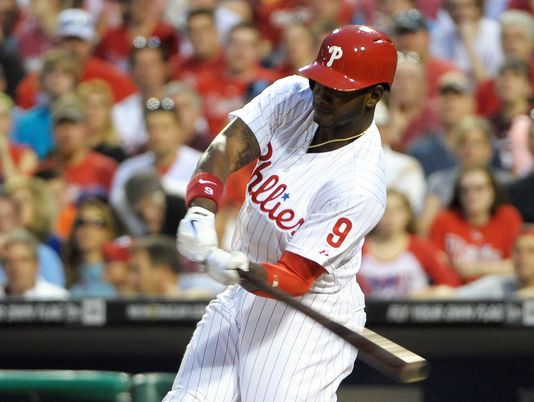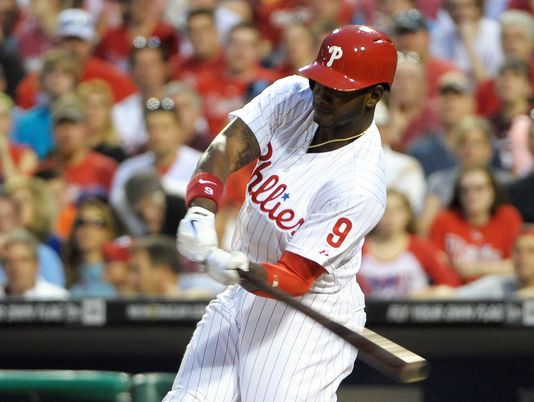 The Philadelphia Phillies won the final game of their series with the Braves 7-3. Their record improves to 43-46.
Jonathan Pettibone pitched a strong game, allowing just one run over 5.1 innings. Pettibone gave up five hits and one walk. He ran into some trouble in the fifth inning, allowing runners at second and third with no outs. However, the rookie got B.J. Upton to strike out looking, and went on to escape the inning by allowing just one run.
Domonic Brown hit an RBI triple to drive in Chase Utley in the first inning. Two batters later, Delmon Young singled home Brown.
Brown added a solo home run, his 23rd of the year, off of Kris Medlen in the fifth inning.
Darin Ruf made his first start of the season, and went 1-2 with a double, walk, and scored two runs.
Ben Revere hit his third triple of the year in the fourth inning, driving in two runs.
Jake Diekman and Justin De Fratus each recorded an out to finish the sixth inning.
J.C. Ramirez took over in the seventh inning, and had the first rough outing of his major-league career. Ramirez allowed two runs on four hits, including a solo home run to Chris Johnson. He got two outs in the inning before being lifted for Antonio Bastardo.
Bastardo pitched 1.1 scoreless innings.
Jonathan Papelbon pitched the ninth inning even though it wasn't a save situation.
Final Thoughts
Jonathan Pettibone has pitched better as of late, but Charlie Manuel just doesn't trust him. In his last two starts, Pettibone has been removed from the game in the sixth inning after allowing a baserunner or two. Manuel would rather ask his bullpen to pitch more than three innings to finish the game rather than ask Pettibone to work his way out of trouble.
The ironic thing here is that Manuel doesn't exactly have a sturdy bullpen that he can trust either. Even with a four-run lead in the ninth inning, the skipper still sent Jonathan Papelbon in to get the final outs. Keep in mind that the team doesn't have a day off for over a week, and it would have been nice if they could have avoided using their closer in unnecessary situations to prevent him from pitching two and three days in a row.
However, Charlie's alternative would be to take his chances with a guy like Phillippe Aumont or Joe Savery (either way would be asking for trouble) and you can't really fault him for taking the sure option.
The lineup clicked pretty well today with newcomer Darin Ruf hitting at the bottom of the order. Ruf was a major factor in today's win, reaching base and coming around to score twice. He even got an extra-base hit in the process.
The Phillies have gotten off a to good start in their critical 10-game homestand, taking two of three from the Braves. They've got to take at least three of four from the Nationals this week. On paper they have a fighting chance to do so with their top starters Cliff Lee, Cole Hamels, and Kyle Kendrick pitching in the series.