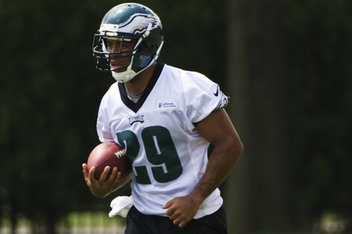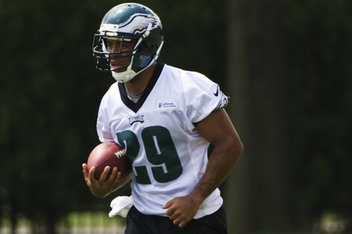 I got the chance to sit down and talk to former Eagles great safety Brian Dawkins a couple weeks ago at the NFL Rookie Symposium and he talked about Nate Allen.  Dawkins said he believes Allen is the most talented of the Birds safeties, but he's not sure whether he will ever live up to that talent.
"He's got good size and when he's healthy, he's got good to great speed for a safety", Dawkins said.  I like his foot quickness and ability to change directions.  Nate has it all ability-wise to be a very good safety in the league."
"He's got to regain his confidence". Dawkins said again and again.  "He lost his confidence when he was injured the last couple of years and he's got to get that back.the Eagles".
"Nate has to focus on playing the game and not worry about trying to replace me or live up to being the pick that was in the Donovan McNabb trade.  He can't worry about all that he just needs to play.  He can't be trying to replace me, he just needs to focus on football and I still think he can be a good safety."
"He shouldn't be trying to deliver the big licks I did, all he needs to do is be a sure tackler.  Nate will stay out as a pass defender and get pick off passes.  The strength of his game is as a pass defender, but he needs to be a sure tackler, not a punisher because that's not his game.  He needs to focus on being a sure tackler".
I agreed whole heartedly with Dawkins comments about Allen.  Nate is never going to be a big hitter, but he can be a ball hawk.  As a tackler, he just needs to approach ball carriers confidently, then wrap them up and get them to the ground.  Allen picked off quite a few passes during the camps, so he may be ready to live up to what Dawk was talking about.  Dawkins came to a number of the Birds workouts in the month of June.